Design and Symbols
You can distinguish between the lowest paying and highest paying symbols according to the number of eyes the aliens have. The highest paying symbols have 2 eyes and the lowest paying symbols have 1 eye. The pink alien is the highest paying symbol within the slot, with a win of 750x your bet for 15+ of its kind. The lowest paying symbols are the yellow and green aliens with a win of 3x your bet level for 15+ of their kind.
Special Features
As a player, you will definitely be spoiled for choice when it comes to special features on this slot game.
Fluctuating Symbols
With every cascade, a one eyed-alien (lower paying symbols) is randomly chosen. If it becomes part of a winning combination, it will leave behind 2 wild symbols, boosting the chances for further winnings. You will know which symbol it is as it will have a glowing orb around it.
If no win is made, the next cascade of characters comes into play and the wilds disappear.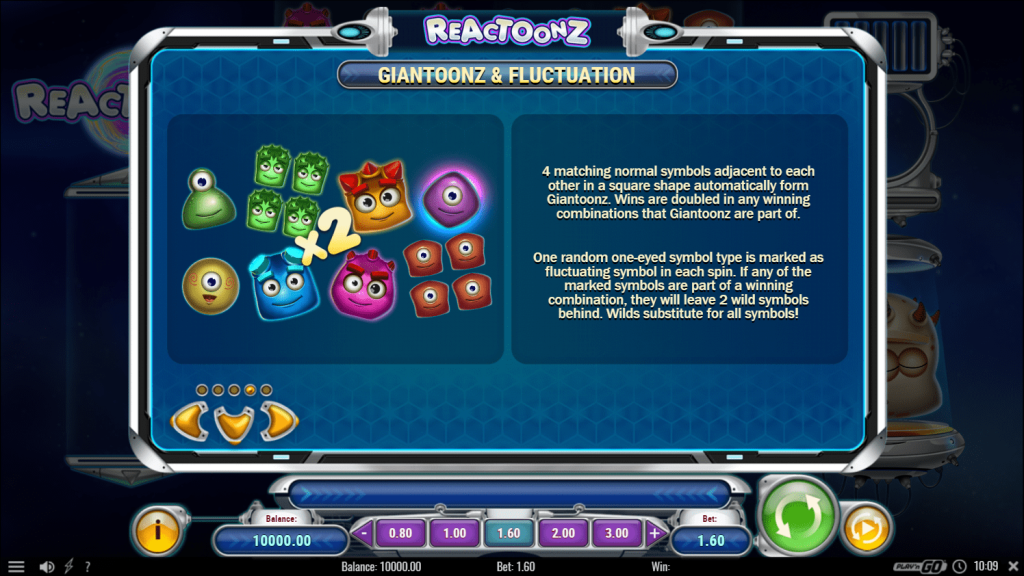 Giantoonz Feature
If 4 matching aliens fall next to each other, in the form of a square, they will form one huge Giantoonz.
If the Giantoonz becomes part of a winning combination, that particular win will double.
Quantum Leap Charge Meters
Whenever a win is made throughout the reel, it contributes to the Quantum Leap Charge Meter. This Meter is made up of 5 parts and for one feature to be randomly activated, the meter must be filled by 25 consecutive wins.
In order to have all 5 parts of the meter feature at once, these 5 parts must be filled with 125 consecutive wins from the same cascade.
Once 1 part of the meter is filled, 1 out of 4 features is triggered at random. When all 5 parts of the meter are filled, the gargantoon feature is triggered.
Quantum Features
Whenever 1 part of the meter is filled, a random feature triggers. The random triggers could be any of the following: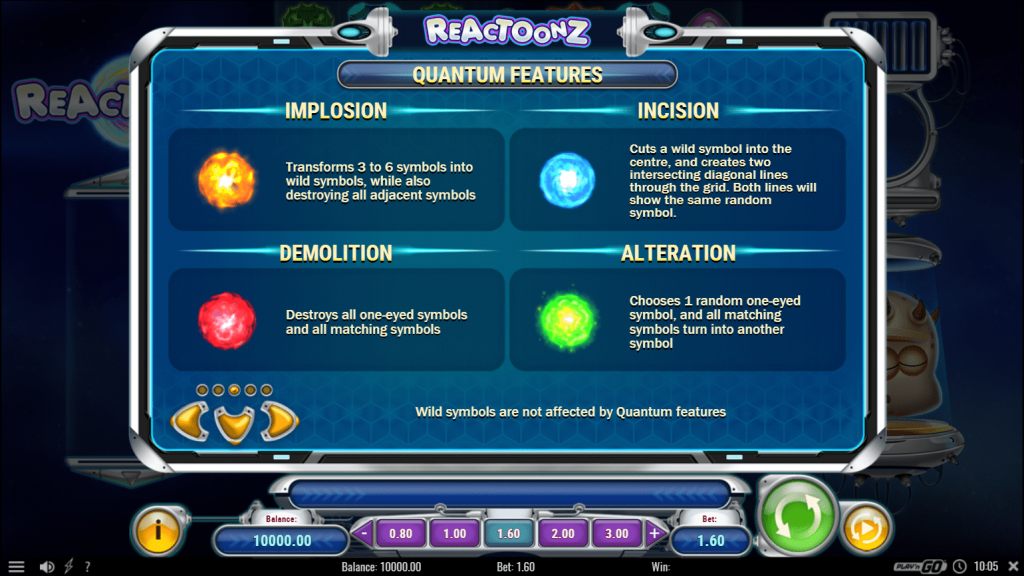 Implosion: 3 to 6 symbols on your reel will turn into wilds once this feature activates. All symbols surrounding the transformed wilds will be destroyed, to make space for other symbols to fall down and make better wins.
Alteration: this feature will take 1 low-paying symbol, in this case, a one-eyed alien, and change all matching symbols within that reel into another. This will create better chances to win that round.
Demolition: when it hits, this feature will grab all one-eyed symbols, and remove them completely them from your reel. This will make space for the higher paying symbols to cluster together and form better-paying wins.
Incision: this feature will cut a wild in 2 and place it in the middle of the reel. This will create 2 meeting diagonal lines across the grid, with the same random symbol in place.
Gargantoon and Instability
Once the quantum queue reaches the gargantoon, this feature is triggered.
The 3x3 monster appears as a wild and substitutes all symbols.
With each cascade, the gargantoon divides and moves.
At first, it becomes two 2x2 wild symbols and then turns into nine individual wild symbols.
Before the gargantoon moves, new symbols cascade down, filling the grid.
Reviewers' thoughts on Reactoonz
The game has some very unique features, that can seem confusing when you first start playing. Usually, this is because of the cascade triggers that might seem random at first. That together with the random Alteration trigger creates a lot of action on the reels, but also some confusion till you get used to the game. All in all, this game will keep you entertained, and if you didn't understand what Reactoonz is all about, just press autoplay and wait for the special features to hit.