Wild-O-Tron 3000 Slot
Wild-O-Tron 3000 is a December 2018 NetEnt release with a retro sci-fi theme, stacked robot symbols, and a randomly triggered wilds feature.
Wild-O-Tron is a 5x3 reel, 20 pay line, low volatility slot with an ROI of 96.01%. There are spins to suit all budgets from as little as €0.20 all the way up to €200 a go.
Design and Symbols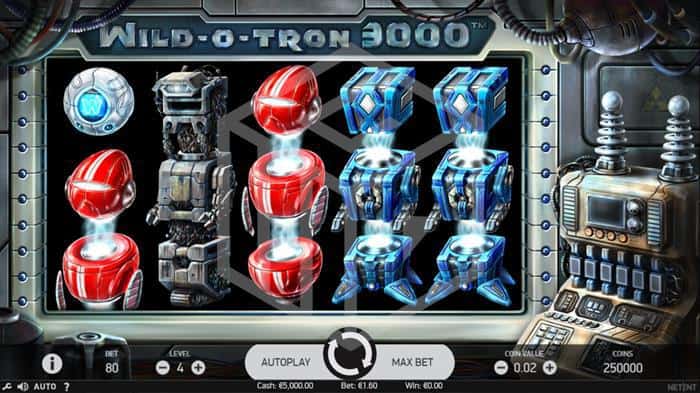 This isn't one of NetEnt's prettiest slots it has to be said. It's a fairly uninspiring design of a dull grey robot factory which is inspired by classic sci-fi series or movies such as Dr Who or Buck Rogers giving it a retro feel rather than genuinely futuristic. The jaunty soundtrack lightens things up a little, however.
The game board is set into a screen overlooked by a large machine which controls the Wild-O-Tron 3000. The seven main symbols are all different colours of the robot, all of which are stacked. The robots appear to become increasingly more modern looking the higher their value. In order of value there is a brown, grey, blue, green, yellow, orange, and red robot – the most valuable of which pays 15x the bet size for 5 in a row. The wild symbol is a round silver ball will a neon 'W' displayed on a blue screen in the centre of the ball.
Wild-O-Tron Feature
There is only one feature to speak of in Wild-O-Tron 3000, and that is the eponymous Wild-O-Tron feature. The feature is activated randomly (and fairly regularly) throughout gameplay, and after a display of flashing neon bulbs and lights (as if something is about to short-circuit), the reels first slow down then speed up rapidly while one of the robot symbols is picked at random and is substituted on every reel for the wild symbol. Depending on where the reels stop this feature has the potential to fill the board with wilds and wins of up to 500x per spin.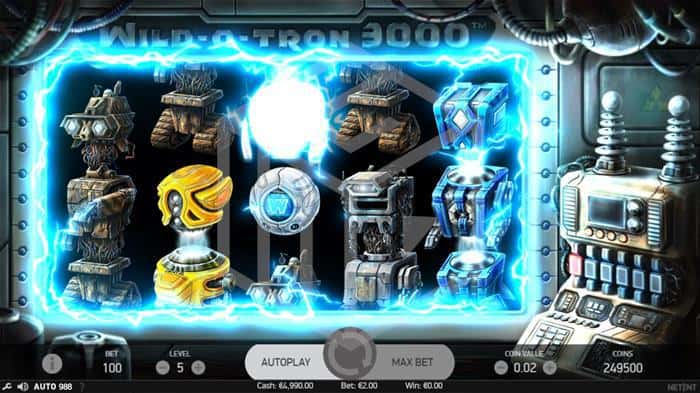 Our Thoughts on Wild-O-Tron 3000
Wild-O-Tron 3000 is NetEnt's second low volatility pre-Christmas launch, the other being Jingle Spins, a festive take on the classic NetEnt release Egg-O-Matic, and if you want my advice I'd stick to Jingle spins as in all honesty Wild-O-Tron 3000 seems to have very little to offer.
With just the one, rather lacklustre feature, it's hard to get excited about any part of this slot. Then again the NetEnt 'Superslot' Starburst similarly has no real features to speak of and yet is enduringly and incredibly popular. However, Wild-O-Tron 3000 really seems to lack that addictive energy which Starburst manages to create and playing for any length of time can become incredibly tedious.
If I had to say something positive about this game then I would say that the extremely low variance (small-medium wins come thick and fast) could be useful if you have a large bonus to clear and want a game that is going to take quite some time before it sucks away your money