Templar Tumble by Relax Gaming is a 6-reel & 7-row online slot with 117649 pay lines and a 96.19% RTP. Playable on all devices from €0.10 to €20 per spin, Templar Tumble is a high volatility game with a max win capped at 17280x your stake.
Tip: View our Relax Gaming slots page for a complete list of all their titles.
Win over 17,000x
Instant Win Multipliers up to 1,000x
Highly Volatile Action
Relax Gaming are back with the 4th installment in their 'Tumble' series of slots, Templar Tumble which takes us back to the glory days of the medieval Catholic military order of the Knights Templar.
The Knights Templar was formed by French Knight Hugues de Payens in 1118 to protect Christian pilgrims traveling to the Holy Land after Christian armies had seized Jerusalem from Muslim control in 1099. The Knights quickly rose in numbers, stature, and wealth, creating a successful network of banks – thanks in part to special papal privileges given to them, including exemption from paying taxes.
The Knights eventually fell out of favor in the early 14th century but enjoyed a good couple of hundred years of prosperity. It's during their glory days in which Templar Tumble is set, at the steps of, according to Relax, "a medieval cathedral worth its weight in gold". It's this cathedral you'll want to plunder for riches of up to 17,000x your bet.
Use transforming wilds, random multiplier wins, free spins, and up to 117,649 ways to win to take the Knights Templar for a boatload of medieval booty.
Templar Tumble features a 7x6 grid made up by each spin of a split of symbols and blockers (blank tiles). The blockers follow the symbols so as the filled grid initially resembles a city skyline (see main pic above), with the symbols at the bottom of each 'reel', with blockers above.
Where to play
Check out casino bonuses on our casino index.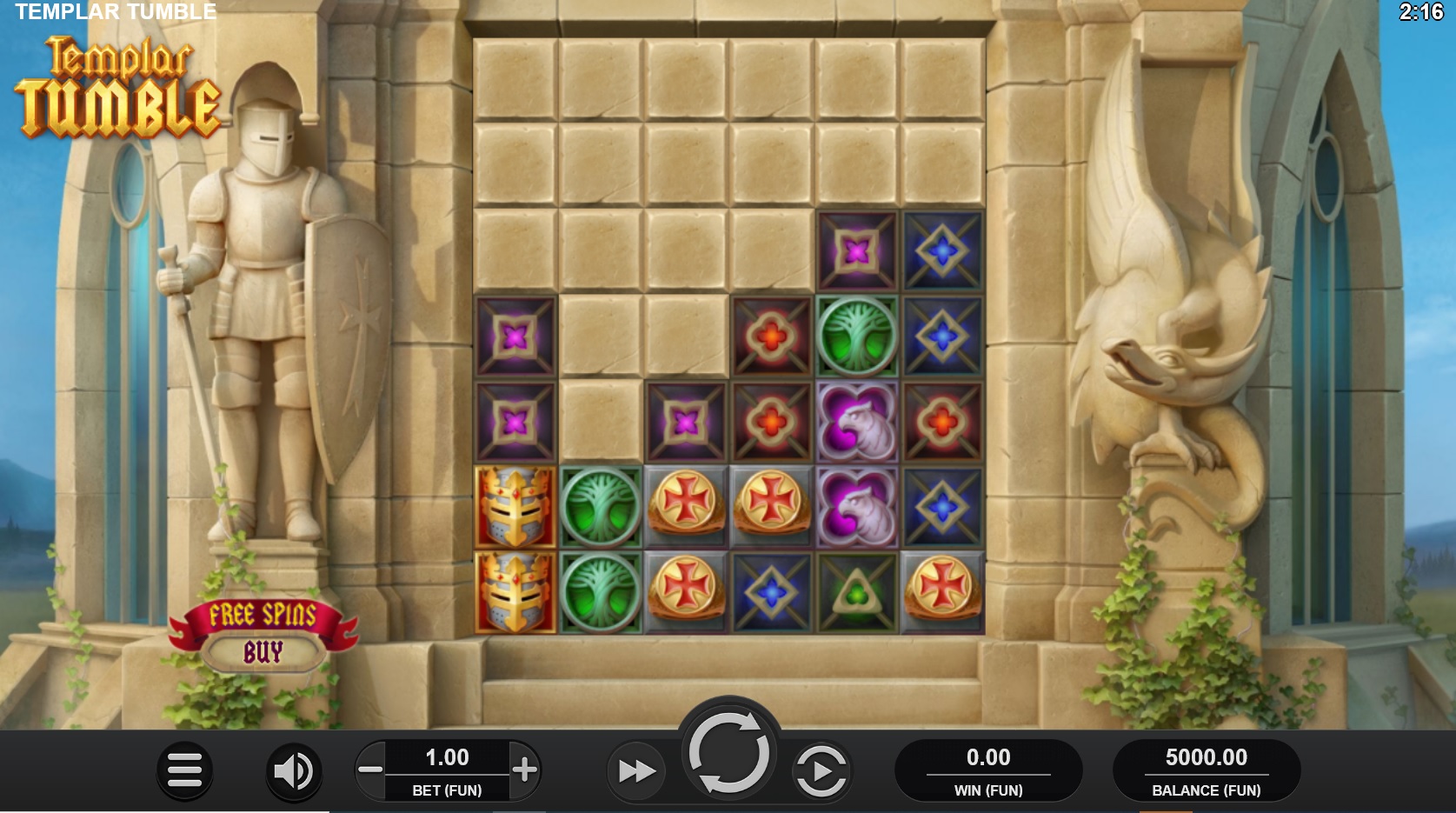 Special Features
Tumble Mechanic
Up to 117,649 Ways to Win
Mystery Reveal
Buy Bonus
The familiar Tumble mechanic is in play whereby winning combinations disappear from the board after landing, to be replaced by new symbols tumbling from above. Furthermore, any blocker symbols adjacent to winning combos are also eradicated, to be replaced by paying symbols. Further winning combos created from the tumbles react in the same way. A non-winning tumble ends the spin. The objective is to clear the board of blockers to trigger the Free Spins bonus round.
Templar Tumble pays 3 or more matching symbols on adjacent columns, starting at the leftmost columns. As such the total number of pay lines is calculated by multiplying the number of symbols on each reel together. The number of pay lines, therefore, changes every spin. Removing all blockers is the only way to achieve the maximum 117,649 ways to win.

Wild symbols land on reels 2-6 only with a maximum of 1 wild landing per tumble. This may seem a little stingy but the wilds in this game have a bigger purpose than simply enabling winning combos by virtue of its wild nature. The appearance of a wild symbol triggers the Mystery Reveal feature, whereby between 3-8 blockers transform into mystery symbols The mystery symbols come in one of two forms: most commonly they all transform into the same, random regular symbol. However, they can also transform into win multiplier coins with a value of 1x to 1,000x per coin. The mystery symbols only transform once there are no more winning tumbles for that spin.
![Mystery Reveal Templar Tumble Mystery Symbol]1(https://res.cloudinary.com/casinogrounds/image/upload/v1616679872/Slots/relax-gaming/templar-tumble/TemplarTumble-MysteryRevealWinMystery_Symbols.jpg)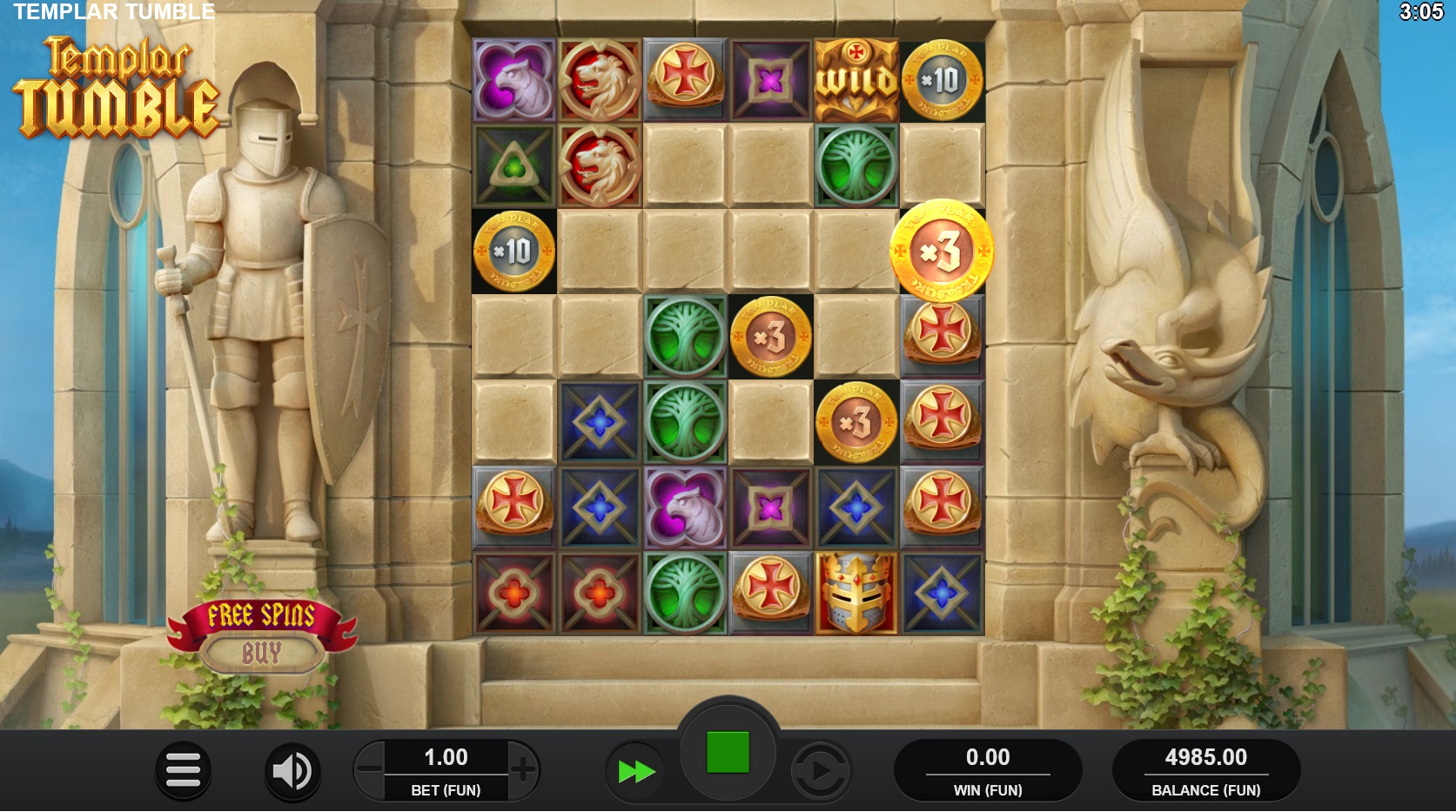 How to win big in Templar Tumble - Free Spins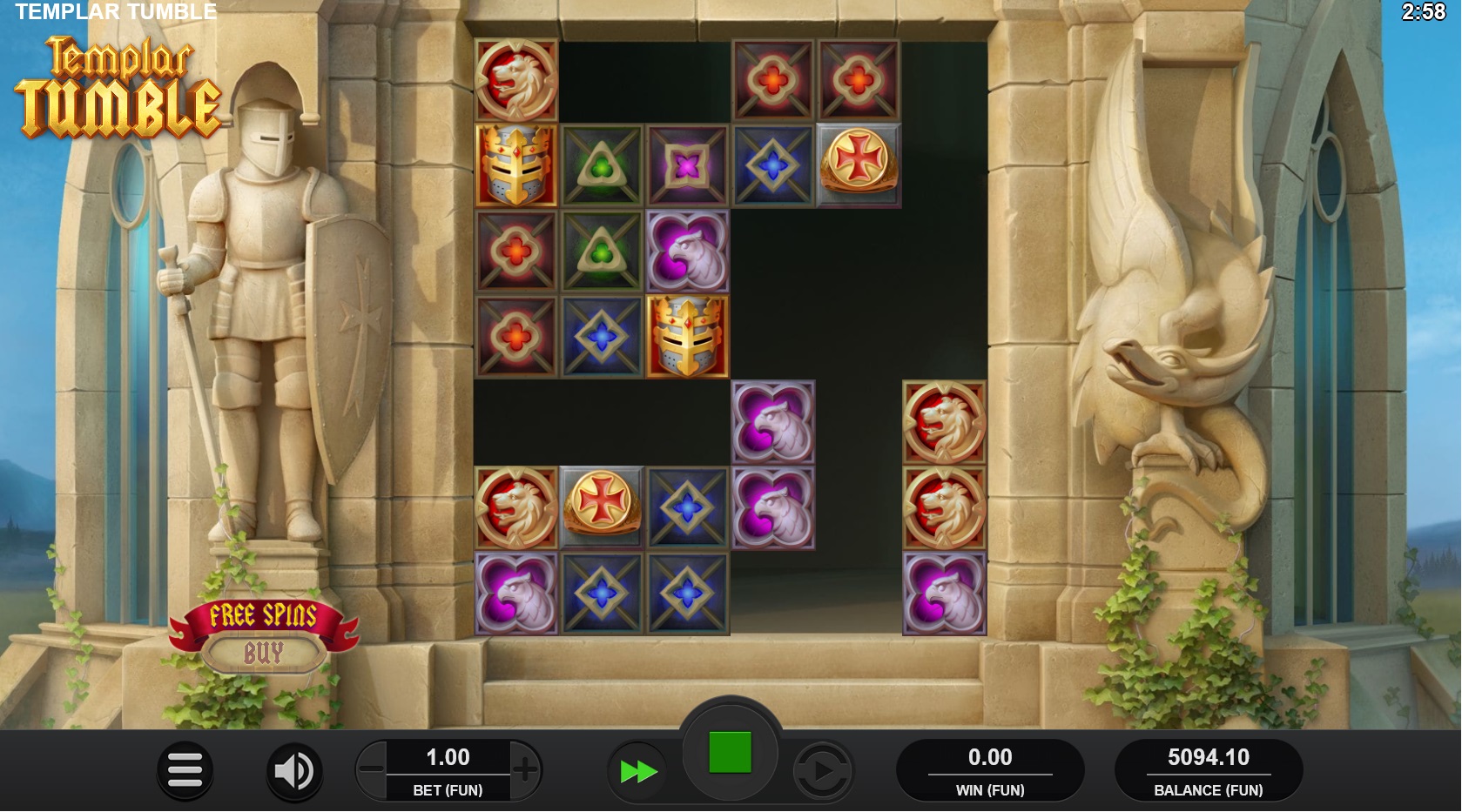 6 Free Spins are triggered when all blockers are removed from the grid in the same sequence of tumbles. Not only is this the trigger for free spins but it also means that all free spins are played with the maximum 117,649 ways to win.
The Mystery Reveal feature is also active during free spins, although only 3-8 symbols are transformed. As there are no blockers, the transformed symbols are regular symbols. Furthermore, during the bonus round, it is possible for mystery symbols to award extra free spins.
It is possible for players outside of the UK (client depending) to buy straight into the Free Spins bonus round from the base game at a cost of 80x the chosen bet size.
Look and Feel of Templar Tumble
Relax Gaming never let us down when it comes to design and once again, they've come up trumps with a simple yet aesthetically pleasing vista. The setting, as previously mentioned, is high up on the steps of a grand stone cathedral overlooking the countryside below. The gameboard covers the entrance to the cathedral with the blockers literally being blocks of white stone matching the cathedral. A stone Knight and a stone dragon watch over proceedings from either side of the gameboard. The soundtrack is suitably orchestral and ethereal, befitting of the theme.
Symbols range in value from playing card suits to sigils of trees, eagles, and lions, up to the Knights Templar ring and helmet. The helmet, paying 2x the bet size is the highest paying symbol. See below for the full paytable (based on a €1 spin).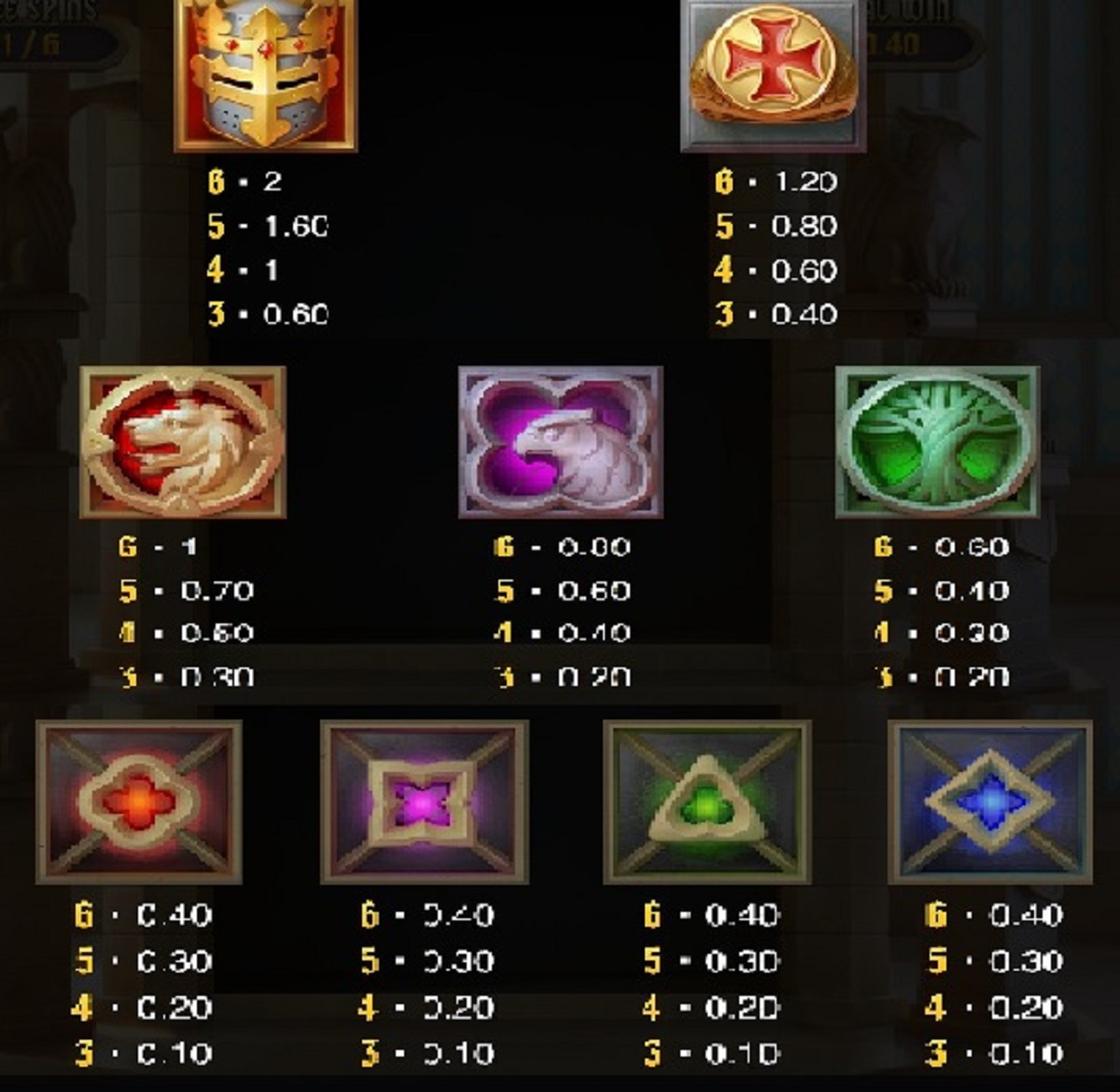 As to gameplay, Templar Tumble is a delight to play. Of course, it's a volatile beast so caution is advised when picking your limits but there is plenty of action to keep you entertained while your money whittles down as you await the big wins.
Big wins are possible in both the base and bonus games, with mystery symbols of up to 1,000x each possible in the base game, and wins of over 17,000x possible in a free spins round conducted entirely with 117,649 ways to win.
As far as this reviewer is concerned, Templar Tumble is another rip-roaring triumph for Relax Gaming.
Disclaimer: the game's RTP and min/max bet may vary depending on operator and jurisdiction. Use our data as a pointer, but always make sure you check the real RTP by locating the help file directly in the game itself once loaded.