Tahiti Gold Slot
Back in February ELK Studios were showered with praise for their adventure themed slot release, Ecuador Gold. So it comes as no surprise that the Swedish developer has chosen to make a follow-up slot in order to take advantage of its success.
Tahiti Gold sees Ecuador Gold's hero/adventurer Kane return for more of the same. According to ELK's backstory, Kane was flying home after his successful plundering mission in Ecuador when his aircraft malfunctioned causing him to crash land on the French Polynesian Volcano island of Tahiti in the Pacific Ocean. Surrounded by initially hostile natives, Kane soon becomes King of the natives after they discover the Eye of the Tiki tattoo on his left shoulder. The new King soon finds himself with more gold than ever before which, according to the locals comes from the island's volcanoes. Naturally, the bling crazy Kane sets off for the volcanoes and it is here that the game begins.
This is a highly volatile slot with 6 reels and between 4-8 rows, creating up to 262,144 ways to pay. Tahiti Gold has an RTP of 96/1%, a max win of 5000x, and plays from €0.20 to €100 per spin.
Big wins come from the Free Drops bonus round, although good base game wins are also very possible. Both the base and bonus games also benefit from Avalanche Reels, Big Symbols, and a couple of original features which we'll hit on later.
Design and Symbols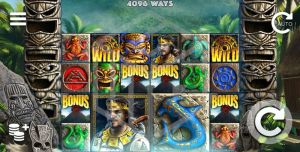 The design and artwork for Tahiti Gold is stunning. The backdrop shows lush vegetation in the distance atop white cliffs which lead down to a tranquil, turquoise sea. The sea and its gently lapping waves are visible between each spin after the symbols briefly disappear from the screen before being replaced by new ones from above. As the water reaches the front of the screen it starts to tumble over the edge of a precipice, forming the start of a waterfall. Either side of the game grid sits totem poles with tribal masks carved up their length. Palm trees sprout either side of the totems. In front of the totems a large rock with more carvings is visible to the left, while to the right you can see the edge of a small man-made wooden dwelling with a thatched roof. All the while a hypnotic, tribal percussive beat with haunting panpipes accompanies gameplay nicely.
The low-value symbols are green, purple, blue, and red stone carved shapes). The four medium symbols are ornamental lizards, turtles, hammerhead sharks, and frogs. The four high-value symbols are (as in Ecuador Gold) three golden face masks and Kane. Kane, wearing his newly forged golden crown and neckwear is the highest paying symbol with 6 adjacent symbols awarding 3.5x the bet size. The wild is a sun emblem and the scatter symbol comes in the form of an erupting mountain. There are two other special symbols in Tahiti Gold; the Wild Forge and Eye of Tiki, both of which are explained below.
Special Features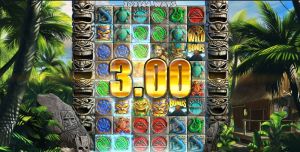 Tahiti Gold benefits from the Avalanche Mechanic, Expanding Reels, and Big Symbols. It also has three triggerable bonuses; Wild Forge, Eye of Tiki, and of course the Free Drops Bonus.
Avalanche Mechanic
Referred to as the 'Avalanche Mechanic' by ELK, this is a familiar feature for players of games such as Gonzo's Quest, Jammin' Jars, or most Megaways™ slots. Winning combinations cause all winning symbols to explode to be replaced by symbols dropping (or avalanching) from above. New wins enable to avalanche mechanic to continue. Every new win results in the addition of a new row (to a maximum of 8 rows) and each new row results in an exponential increase in the ways to win (see chart below). When the run of avalanche wins comes to an end the board will revert back to a 6x4 reel set.
4 rows: 4,096 ways to win
5 rows: 15,625 ways to win
6 rows: 46,656 ways to win
7 rows: 117,649 ways to win
8 rows: 262,144 ways to win
Big Symbols
During play in both the base game and bonus game big symbols often land on the reels. There are three different size of big symbol, super (2x2), mega (3x3), and epic (4x4). If any big symbol drops from an avalanche it will crush all smaller symbols beneath it until it reaches the bottom of the grid.
Wild Forge
The Wild Forge symbol only falls on reels 3, 4, 5, and 6 and looks similar to the regular wild except that the centre of the 'sun' symbol is filled with molten gold. When it lands it locks into position. If there are empty spaces below from a recent win the Wild Forge tips its contents, turning the empty spaces into wilds.
Eye of Tiki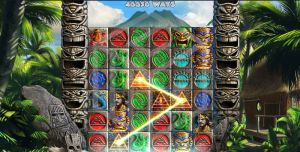 This symbol is represented by a golden triangle containing a golden eye. Any symbols in the path between 2 or more Eye of Tikis are removed. The spaces are then replaced by an avalanche and an additional row of symbols is added.
Avalanche Free Drops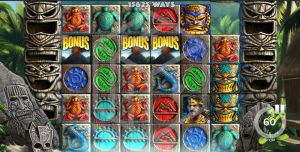 Land 3, 4, 5, or 6 scatters to receive 10, 15, 20, or 25 free drops (free spins). Free drops begin with a 6x4 reel set which can increase to an 8x4 set via consecutive avalanche wins. However, during free drops play benefits from what is called the "Safety Level". The safety level starts at 4 rows, increasing one row for every new free drop initiated resulting in a win. Each new drop will begin at the current safety level. Lucky players might hit a good run of avalanche wins early on and as a result, play many of their free drops with 262,144 ways to win.
Wilds which land during free drops will remain on the board throughout. Both the Eye of Tiki and Wild Forge features are also in play during free drops with the Wild Forge, as the regular wilds, remaining sticky throughout.
Our Thoughts on Tahiti Gold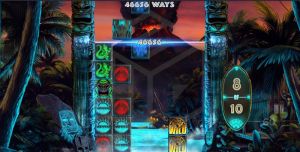 There may be a few grumbles that this is essentially a clone of Ecuador Gold, but we're certainly not complaining. As they say, 'if it ain't broke, don't fix it', and ELK deserve to be able to cash in on the success of their previous slot which combined many of today's favourite slot elements into one brilliant game. Yes, it's very, very similar to the original, but there are some innovations and improvements on display here. The Wild Forge and Eye of Tiki features are brand new, and the potential of the game has been doubled. Ecuador Gold's 2500x max win was perhaps the one gripe some commentators had, Tahiti Gold's 5000x should appease them.
Once again ELK's design team have played a blinder. The visuals are stunning with lush, vivid colours, subtle animations, and great attention to detail.
If the Megaways™ mechanic can be employed over multiple incarnations so successfully then there seems no reason why ELK's 'Gold' series can't do the same. A great slot.