Richie In Vegas by Iron Dog Studio released on 02.07.2019 is a 5-reel & 3-row online slot with 20 paylines and a 96.24% RTP. This is a vegas-themed game offering players a max win of up to 2000x their stake. Richie In Vegas can be played on all devices from €0.20 to €50 per spin and is considered a high volatility game.
Where to play
Check out casino bonuses on our casino index.
Design & Symbols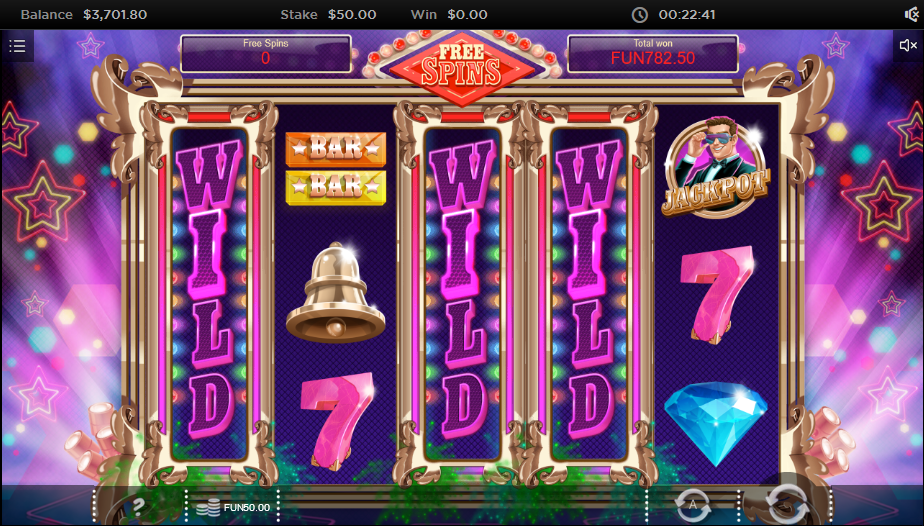 The gameboard sits front and centre with the five reels housed within a gaudy and gleaming gilt-edged frame with exotic gold-leaf detailing. Across the top of the board are a row of different coloured bulbs, whilst peeking out from behind the board are neon multi-coloured palm trees, laser beams shooting high into the night sky, and golden casino chips and playing cards. The background tune is best described as upmarket elevator music, keyboard-led old school lounge music.
The low-value symbols are single, double, and triple bars. The higher value symbols are bells, pink 7's and blue diamonds. The highest value symbols are the Richie symbols. In regular play 5 Richie's on a pay line awards 50x the bet size. During free spins, Richie has had a haircut and a shave and replaced his red cap and polo shirt with a tux and a pair of mirrored sunglasses to become "Jackpot Richie".
Jackpot Richie pays a huge 2000x the bet for 5 on a pay line. There are both regular and expanding wild symbols. Expanding wilds only appear on the top row before expanding to cover the reel. There is no scatter symbol, just a 'Wheel of Chance' which may land in any position but only on the third reel. The 'Wheel of Chance' leads to all the games special features which we'll look at in more detail below.
Wheel of Chance
The appearance of the 'Wheel of Chance' symbol anywhere on the third reel is where all the bonus features lie. Once landed, the wheel expands to cover the centre of the gameboard and requires a click of the mouse to start the spin. The wheel contains different segments containing different awards. In the base game they are as follows:
Cash bonus of 8x bet size
3 wild symbols anywhere on reels 2, 3, or 4
2 expanding wilds on any of the reels 1, 2, 4, or 5
Empty reel (no bonus) denoted by an 'X'
6 free spins
Also, once the bonus has been issued the "wheel of chance"-symbol becomes another wild. This often leads to further base game wins.
Free Spins
Landing the free spins segment on the Wheel of Chance is the key to winning big in this game. Once in free spins mode, another Wheel of Chance comes into play, the 'Winners Wheel'. This time the wheel is not at the centre of the gameboard, but at the bottom. Also, this wheel spins automatically after every free spin. The prizes the Winner's Wheel contains are as follows;
Cash bonus of 4x bet size
2 to 3 extra wilds anywhere on reels 2, 3, or 4
1 or 2 expanding wilds on reels 1,2 or 3
3 free spins
Empty reel (no bonus) denoted by an 'X'
Upgrade to VIP wheel with 1 more free spin
If you're lucky enough to hit the Upgrade to VIP wheel then you'll be spinning for the following prizes after each remaining free spin;
Cash bonus of 8x bet size
4 to 6 wilds anywhere on reels 1-3
2 to 4 expanding wilds on any reel
3 free spins
Empty reel (no bonus) denoted by an 'X'
Upgrade to High Roller Wheel with 1 more free spin
Finally, the High Roller Wheel offers;
Cash bonuses of 8x, 16x or 50x bet size
6 to 8 extra wilds on any reel
3 to 5 expanding wilds on any or all reels
Empty reel (no bonus) denoted by an 'X'
3 free spins
Jackpot Richie
As already described, during free spins, Richie becomes 'Jackpot Richie' as well as a scatter symbol. This means 5 Jackpot Richie's anywhere on the reels payout the Jackpot of 2000x the bet size. Unfortunately, neither wilds nor expanding wilds substitute for Jackpot Richie so it is only ever possible to win 2000x once in a spin. However, the wilds do substitute for regular Richie when in conjunction with Jackpot Richie along with the normal paylines. Therefore a pay line of Jackpot Richie's which includes wilds pays as a line of regular Richie's.
Big Wins on Richie in Vegas
CasinoGrounds have yet to receive a big win clip from any casino streamer winning big on the Richie in Vegas slot. If you have a clip of you winning on it, we're interested. Please contact us if you have won playing this game and have a recording of it.
Our Thoughts on the Richie in Vegas Slot
The Richie in Vegas slot is a neat little game from the Iron Dog studio. There is plenty of action to be had and you'll get plenty of opportunities to spin the Wheel of Chance. In turn, this should give you plenty of opportunities to move higher up the wheels to bigger and bigger wins. The abundance of bonus wheels does, however, mean that the base game wins are rather paltry, especially for a slot claiming to be highly volatile. Other than the 2000x jackpot, the biggest win available in normal play is just 400x – pretty low for a volatile slot. In fact, I couldn't really figure out why this slot is deemed high variance? It dishes out plenty of small base game wins and (in my admittedly limited experience) a fairly decent clip of bonus wheels and wins?
Nevertheless, I can't deny it was a lot of fun to play. It's a nicely designed slot with smooth and engaging gameplay. I'm not the high variance freaks will really go for it, but for everyone else, it's a fun slot well worth a shot.