Reel Rush 2 Slot
It's been over six years since NetEnt released the original Reel Rush slot so I was very interested to see what could be done to breathe new life into this classic 3,125 ways to win reel configuration.
It turns out the answer to that question is quite a lot actually!
The basic set up and mechanic is identical to its predecessor, playing a 5x5 grid and operating a 'win-all-ways' mechanic. This means when every section of the grid is in play there are 3,125 ways to win. However, the game begins with only 13/25 symbol spaces in play with the remaining 12 spaces remaining as 'blocks'.
This offers just 45 'ways to win' when matching symbols. Successive wins eliminate blocks until the board eventually fills with symbols and offers a full complement of ways-to-win – but more of this later.
Big wins come from the free spins feature, especially the 'Super Spins' feature which comes with an increasing win multiplier. This slot is of medium volatility, comes with an RTP of 95.53 – 96.58% (depending on your free spins strategy) and has a max win of 5,000x the bet size.
You can play Reel Rush 2 from €0.20 to €100 max bet per spin at participating casinos from 7th November 2019.
Design & Symbols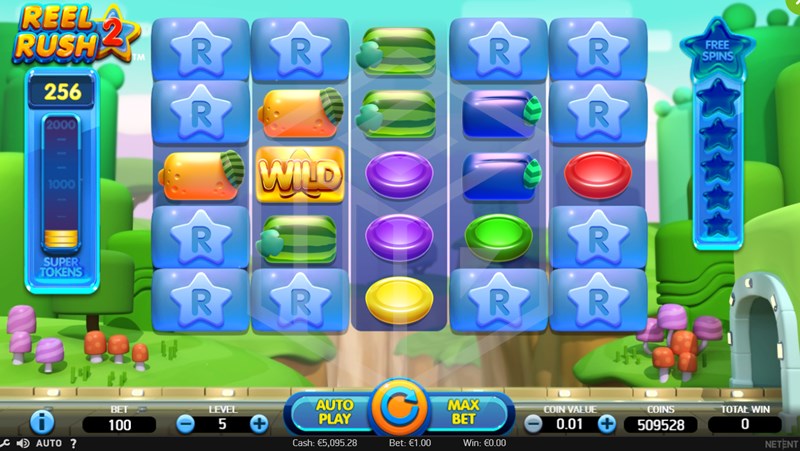 Reel Rush 2 takes place in Mario-esque video game world of blue skies, square treetops, oblong hills and mountains, overgrown toadstools and a smorgasbord of colours. The gameboard has transparent blue reels with colourful round and square fruits and pastilles as symbols.
When not in play certain areas of the board are blocked off with shiny blue transparent blocks, each showing a star with an 'R' in the centre. To the left of the board is a 'Super Tokens' meter, and to the right of the board is a free spins meter. Beneath the board to the right, you can see a tunnel entrance. During each spin a flatbed train appears from the tunnel formed of three parts, each of which may contain one of the game's 8 random features.
Low-value symbols are purple, green, yellow, orange, and red pastilles. High-value symbols are plums, grapes, melons, lemons, pineapples, and strawberries. Strawberries are the highest value symbols with 5 on adjacent rows from left to right worth 10x the bet size.
The wild substitutions are golden blocks containing the word 'WILD' and it appears on reels 2-5 in both the base and bonus games. There are also a host of other symbols representing the many random features which we'll look at in more depth below.
Special Features
Increasing ways-to-win
Random features
Free Spins
Super Spins
Increasing Ways to Win
Anyone who has ever played the original will be familiar with this part of the game, but for the uninitiated, read on. As already described, a fresh spin begins with a 1-3-5-3-1 set-up of active symbols across the five reels. Winning combinations result in several of the blue blocks exploding to reveal extra symbols and prompts a respin.
Further wins result in more blocks exploding and more symbols. With each successive win the ways-to-win increase up to a maximum of 3,125 for a full 5x5 grid after the 5th successive win. A winning combo on the 5th respin automatically triggers the free spins bonus round
Random Features
During every spin, the train appearing from the tunnel stops under the reels with three carriages. Any, all, or none of the carriages may contain 1 of 8 random feature symbols. Hence up to three random features per spin may take effect to modify the reels after they come to rest. The symbols and features are;
Second Chance (Red Heart): The Red Heart gives you a Second Chance respin when you don't win. If you're already in the respins the number of blocks open will remain in place during the Second Chance respin
Block Breaker (Gun Turret): The gun turret takes aim and fires at 2 or 4 of which explode to expand the gameboard and reveal more symbols.
Random Wilds (Wild Symbol): Between 1 and 3 wild symbols are randomly added to the reels. Symbol Multiplier: A random symbol is awarded a multiplier of 5x, 10x, 15x or 20x. The chosen multiplier value is added to all examples of that symbol on the board. Winning combination in any spin containing these symbols will have the multiplier applied.
Symbol Upgrade (Random Symbol): The randomly selected symbol upgrades to the symbol directly above it in terms of value. When the reels stop any examples of that symbol all transform into the higher value symbol.
Extra Free Spins (Golden Heart): Only available during the free spins bonus round and awards an extra free spin.
Extra Super Tokens (Gold Coin): Adds 3 or 15 super tokens to the super token meter.
Multiplier Boost (Gold Chevrons): Only available during free spins and adds 1x to the progressive win multiplier meter.
Free Spins
For every 2 blocks unlocked the free spins meter to the right of the gameboard goes up by one star. Five stars fill the meter and triggers 8 free spins with 3,125 ways to win.
Super Spins
Super Spins are free spins with a progressive win multiplier. Every new winning combo during Super Spins adds 1x to the win multiplier. A win multiplier of 1x is also added each time the multiplier boost symbol arrives out of the tunnel (up to 3 per spin). There are 3 ways of activating Super Spins:
Filling the Super Token meter to 2,000 Super Tokens will send you straight to Super Spins upon filling the free spins star meter. Super Tokens are awarded randomly through the random features as well as every time a block is unlocked.
Once free spins are triggered you get the opportunity to gamble your current number of Super Tokens up to the required 2,000 to enter Super Spins.
Once free spins are triggered you have the opportunity to buy the necessary number of tokens to reach 2,000 to activate Super Spins.
If you log out after a session the Super Token Meter will be saved at the level you were playing. If you choose to increase your bet size, the number of tokens in your meter will reduce. Likewise, if you reduced your bet size you'll find the number of tokens in your meter will increase.
Reel Rush 2 Summary
I have to admit that when I first glanced through the information on Reel Rush 2 and saw just how much there was going (tons of random features, all sorts of meters to fill, 2 different types of free spins, options to purchase or gamble tokens etcetera) I was worried this might all be a bit too much.
Happily, I'm very glad to report that this isn't the case at all.
My initial concerns over the number of features were that they might slow the game down. As it happens they are all very quickly and smoothly applied immediately after the spin. Not only that but they each provide another element of anticipation and excitement to proceedings.
Also, the Super Spins are a great addition – with NetEnt cleverly taking one of the most popular current features in new slots (progressive win multipliers) and adding it to their existing franchise. With the opportunity to purchase tokens to upgrade the bonus round NetEnt have also built in their own version of 'Buy a Bonus' – albeit one you have to qualify to buy.
With an increased max win on the original from 3,800x to 5,000x, the potential here is also fantastic.
The original Reel Rush has been an enduring success with its fast-paced action building up to the crescendo offered by the free spins round. If there's any justice, Reel Rush 2 should emulate that success and then some. What was already a fast-paced game has now been filled with rocket fuel!