Pumpkin Smash Slot
by Yggdrasil Gaming
Play Pumpkin Smash Slot on
Description
Pumpkin Smash is a Day of the Dead (a Mexican holiday which coincides with and is very similar to Halloween) themed slot. Set in a spooky Mexican graveyard the object is to find two or more pumpkins in order to enter the lucrative Pumpkin Smash feature. Pumpkin Smash was released by Yggdrasil and is available on most of our recommended casinos. Thew game is a 5 x 3 reel, 20 pay line slot with medium volatility and an RTP of 96.2%. Wins up to 100 x stake are possible in the base game but everything is geared towards the bonus game here where free spins, multipliers, and random cash prizes can really pile on the winnings. With minimum and maximum bets of €0.10 and €100 respectively, this slot has the potential to deliver some big bucks.
Community Big Wins
No big wins yet! Share your big win on our forum!
Design and Symbols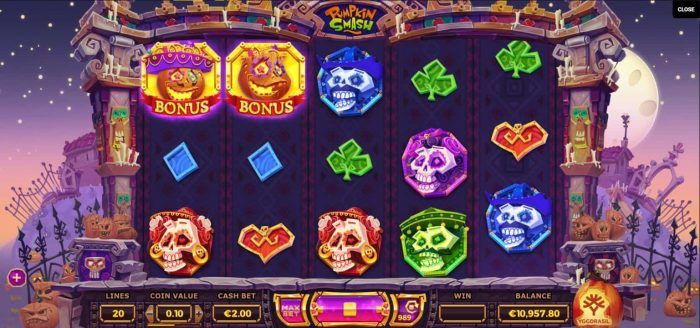 As with all Yggdrasil games, the design and graphics are impressive, from the opening scene deep inside the graveyard to the brightly animated skull and pumpkin symbols during gameplay, which takes place on a game board set between the entrance gates to the dusky, moonlit cemetery. The somewhat upbeat Spanish folk music in the background may be slightly at odds with the spooky theme, but it is perfectly in keeping with the traditional Day of the Dead celebrations. The four low-value symbols in Pumpkin Smash are represented by the four card suits, with the premium symbols taking the form of blue, green, purple, and red sugar skulls. The red skull is the highest paying symbol, with 5 in a row earning 100 x the stake. The wild symbol has 'WILD' written in bold gold letters on a purple background topped with miniature skulls, and the scatter symbols are made up of three smiling pumpkin symbols with increasingly large headwear.
Special Features
The game only has the one bonus feature, the eponymous 'Pumpkin Smash', although this in itself comprises enough special features to make for an interesting and action-packed bonus round if you're lucky enough to hit them.
Pumpkin Smash
Land two or more pumpkins during base play and you enter the bonus feature where you get to smash the pumpkins to reveal up to 20 gold coins each representing a different 'win'. The smaller the pumpkin's headgear, the less coins will appear once it has been obliterated. Wins can include;
Free spins (hit 3 or more bonus symbols and you automatically get between 7-32 free spins as part of your win)
A multiplier between 2x – 7x applied to a specific symbol
A cash prize up to 375x your stake
Once in the feature you can accrue further wins if you land one or more bonus symbols whereupon you get the chance to smash the pumpkin(s) yet again with the chance to win up to 10 more prizes from the following;
Up to 16 more free spins
A multiplier between 2x – 7x applied to a specific symbol
A cash prize up to 875x your stake
As you can see, there may only be one bonus feature but the possibilities for big wins are fairly substantial, especially as you tend to see an abundance of wilds hitting the board during free spins.
Our Thoughts on Pumpkin Smash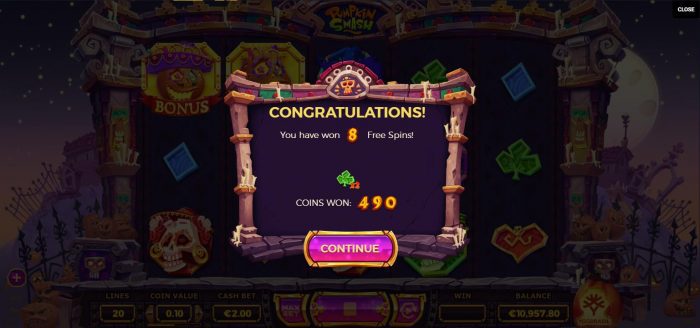 On the whole Pumpkin Smash is a pretty decent slot. It has a popular theme, some great graphics, and smooth gameplay. It's RTP of 96.2% is towards the higher end of the scale as well, and due to the prevalence of quite a few low value wins in the base game you never have to wait too long to make some sort of score. However, there's no denying that the reason to play this game is to get into the bonus feature and try to hit that big pay out, and therein lies our one slight criticism – namely that it takes some time to get into the feature, and even longer to get there with 3 symbols for guaranteed free spins (where the real money is). Usually you'll reach the feature with two of the lesser value pumpkins, and more often than not your coins will reveal cash wins rather than any free spins. Nevertheless, once you do get into the free spins you'll remember why you love the game and all will be forgiven.
Other Yggdrasil Gaming games