Play Platooners on
Check out casino bonuses on our casino index.
Platooners by ELK Studios released on 26.06.2018 is a 5-reel & 4-row online slot with 178 ways to win and a 96.30% RTP. This is a jungle-themed game offering players a max win of up to 2500x their stake. Platooners can be played on all devices from €0.2 to €100 per spin and is considered a high volatility game.
Community Big Wins
No big wins yet! Share your big win on our forum!
Design and Symbols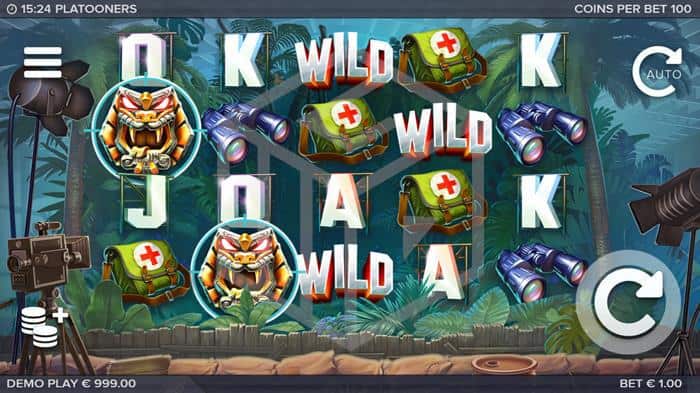 Although the movie scene depicts a war waged in the tropical jungle, the design of the game is not so much gritty war as fun film parody with cartoon characters and animations. The symbols sit on a transparent floating game board in front a sand bag lined movie set of palm trees and tropical plants with cameras and studio lighting rigs to the front left and right of the screen creating the jungle-like ambience. The background sounds are an array of bird calls, insect noises, and the occasional far off monkey whoop, interspersed by the sound of background chatter between cast and crew in between takes. When the reels are spinning, however, this is replaced by short but energetic bursts of upbeat incidental movie music. Also, while the reels are spinning they appear as strips of film spinning on a movie reel.
The low-value symbols are J, Q, K, and A with the higher value symbols represented by movie props, namely a medic bag, a pair of binoculars, a hunting knife, and Platooners emblazoned dog tags. The dog tags are the most valuable, paying 10x bet size for 5 in a row. Other symbols are a basic 3D wild and the scatter symbol which is of a giant golden snake head with glowing red eyes.
The Platooners themselves will be familiar to anyone who has enjoyed another of Elk's movie-themed releases, Bloopers. They are three minion type characters who appear during the random base game bonuses to wreak havoc on the reels and also in the bonus game as they attempt to slay the snakes.
Special Features
Platooners is packed with special features both in the base game and in the bonus round. There are three randomly triggered base game features called "Action Spins" in which the Platooner characters themselves appear to assist you, and an immersive bonus round, "Snakes of Fortune", which also features the central characters.
Action Spins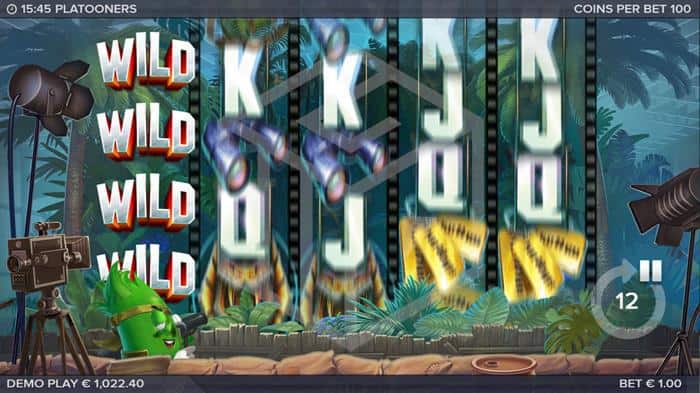 Green Rockets Platooner – In this randomly triggered bonus the Green Platooner appears and fires rockets at reels 1 and 3 which are at first engulfed in fire before revealing identical symbols, thus increasing your chances of landing a winning spin.
Red Grenades Platooner – Here, the Red Platooner hurls grenades towards the jungle which result in more explosions and triggers random wilds on reels 3, 4 and 5.
Yellow Bullets Platooner – After reel 1 stops the Yellow Platooner fires his machine gun at reels 2 to 5 and when the smoke clears one of the symbols on reel 1 is matched all the way down the line to reveal a 5 of a kind win.
Snakes of Fortune
The bonus game is triggered by landing 3 or more scatters whereupon the screen will reveal a giant floating snake with the scatter symbol as a head and a body of coins. Our three Platooners are at the bottom of the screen and they have 15 rounds of ammunition which they must take in turns to destroy as much of the snake as possible.
The coins which make up the snakes body are mainly smaller coins which equate to small cash wins, with the occasional large mystery coin which will award either a big coin win, more ammo, a bomb which will destroy a large segment of the snake, or an increased attack either by increasing the damage done by each weapon, or allowing more than one to attack at a time. If you destroy the snake you move up to level 2 where the Platooners receive upgraded weapons and a snake offering even bigger rewards. There are 3 levels in total, get to level three in you're on your way to a big win.
If you manage to land 4 or 5 scatters to enter the bonus round then you'll be able to open fire with 2 Platooners or 3 Platooners at the same time which obviously increases your likelihood or progressing.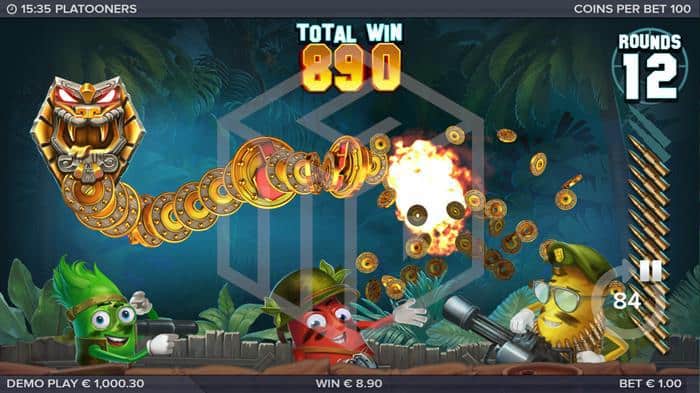 Our Thoughts on Platooners
Platooners is a fun slot with an interesting theme. Anyone who enjoyed Bloopers is sure to love this slot. The design is good, the symbols and characters are well drawn and animated, and the bonus rounds are visually excellent as well as fun to play.
As it is a quite high variance slot you can suffer some lean spells, and even with 178 ways to pay the wins don't roll in too often and even when they do they are often on the small side. This is one of those slots where you're really playing to get in the main bonus round, and once again it can often let you down a little with regards pay out. However, once in a while you'll progress through the levels in the bonus round for a really great win. Personally I think Platooners has enough going for it to make that wait entertaining enough and ultimately worthwhile. Be careful with your stake though as go in too high and you'll quickly find yourself in need of a new bankroll.
As with other Elk Studio games Platooners comes with some suggested betting strategies. If you want our advice you'll ignore these altogether as none of them seem particularly optimal – even the optimizer. At most perhaps use them to get an idea of what strategies are on offer, but certainly don't expect them to maximise your winnings.
Other ELK Studios games