Ooh Aah Dracula Slot
Ooooh! Is that really him? Oh no! Anyone but him. Aaaaah! It's Dracula! Ooh Aah Dracula! Don't worry though, as luckily for us, the only harm he can do is on your bank account, but only if you let him...
With 10 win lines, five reels and a medium volatility, this slot game has a very obvious vampire theme. The RTP of Ooh Aah Dracula by Barcrest changes according to which mode you are playing in. During the base game, there is an RTP of 96%, but during the Hi Roller spins, the RTP goes up to 99%. Tempted to just play in Hi Roller mode? You are not alone in that one!
Design and Symbols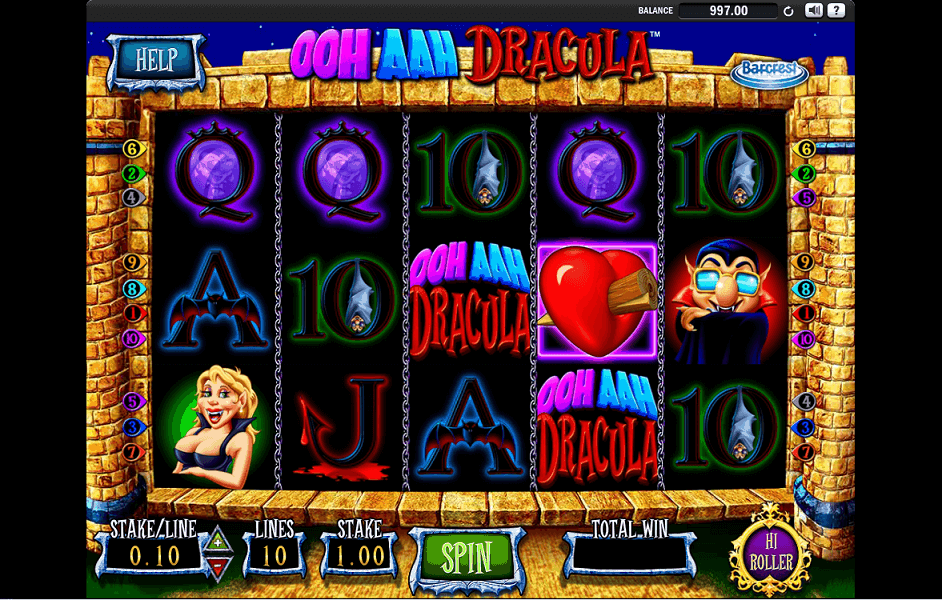 The brick wall background leads us to believe that we are about to enter Dracula's castle. The highest paying symbol of the slot game is the Ooh Aah Dracula symbol, followed by Dracula himself, his black castle and what is probably his vampire wife. The A-10 make up for the lower paying symbols.
The background music is noteworthy, but not for the best reasons. What really grabbed our attention was the man saying Ooh Aah Dracula at the beginning of the slot game, and the silence in between spins. Everything that came after that we found to be annoying, in fact, we turned the music off after a minute or so and we have no regrets.
Special Features
The special features in Ooh Aah Dracula are all tied together in some way or another. Although you can trigger the free spins during the base game, you will be tempted to play in Hi Roller mode hoping to activate them a bit quicker (that's what we did).
Hi Roller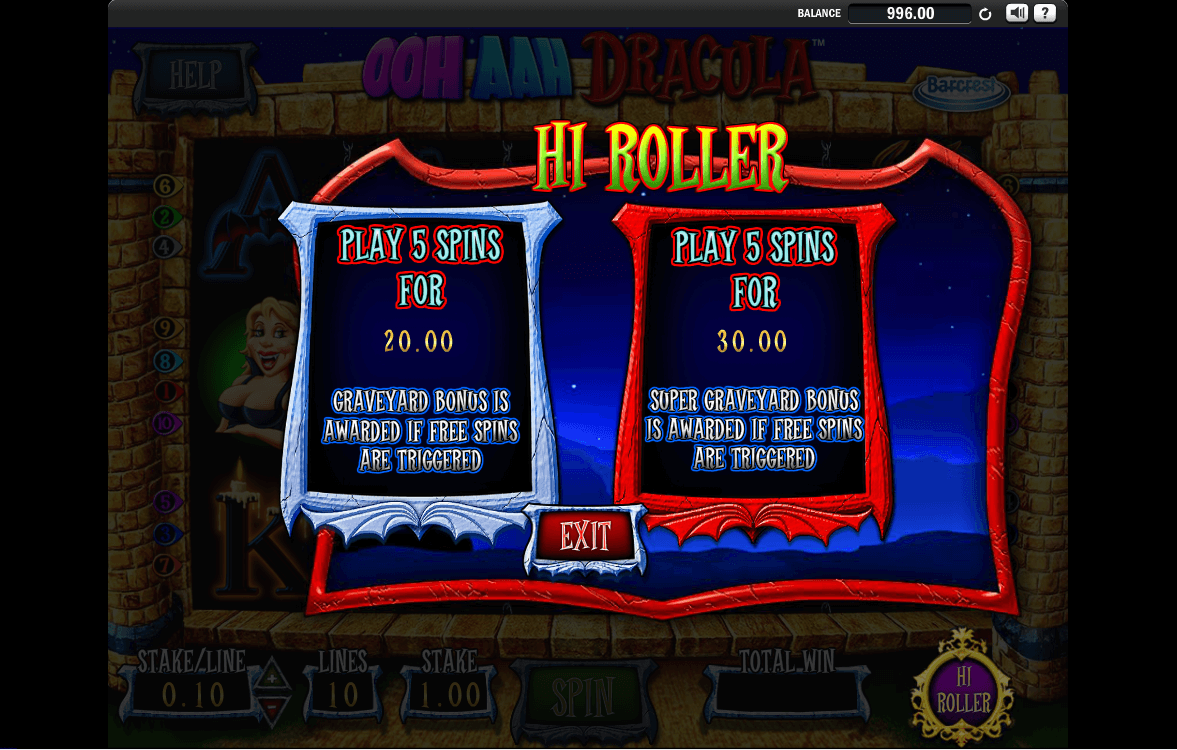 If you choose the Hi Roller button at the bottom right of your screen, you will be given five spins at a larger stake, where special features are easily triggered.
Think of the Hi Roller function as an opportunity to trigger your special features, only the outcome is not 100% certain, just more probable.
It is possible to win free spin bonuses on each of the Hi Roller spins.
When free spins are activated with the Hi Roller function, they are followed by a graveyard or super graveyard bonus.
Free Spins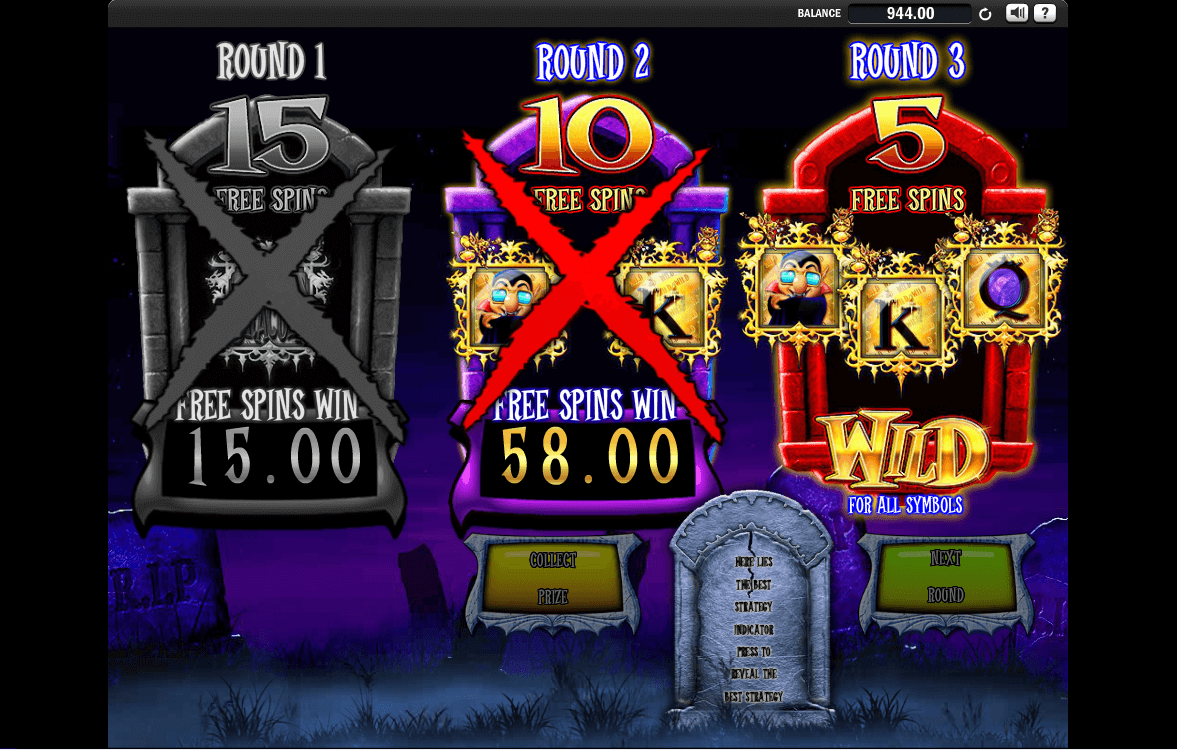 Three to five scatter symbols landing anywhere on your reel will award free spins.
Three scatters award 15 free spins with one wild symbol.
Four scatters award 15 free spins with one wild symbol and 10 free spins with two wild symbols.
Five scatters award 15 free spins with one wild symbol, 10 free spins with two wild symbols and five free spins with three wild symbols.
Before your spins begin, symbols are randomly chosen to turn into wilds during the free spins.
If you have more than one round of free spins, you can choose to either collect your winnings after one round or forfeit those winning and try your luck again in the next round.
If you choose to go to the last round, you have to collect the wins from those free spins.
Graveyard Bonus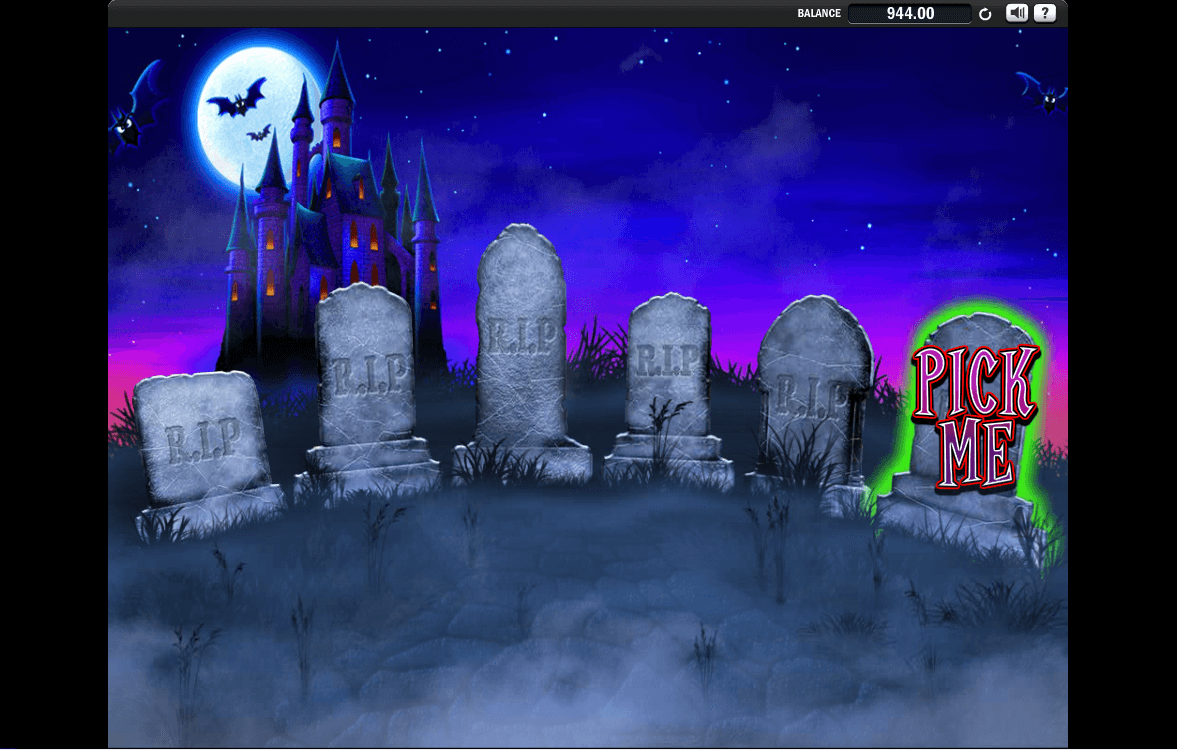 If you activate the free spins through the Hi Roller function, at the end you will be presented with the Graveyard Bonus game.
With the 20 Hi Roller, you are guaranteed the Graveyard Bonus at the end of your free spins. With the 30 Hi Roller, you are guaranteed the Super Graveyard Bonus at the end of your free spins.
Choose from a number of graveyards to reveal the number of ghosts.
Each ghost symbol is worth 1.0. The higher the number of ghosts, the higher your reward.
The difference between a graveyard and super graveyard bonus is the outcomes of the bonus; in the super graveyard, the number of ghosts are higher, and so are your winnings.
Reviewers' thoughts on Ooh Aah Dracula
The first thing we noticed about Ooh Aah Dracula is that somewhere along the line, something, a very convenient feature, went missing: the autoplay function. I guess it's true when they say "You don't know what you have until it's gone." We fell into the temptation of the Hi Roller feature and are happy to note that we activated the free spins quite a number of times this way. Guess that feature works pretty well. Overall, we did find the graphics of the game to be ancient looking, but despite all of that, the game kept us entertained for the whole 15 minutes we had to play it.
Play Ooh Aah Dracula on Top Rated Online Casinos Only
This game is available on top rated online casinos that are both fully regulated and licensed by the UK Gambling Commission and / or the Malta Gaming Authority. Pick one and grab yourself a great promotion while you check out our best casino bonuses section.
Check out More Online Slots Here
We're constantly reviewing new online slots on a daily basis. For more reviews, go to our online slots section.