Nudge Runner Slot
Stakelogic's Nudge Runner, released on 10th November 2018 claims that it "brings new excitement to classic fruit machine games". We're not sure about that but it certainly has that retro fruit machine look down to a tee. Nudge Runner has a dual game board with two 3x3 reel sets, 5 fixed pay lines, an RTP of 95% and a progressive jackpot to boot. You can play this low volatility slot from €0.20 up to €100 per spin (or €0.20 to €50 per spin if you play just one of the two game boards). Design and Symbols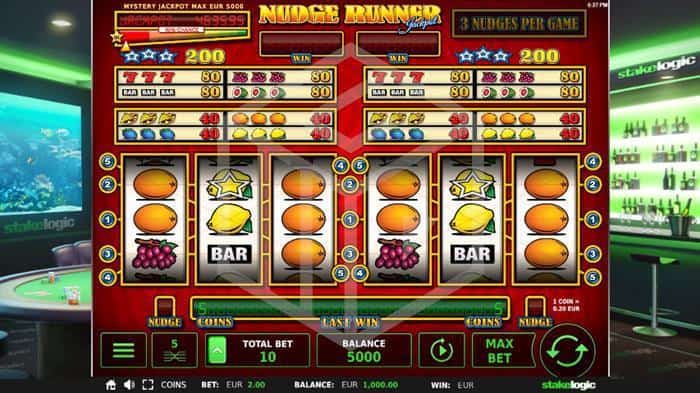 Can't really fault the design as far as it goes, after all, Stakelogic said they were creating a classic fruit machine and Nudge Runner couldn't look much more like as classic fruit machine if it tried. Not only are the symbols and reel set retro looking but also the graphics above showing how much each fruit pays, the slot title at the top of the game board, and of course the LED win and jackpot displays. It basically looks exactly like the top half of an actual 1980's fruit machine and with a myriad of bleeping and other crude amusement arcade noises, it certainly sounds like one as well! Perfecting this design isn't a particularly noteworthy achievement, although that's not really the point I guess. Behind the game, board is a far more up to date design of (presumably), a Stakelogic branded casino with what looks like a poker table edging out from behind the board, a bar against one wall, and a fish tank for decorative purposes on the other wall. As to the symbols, in order of value, they are represented by lemons, oranges, plums, bells, melons, grapes, bars, red sevens, and stars. Sometimes stars are standalone symbols but they can also appear on top of fruits. Wins are all for 3 of a kind and the stars are the highest paying (either with fruit or without fruit, or a combination of both), offering 40x bet size for that win in the standard game. If you manage to land a row of three identical fruit with stars on then you are awarded a 'Special Prize' (not sure what as we didn't ever manage to land that combo).
Special Features
Nudge Runner benefits from a progressive jackpot and also from an option to buy nudges.
Mystery Jackpot
The progressive jackpot (in this instance called the 'Mystery Jackpot') is funded by 0.5% of every bet made and begins at €500 and is capped at €5000. The higher the stake you play the better your chance is of winning the Mystery Jackpot.
Nudges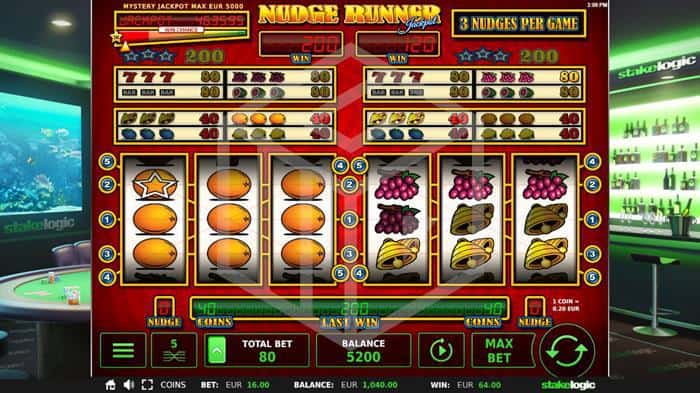 If you're willing to part with additional cash then you can buy 3 nudges which are activated at the end of each spin. Play to the maximum stake on both reel sets with 3 nudges and you'll be laying out €50 per reel set. If a win is possible with the 3 nudges then it will automatically nudge in on completion of the spin.
Our Thoughts on Nudge Runner
Much as I don't really get it myself, there seems to be a soft spot in many a slot-grinder's heart for a retro-fruity, so it wouldn't surprise me if Nudge Runner didn't fare too badly among the hardcore fruity fans as it's about a close to a retro fruit machine as you're going to get. However, this is the 21st century and I can't help but find such games boring and irrelevant, and I'm afraid I didn't find Nudge Runner an exception. In fact with zero features to speak of which don't cost you extra money at the start of the spin I found this one extra boring. Basically, if you want any sort of enjoyment you simply must pay extra for the additional 3 nudges. To top it all off it's a 5 pay line slot with low volatility which makes it even less exciting! I suppose the dual board aspect of it makes it marginally more interesting, but not much. Also, the progressive jackpot being capped at €5k is just too low to get excited about – it certainly won't appeal to any high rollers who might be paying up to €100 a spin, although I can't imagine for a second that this slot is aimed at high rollers. All in all yes it looks very much like a classic fruity, yes some classic fruity nuts will probably love it, but no I can't honestly recommend it.