Nudge Runner by Novomatic released on 10.11.2018 is a 3-reel & 3-row online slot with 5 paylines and a 95% RTP. This is a classic fruit-themed game offering players a max win of up to 200x their stake. Nudge Runner can be played on all devices from €0.2 to €100 per spin and is considered a low volatility game.
Where to play
Check out casino bonuses on our casino index.
Special Features
Nudge Runner benefits from a progressive jackpot and also from an option to buy nudges.
Mystery Jackpot
The progressive jackpot (in this instance called the 'Mystery Jackpot') is funded by 0.5% of every bet made and begins at €500 and is capped at €5000. The higher the stake you play the better your chance is of winning the Mystery Jackpot.
Nudges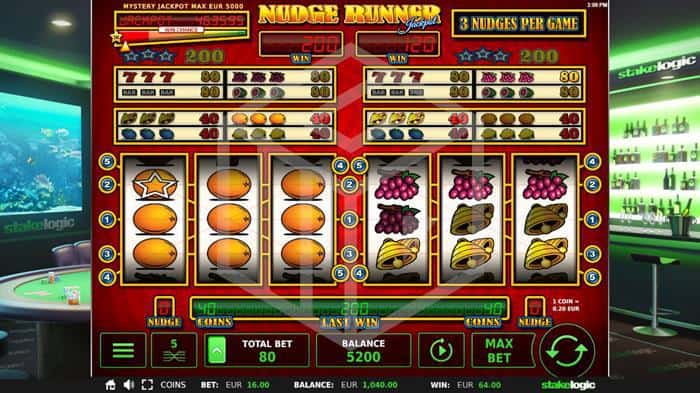 If you're willing to part with additional cash then you can buy 3 nudges which are activated at the end of each spin. Play to the maximum stake on both reel sets with 3 nudges and you'll be laying out €50 per reel set. If a win is possible with the 3 nudges then it will automatically nudge in on completion of the spin.
Our Thoughts on Nudge Runner
Much as I don't really get it myself, there seems to be a soft spot in many a slot-grinder's heart for a retro-fruity, so it wouldn't surprise me if Nudge Runner didn't fare too badly among the hardcore fruity fans as it's about a close to a retro fruit machine as you're going to get. However, this is the 21st century and I can't help but find such games boring and irrelevant, and I'm afraid I didn't find Nudge Runner an exception. In fact with zero features to speak of which don't cost you extra money at the start of the spin I found this one extra boring. Basically, if you want any sort of enjoyment you simply must pay extra for the additional 3 nudges. To top it all off it's a 5 pay line slot with low volatility which makes it even less exciting! I suppose the dual board aspect of it makes it marginally more interesting, but not much. Also, the progressive jackpot being capped at €5k is just too low to get excited about – it certainly won't appeal to any high rollers who might be paying up to €100 a spin, although I can't imagine for a second that this slot is aimed at high rollers. All in all yes it looks very much like a classic fruity, yes some classic fruity nuts will probably love it, but no I can't honestly recommend it.