Monopoly Megaways™ Slot
It was bound to happen sooner or later, and we're glad it's Big Time Gaming, the creator of the heavily lauded Megaways™ reel mechanic, who finally brought a Monopoly branded Megaways™ slot to the table!
Don't get me wrong, it's not as if there hasn't been a Monopoly branded slot before, in fact there are already more than 20 in circulation (my pick of the bunch has always been Barcrest's 'Monopoly Big Event'). However, the Megaways™ makeover is always an event, especially for a branded slot – and BTG's effort does not disappoint.
With regards the main reel mechanic, it's fairly standard Megaways™ fare; the gameboard consists of 6 reels each containing between 2 and 7 symbols per spin.  The number of symbols per reel per spin is randomly selected and with a maximum of 7 symbols per reel, the maximum number of ways to win is 117,649 (7x7x7x7x7x7).
The game operates the cascading symbols mechanic with reaction wins in both the base game and the free spins round. Winning symbols are removed from the board after a spin to be replaced by symbols cascading from above. A cascade resulting in another winning combo (a 'reaction win') causes the procedure to repeat.
This reel mechanic combined with progressive win multipliers in the free spins rounds tends to produce the biggest wins. However,  BTG's proprietary Reel Adventure™ format not only aids play during free spins but also contributes a number of base game features, so big wins can come at any time. 
Monopoly Megaways™ is a fairly volatile slot with an RTP of 96.39% and a maximum payout of 14,700x your stake. Available from October 2019, you can play from €0.10 up to €20 per spin.
Design & Symbols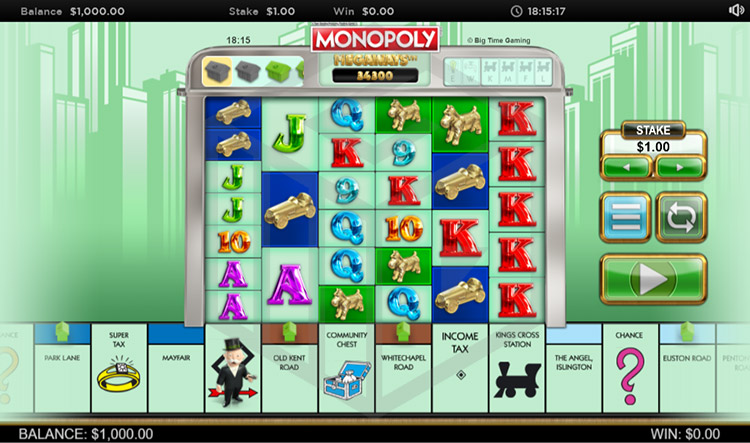 I won't give you any guesses as to the design of this particular slot; of course, it is based around the characters, streets, and properties of the classic London version of the Monopoly board. The reels are housed in what appears to be a city building, perhaps the fascia of a hotel? Behind the board, in shades of green (to resemble the colour of the board game), you can see what appears to be the outline of the Manhattan Skyline. Given the original game was set in New York this makes sense, although as I noted this slot actually uses the London version in the Reel Adventure part of the game. The Reel Adventure part of the game sits under the gameboard running from the left side of the screen to the right. It contains the active squares on the gameboard with Mr Moneybags progressing along the streets as you play. Above the reels are meters indicating the number of properties on any given street and the stations & utilities.
Low-value symbols are the standard playing card values 9-A. High-value symbols are golden versions of some of Monopoly's iconic counters; the dog, car, ship, and top hat. The top hat is the most valuable, with 6 across a pay line worth 50x the stake. The wild is a golden 'M' on a rainbow coloured square and there is no scatter symbol. 
Reel Adventure™
The Reel Adventure™ part of the game is where you'll find all sorts of modifiers and features to enhance your chances of winning.  Whenever you land a win, Mr Moneybags strolls around the board. Land on a station or a utility company and you own it. Landing on a property on your second reaction adds a house to it, with every further reaction adding an additional house. Special squares offer special rewards;
Go: Landing on 'GO' results in the next spin guaranteeing 117,649 Megaways™
Community Chest: Landing here sends you to a random property, adding up to 4 houses.
Chance: Landing on Chance can either result in either of the two previously described modifiers, OR it could trigger free spins.
Free Spins
A fifth house awarded to a property activates 8 free spins. A Chance card also occasionally triggers free spins. It's worth noting these additional elements which come into play upon triggering free spins;
Every additional free spins trigger after the first awards 3 more free spins
Additional houses above the 5th awards a free spin
Every train station owned awards a free spin. 
Each utility company owned increases the win multiplier by 1x
During the free spins bonus round further free spins and win multipliers are up for grabs. They too are arrived at via modifiers during the Reel Adventure™ and are triggered as follows;
Landing on a station you own awards one free spins for EVERY station you own.
Each time you land on a utility you own the win multiplier increases by 1x for each utility you own
Every time you land on a property the win multiplier increases by 1x for each house on it, after which the houses are removed from the property.
A Chance card either sends you to a random property, awards a spin a 117,649 Megaways™, or adds 5 free spins.
Our Thoughts on Monopoly Megaways™
Now, if you've come to this review to get a taste for the game without playing it and are a little, let's say, overwhelmed by the amount of information to digest, try not to be. Like the board game itself, you just need a couple of scoots around the board and everything slots into place. 
To me, this is the perfect Megaways™ slot, combining great potential with awesome mechanics and a superb video game narrative.  Not only does it utilise reaction wins and the unlimited win multiplier mechanics, but it has also found a deserving home for BTG's Reel Adventure™.
While I enjoyed Holy Diver's Reel Adventure™, I found the narrative a little weak and lacking cohesion. The game of Monopoly suits this format down to the ground, and it works brilliantly. 
Perhaps it won't suit the kind of grinder who just wants to spin the reels to hit a simple but profitable feature before resuming the grind. – but in my opinion, those guys need to lighten up! Innovation, potential, and fun are what Big Time Gaming is all about, and this beauty of a slot marries that triumvirate perfectly.