Pragmatic Play's first slot release of 2020, like their last of 2019 (Money Mouse), is an Asian themed affair. Any similarity between the new release, Magic Journey, and Money Mouse, however, ends right there.
Magic Journey is Pragmatic Play's second slot to feature the characters from Journey to the West (which is also the name of Pragmatic's first slot), the classic 16th-century Chinese novel popularised in the west by Englishman Arthur Waley's translation from the early 20th century 'Monkey', which in turn provided the inspiration for the cult TV series of the same name from the 1970's.
Magic Journey works off a 3x3 grid with 8 paylines and comes with an RTP of 96.54%. It also introduces a novel approach to reel mechanics. The 3x3 grid contains 9 individual character symbols and doesn't contain a spinning reel. Nor do symbols explode, vaporize, tumble, cascade or in fact move in any way and remain a constant throughout the game. There is, however, a single, spinning, 5x1 reel beneath the grid. We'll deal with how this set-up works a little later given that it is the closest this slot gets to a 'feature'.
This highly volatile slot comes with a maximum win per spin of 400x and can be played from €0.20 to €100 per spin.
Design & Symbols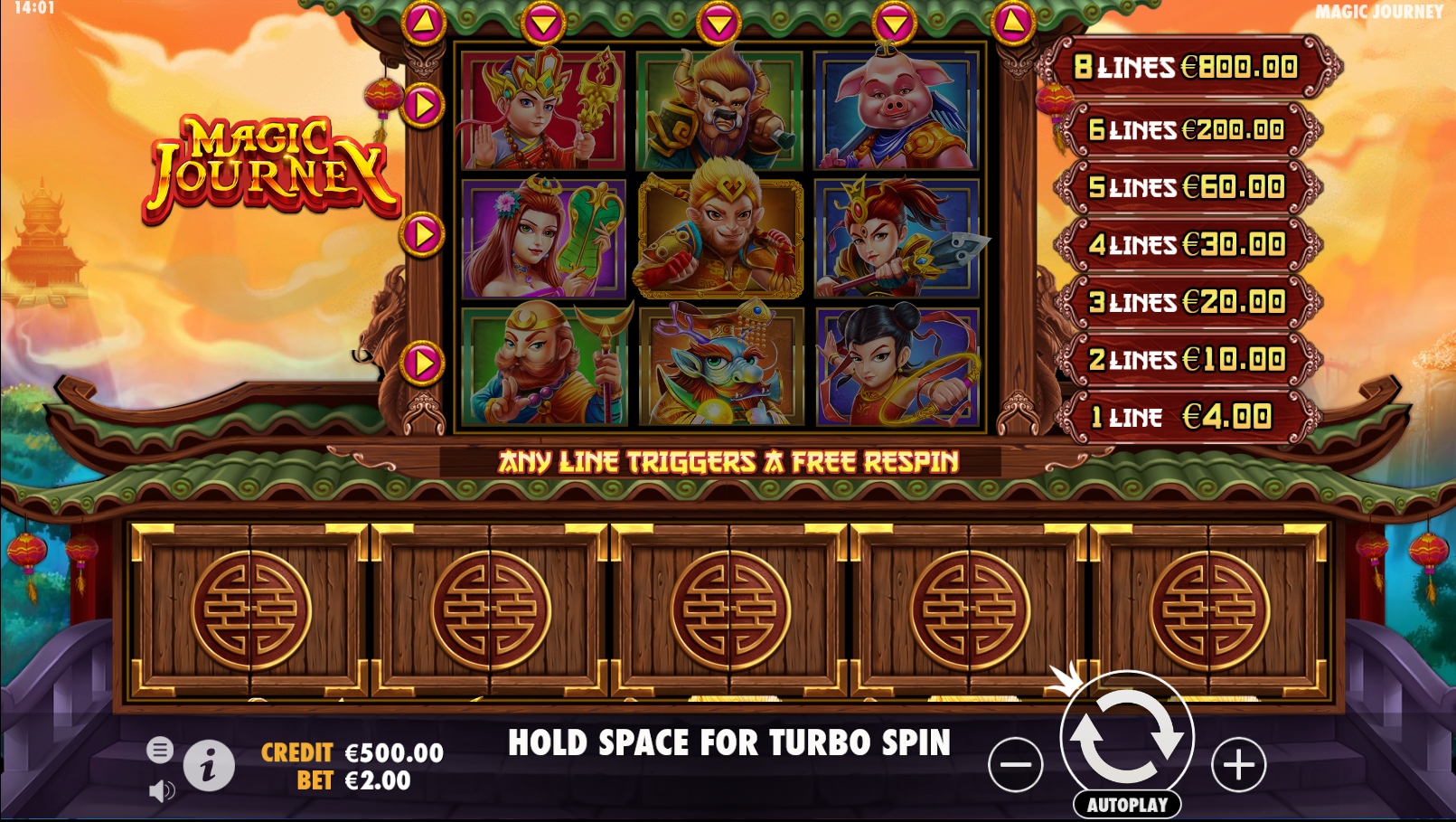 The scene set is typical of an Asian themed slot with the wood-framed grid sitting under a Chinese style corrugated jade roof. The grid sits on top of the horizontal reel which has its own jade roof with Chinese lanterns swinging in the breeze at each end. Whereas the 3x3 grid already has the character symbols in place, the lower 5x1 reel symbol spaces have wooden doors with gold plated edges which only reveal characters when spinning. The whole structure sits atop a stone staircase (or possibly bridge). To the right of the grid is the paytable showing the amounts won for completing one or more paylines. In the background wispy clouds cross the orange sky with mountain top castles visible in the distance. A pleasant ditty accompanies play with definite Asian influences, although not as stereotypical as your average far eastern slot soundtrack. The characters are a combination of human and animal warriors. They include Sun Wukong the Monkey King and Zhu Bajie (Pigsy to fans of the TV show) amongst others.
All symbols are equal in monetary value as each of the 8 paylines pays the same individually. There are no wilds or scatters.
Special Features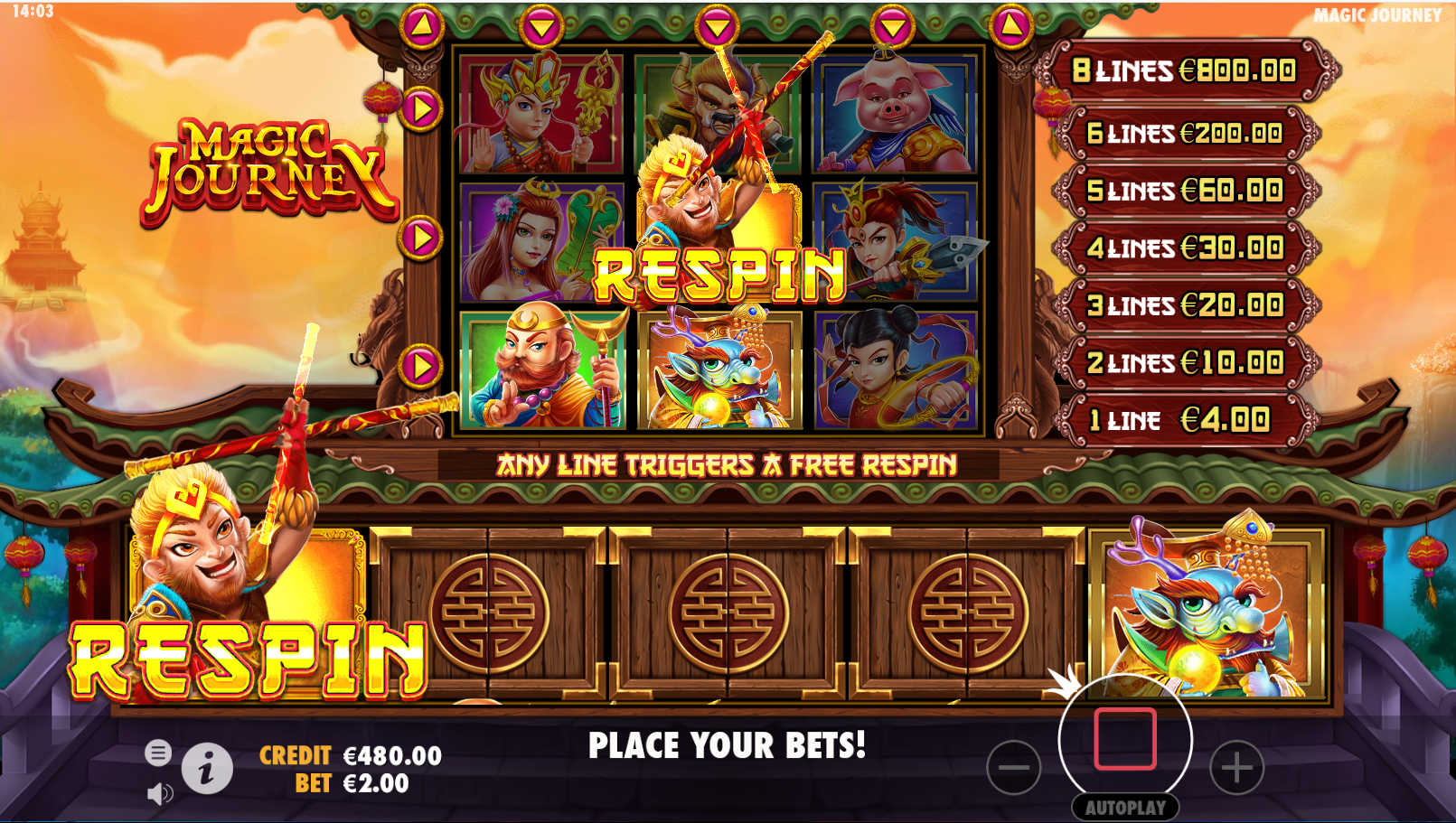 As previously mentioned, there really are no features as such, just a very atypical set-up which operates more like a game of bingo than a regular slot. The spinning reels beneath the grid contain blanks and copies of the symbols in the grid above. Between 0 and 5 symbols will land on any given spin. Those symbols are then lit up on the 3x3 grid, and if one or more of the 8 paylines are completed the corresponding payment is awarded and a respin is given. If more lines are completed during the respin another is granted. Respins stop after a non-winning respin.
The Monkey King is the only symbol which operates as any sort of 'special' symbol. It sits in the centre of the grid and whenever it appears a free respin is awarded regardless of whether it landed on a winning spin on not. As more lines are completed the award increased exponentially, starting at 2x for 1 line to 400x for all 8. The 8 lines consist of the grid's 3 rows, 3 columns and both diagonals.
Our Thoughts on Magic Journey
What at first glance appears to be a somewhat complex game is in fact one of the simplest I've played. It has no features, no bonus games, no wilds, no multipliers and a jackpot of just 400x the bet size. This doesn't seem much, certainly not for a highly volatile game – but then again it doesn't act of play like a normal game. And this, it seems, is its charm. It may be simple, but it is deceptively addictive – much like bingo itself. Wins occur reasonably regularly and if you get a half-decent run the bigger wins aren't all that elusive.
It is very possible the novelty factor won't last forever, and its unlikely Magic Journey will keep the big win seekers satisfied. However, it's well worth a punt and a fun additional to Pragmatic's portfolio.