Light Blocks Slot
by Merkur Gaming
Play Light Blocks Slot on
Check out casino bonuses on our casino index.
Description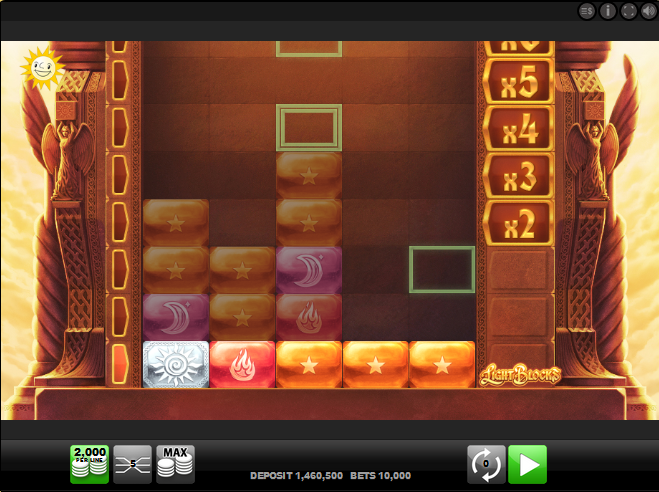 Here's the Lightbox slot by Merkur! This game developer like their volatile video slots; they rarely release anything else. They also like a generic, formulaic game without too much original thought.
Well, they've stuck to the volatility part with November 2018's Light Blocks – but this is anything but a formulaic slot and Merkur have actually employed a little innovation. It's difficult to assign a theme, but let's go for 'light and angels' as they feature in the design!
This game doesn't spin reels; it drops stacking blocks one by one across 5 columns in no particular order. A winning line is created whenever a full row of five blocks is created. Additional blocks can be acquired in order to create further rows. If enough rows are created from the same credit, eventually rows are assigned increasing win multipliers. This may sound a trifle confusing, but trust us it isn't. In case it does, a more detailed explanation of the winning mechanic is provided later on in this review.
There are no special features in Light Blocks, with the whole game more akin to a traditional slot bonus feature than anything else. Light Blocks comes with an RTP of 96.3% and can be played from €0.05 to €100 a game at participating casinos.
Community Big Wins
Design & Symbols
The action takes place on a raised pedestal which and kind of resembles the entrance to an ancient temple. The gaming area is constructed of blocks in five vertical columns. The gameboard only shows 7 rows, but when a number of rows are filled with symbols they drop beneath the gaming area, and further rows come into view.
The gameboard is flanked on either side by ornately sculpted columns, each with a carved angel halfway upholding aloft a block with a sun symbol. Behind the gaming area, angelic lights perforate thin wisps of heavenly cloud. All the while a looping synth riff accompanies the play.
There are only light block symbols, orange with a central star, red with a flame, purple with a crescent moon and silver with a sun. The sun-block is the highest value, paying 10x the bet size for every one landed on a completed row.
Special Features
The Light Blocks win mechanic is the game's special feature and is definitely worthy of explanation. There is also, as with all Merkur slots, a gamble feature.
Light Blocks Win Mechanic
To give a little clarity on how exactly wins are determined in Light Blocks it is worth explaining exactly how the mechanics work. Each new 'spin' (or game) involves 5 light blocks dropping from the heavens, each randomly landing in one of the 5 columns.
Rarely do all 5 land in different columns, so completing a row isn't as simple as just receiving 5 drops. Luckily help is at hand. As described above, there are several fixed spaces which, when filled, award either one or two additional drops. Furthermore, when a full row of blocks is completed, 5 additional drops are awarded.
A complete row of blocks will pay the combined value of the five blocks which make up the row. Much like a MegaWays™ 'cascade' mechanic, each game of Light Blocks continues until no further rows are completed.
Once 4 rows are completed in the same game the middle of the screen drops down, revealing more rows. From the 4th row upwards all rows come with a win multiplier starting at 2x on reel 4. Each additional reel completed adds 1x to the multiplier (row 5 has a 3x multiplier, row 6 a 4x multiplier etc). At the end of the win streak, the row wins are calculated and added to the player balance.
Gamble Feature
With every win, you have the option to gamble your winnings. There is a choice of gambling methods; you can choose to gamble on the colour or suit of the next card out of a deck, or gamble using a win/lose gambling ladder. You can only gamble wins, however, up to €140, so this option becomes invalid for any sort of high roller pretty quickly.
Light Blocks Summary
The Light Blocks slot machine isn't going to be a game-changer in the world of online slots, it is fairly simple and quite repetitive. However, it is certainly unique and innovative, words not often associated with Merkur, and this in itself is worthy of merit.
Furthermore, although it is a simple premise with little variation it is actually quite compelling and fun. Also, it can produce some huge wins if you catch it at the right time. All things considered, I certainly enjoyed reviewing this game more than most and on balance I'm more than happy to recommend it to both low and high rollers alike.
Other Merkur Gaming games