Joker 4 Wild Slot
Released on the same day (10th November 2018) as their other 'classic fruit machine' slot, Nudge Runner, Joker 4 Wild promises to 'take classic slots gaming up to the next level'. Once again we're looking at a very true to the theme retro designed fruity, but will it live up to its promises? Joker 4 Wild has a 3x3 expanding to 6x3 reel set, between 5-20 pay lines, and an RTP of 95%. The slot also has a progressive jackpot and can be played from as little as €0.20 up to €400 per spin.
D
esign and Symbols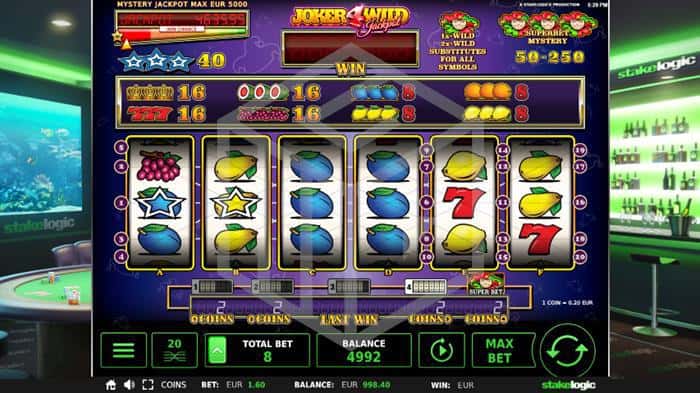 The design for Joker 4 Wild is almost identical to the design for Nudge Runner with the only real differences being the colour of the background on the game board and the fact that the 6 reels are all equidistant from one another rather than separated into two separate 3x3 reel sets. Once again the design looks very much like the top half of a typical 80's fruit machine with all the symbol combo wins displayed above the reel set and with LED displays for the wins and the progressive 'Mystery' jackpot. Once again (at least on the pc version) the backdrop to the game board is of a Stakelogic branded casino with a poker table in the centre of the room, a bar against one wall and a fish tank decorating the other. The sounds the slot makes are all very reminiscent of retro fruit machines. Low-value symbols are lemons, orange, pears, and plums, with higher values for grapes, melons, red sevens, and crowns. As with Nudge Runner, the star is the highest value regular symbol. Also just like in Nudge Runner, stars can appear on certain fruits and if identical fruits with stars line up for a win the player is awarded a special 'Star prize'. The other symbol is the joker which is only added to the reels in Superbet mode (explained below).
Special Features
As the title suggests the joker is wild, which in this game is considered a special feature, and is only available in Superbet mode (another special feature). Joker 4 Wild also benefits from a progressive jackpot. Superbet Mode with Jokers In normal gameplay you can choose to play a basic 3x3 reel set, whereby only the first three reels are used, or, for an increasing bet size you can choose to play 4x3, 5x3, 6x3, or 'Superbet mode'. Superbet mode adds wild jokers to reels 2-5 whilst playing on the 6x3 configuration. Jokers substitute for all other symbols, and if you land 3 jokers in one spin then you are awarded a 'Superbet Mystery' win which can be several times bigger than the biggest Star win. Mystery Jackpot Once again Joker 4 Wild takes a leaf out of Nudge Runner's book (or vice-versa) and offers a progressive jackpot of between €500 and €5000. The higher you stake, the more likely you are to land this randomly triggered bonus.
Our Thoughts on Joker 4 Wild
When initially comparing Stakelogic's two new 'classic fruit machine' releases I was a little more hopeful for Joker 4 Wild than Nudge Runner as it seemed to offer a little more in the way of modes/features, but in reality, it's the same slot wrapped slightly differently. Rather than 2 distinct reel 3x3 reel sets, there is one reel set which can be expanded by increasing your stake – two different ways at arriving at more or less the same place. Also, while Nudge Runner offers you the opportunity to buy more ways to win with nudges after each spin, Joker 4 Wild offers you the opportunity to buy some wild joker symbols which will also lead to more ways to win. The design and symbols are incredibly similar, and they both share the same progressive jackpot. It's also another very low variance slot and to be honest is quite tedious. Hopefully, Stakelogic's next releases will have a bit more to offer those who aren't in love with retro classic slots.