Diamond Duke
by Quickspin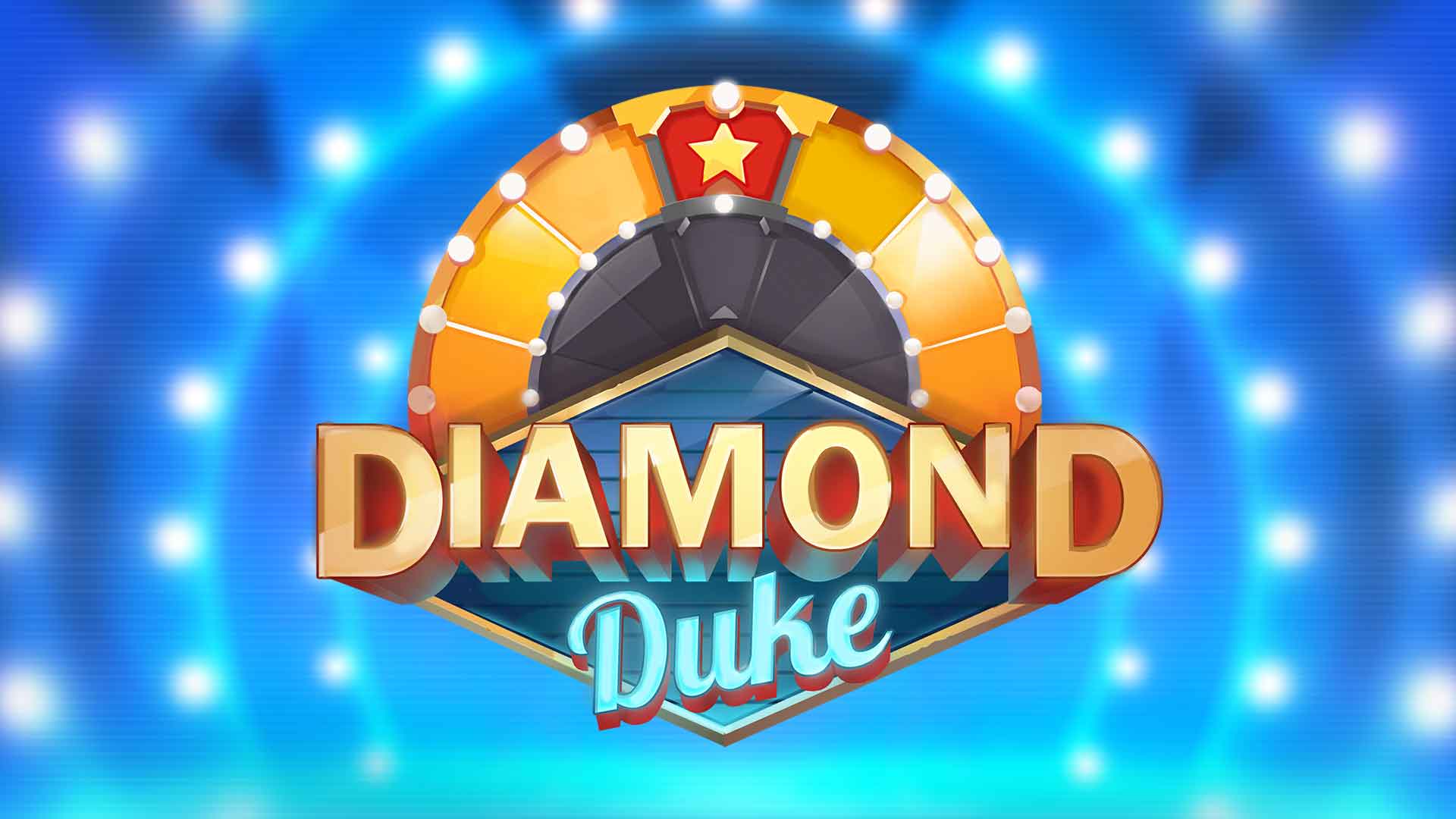 Play Diamond Duke on
Check out casino bonuses on our casino index.
Description
Released on May 12th, 2020, Diamond Duke is Quickspin's offering to the retro 3x3 slot market - and when we say retro, we MEAN retro. This is no flashing and beeping 1980's square buttoned monstrosity, we're talking slick, laid back 1950's one armed bandit territory. By and large the 3x3 market tends to get short shrift in these review, but can Quickspin roll back the years and deliver a piece of slot nostalgia to get excited about? Let's take a look.
Before we get onto the sleek curves and mid-century mechanics, we'll take a look at the stats. While it may only have the 3 reels, 9 symbols spaces and 5 paylines, this slot is still capable of delivering wins of up to 8,000x the bet size. It comes with a very 21st century RTP of 96.23% and its 5/5 volatility rating should please big win hunters.
While you won't find fancy free spins rounds or spectacularly animated special features, Diamond Duke does offer a couple of nifty bonus plays. Scatter triggered features include a Bonus Wheel which delivers win multipliers and a multi-level pick bonus as well as a separate Multiplier Wheel. The biggest wins come from combining both wheels or filling the board with stacked symbols.
Diamond Duke really does cater for any bankroll with spins on offer from just €0.05 up to €100 a spin.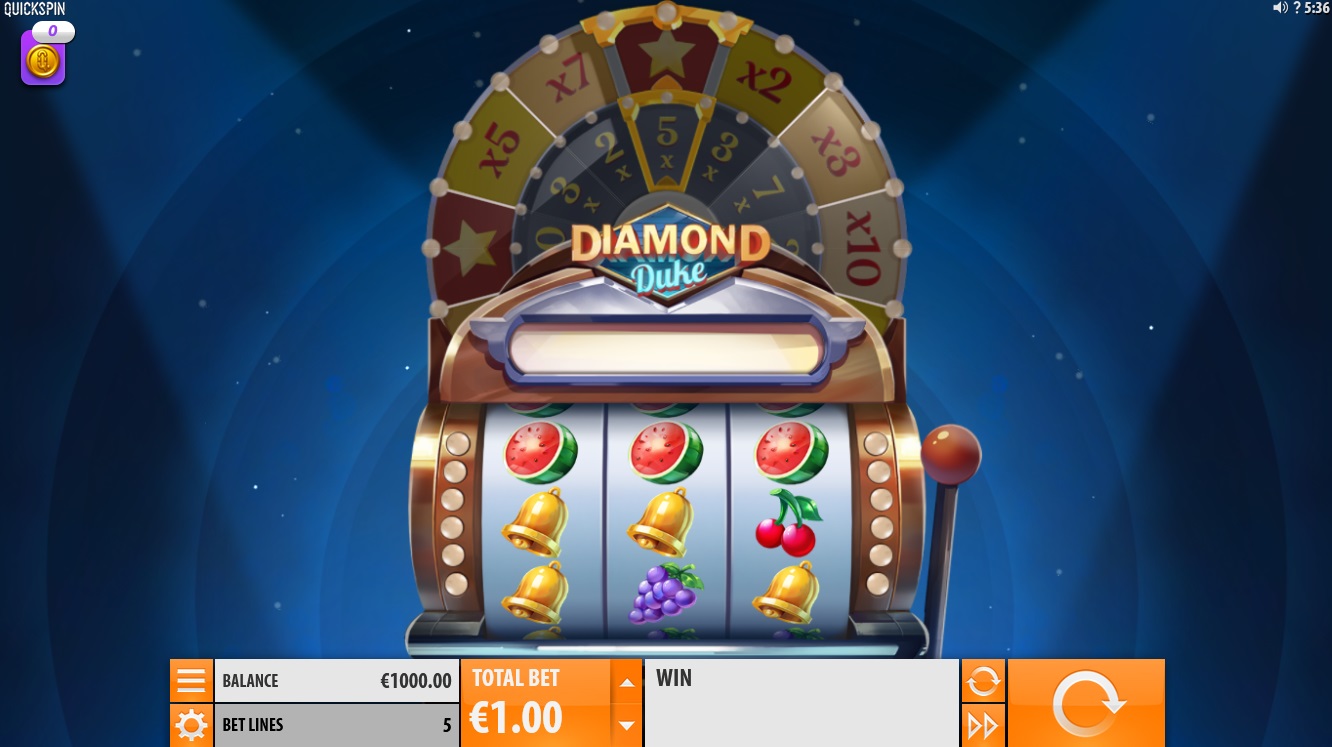 Community Big Wins
No big wins yet! Share your big win on our forum!
Design & Symbols
Quickspin capture the ambience of a 1950's cabaret club with the spotlights shining down on the star of the show, the Diamond Duke one armed bandit. In the background some smooth, melodic jazz is playing, no doubt from the house band. Gentle brushes on the drums and a rhythmic double bass lead the way with the brass section and intermittent pianist providing the colour. The slot itself is housed in a shiny brass and chrome case with white barrel reels on which the classic symbols spin. Atop of the slot sits the Diamond Duke logo with the two prize wheels protruding from behind the slot. The shiny arm with its polished red knob is attached the right side of the slot, ready for action.
The low value symbols are cherries, grapes, and melons which pay 1x, 1x, and 2x for three of a kind. High value symbols are bells, red sevens, and diamonds which pay 6x, 12x, and 160x for three of a kind. The only other symbol is the Wheel Scatter which pays 4x for 2 of a kind and 8x for three of a kind. Furthermore, Wheel Scatters can appear anywhere in the 3x3 game window and both winning combinations trigger a bonus feature. All symbols except the scatter can appear stacked on the reels to complete all 5 paylines.
Special Features
Bonus Wheel
Bonus Wheel & Multiplier Wheel
Full House Multiplier Wheel
Bonus Wheel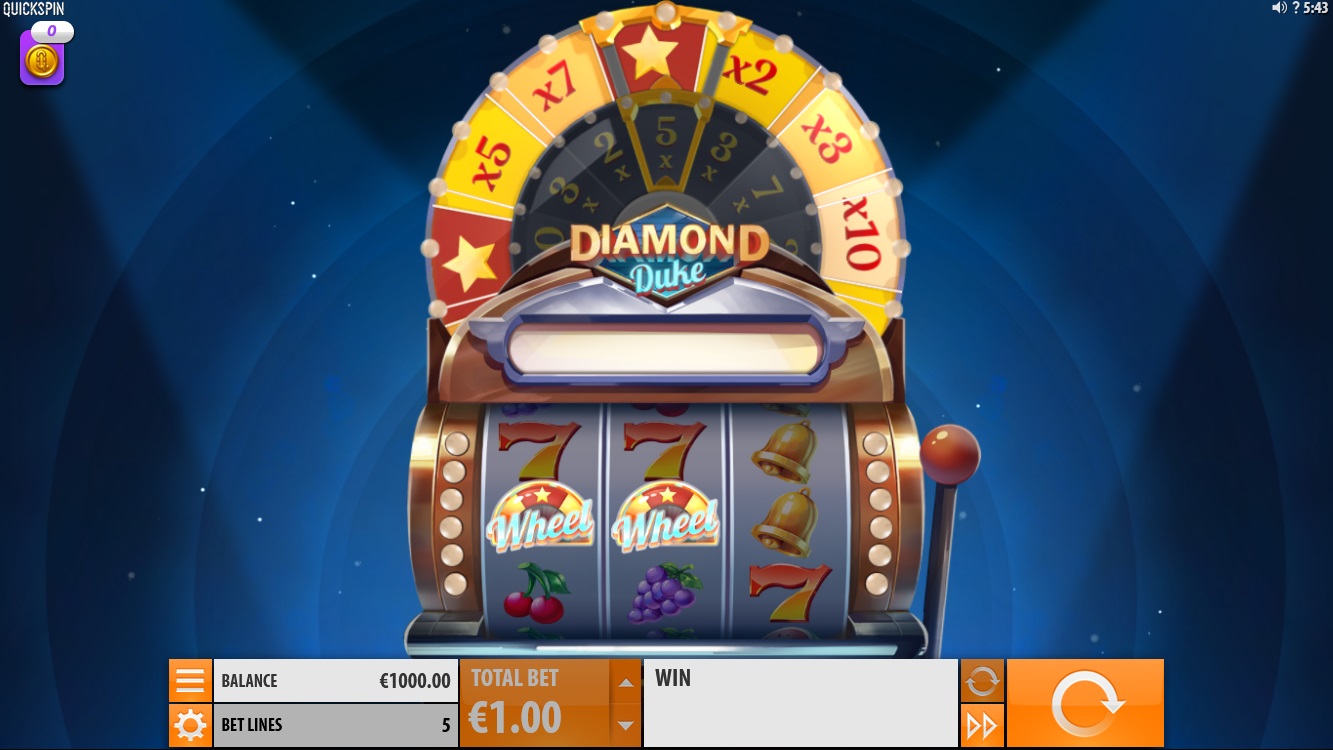 2 scatter symbols award 1 spin of the Bonus Wheel, the larger, outside wheel. The Bonus Wheel contains win multipliers or stars, which gain you entry to the pick bonus
Win Multipliers.
Most of the segments of the wheel contain win multipliers in the values x2, x3, x5, x7, and x10. Land on one of those and your initial win of 4x (plus any other win which may have landed) is multiplier by the multiplier value.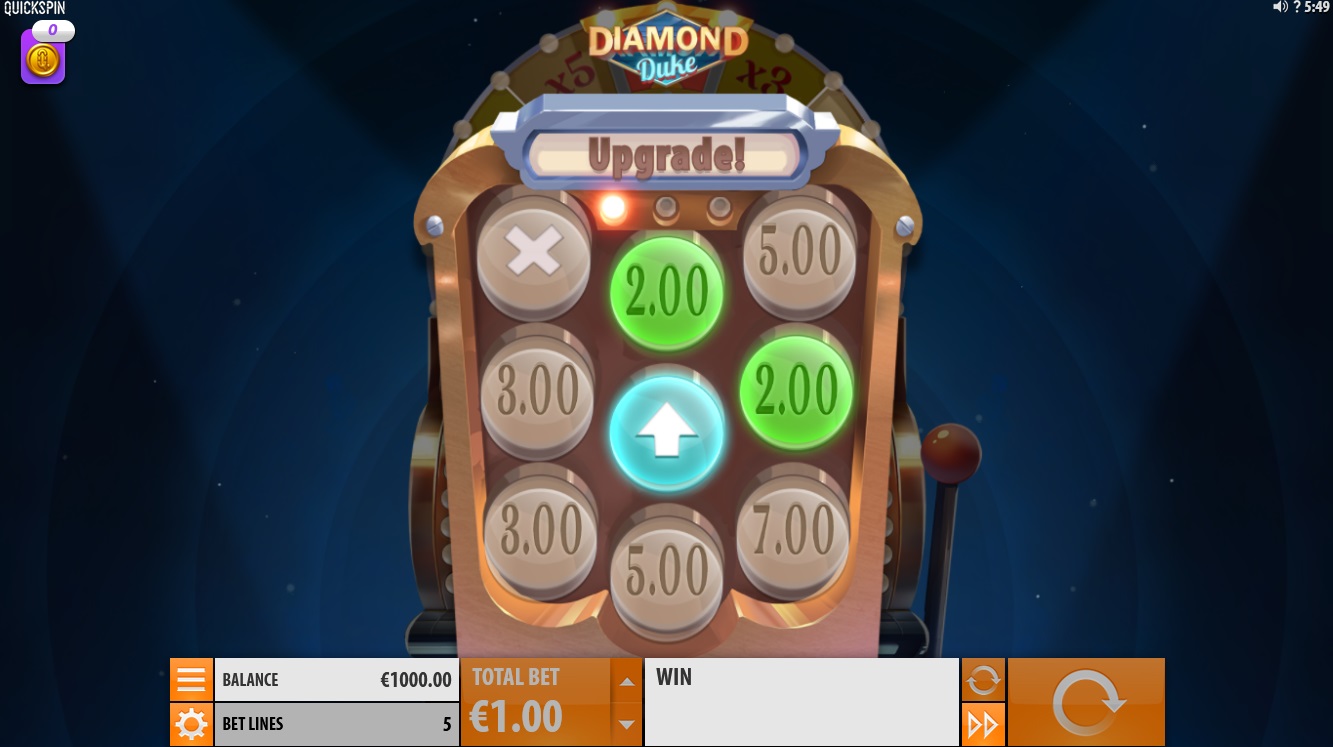 Pick Bonus.
The star symbol awards the pick bonus whereupon another gameboard, designed in the style of a 1950's jukebox appears in front of Diamond Duke. You then get to pick from 9 glowing discs. 7 contain win multipliers, one is an upgrade symbol, and the other is red disc which terminates the round. In total there are three levels to the pick bonus, only accessible upon picking the upgrade symbols. Each new level contains better win multipliers.
Level 1 contains win multipliers between x2 and x7 the bet
Level 2 contains win multipliers between x3 and x15 the bet
Level 3 contains win multipliers between x5 and x100 the bet
Bonus Wheel & Multiplier Wheel
3 scatters awards a cash win of 8x the bet size, 1 spin of the Bonus Wheel and 1 spin of the Multiplier Wheel. The Multiplier Wheel sits beneath the Bonus Wheel and only contains multipliers of x2, x3, x5, x7, and x10. Whichever multiplier you land is then multiplier by your total win from the initial 3 scatters plus your Bonus Wheel win. This can produce wins of up to 800x if you only land win multipliers and wins of up to 8,000x if you get lucky with the pick bonus.
Full House Multiplier
Filling the 3x3 grid with matching symbols awards 1 spin of the multiplier wheel. Your entire win is multiplied by whichever value lands. Land 5 full lines of diamonds and hitting the 10x multiplier also awards a win of 8,000x.
Our Thoughts on Diamond Duke
I'm generally not too much of a fan of 3x3 slots, but Diamond Duke is one of the rare exceptions. It may not have a gazillion features, state of the art graphics, or millions of paylines, but it oozes charm. Its features are simple, but they can produce dividends, and they are perfectly in keeping with the theme. I can imagine sitting in a smoky, 1950's cabaret bar, swirling a single malt, and ploughing a cup of quarters into Diamond Duke and having a thoroughly good time.
Other Quickspin games