Dead or Alive 2 Slot
The Dead or Alive 2 slot has officially been announced, and is scheduled for going live on the 24th of April, 2019. Read more about NetEnt's Dead or Alive 2 slot Announced: A CasinoGrounds Production here.
Disclaimer: This review is based on a hands-on test of an unfinished game, therefore, some information below is subject to change before launch of the finished product.
So! we got our hands on a Dead Or Alive 2 demo the other day, and man, they have not saved the ammo in this release. My initial thoughts where:
Great sound
Those Graphics - That Billy kid will become notorious. (- he's also the wild popping up on the fifth reel)
"High noon" - Some MAX mechanics coming into play.
Enough of that. - Let's dig a bit into this highly volatile five-reel nine-line video slot from Netent and see what they have in store for us.
Things you will recognize from the original Dead Or Alive Slot
Find a wild for each reel similar to the original
Sticky wilds still play an integral part in the bonus rounds.
Three or more scatters triggers the feature rounds.
The Old Saloon bonus feature is basically the same as the bonus feature in the Original Dead or Alive,
New Additions in Dead Or Alive 2
Max Mechanics
A potential of 111.000x (!!!) Payout.
Two new free-spins rounds to choose from.
New Characters
Design on a new level
Design and Symbols
The first thing you will notice is the amount of thought that has been put into the design of this game. Everything from symbols to the framework surrounding the reels, to the main characters of the game. The Americana soundtrack sounds amazing (albeit during demo sessions we discussed it being a tad monotone after a few spins. We were told that the sound design of our demo version wasn't completely done yet, so it will be interesting to see what NetEnt has in store for the final release!). That said, we do hear loads of sound effects beyond the background music.In regards to symbols, we will find:
Premium symbols: Cowboy boots, guns, whisky bottles, hats and and a sheriff star.
The Standard symbols are normal card faces: 10-A.
Wilds: The different characters from the game.(My personal favourite is Billy) - He can be found on the final reel.
Scatter Symbol: Imagine the skull of a bull and two crossed revolvers with the words "SCATTER" written below.
Special Features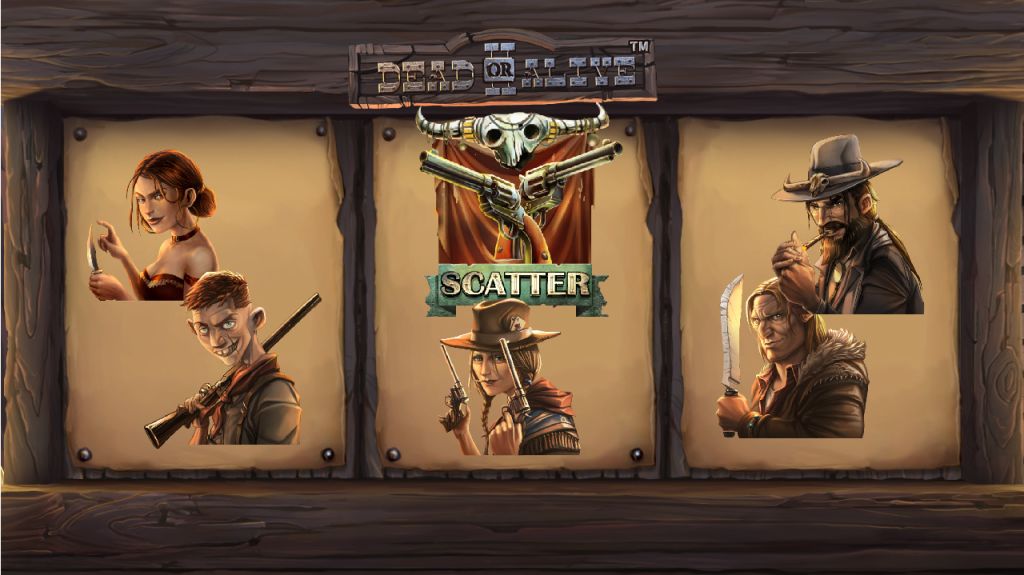 If you thought design was the only thing that got a major revamp in the new Dead or Alive 2 slot, then you're in for a real treat. As with the previous game, you trigger the bonus games with a scatter symbol. That's basically where the similarities end as well (except for that one bonus round you can choose which is basically the good ol' bonus round from the original game).
Landing three scatter symbols will present you three options. They all work a bit different,- and depending on your play style, it's up to you to decide the volatility. Shoutout to the designers here making it super clear what is the most volatile option of the three. No matter which free spin mode you choose, you will receive 12 free spins.
Train heist
The low-volatile option(still highly volatile by all means!) . During these free-spins you will be presented with a counter on top of the reels. For every wild symbol that lands on the reels, you will receive an extra spin and a multiplier(!).. Land 16 wilds in total and you will receive 5 extra spins! :
Wilds grant multipliers and extra-spins during the Train Heist round
Get 5 extra spins if you reach 16x Multiplier
Although the progression counter stops at 16, you will continue to receive additional multipliers and spins for every wild that lands during the free spins round.
Old Saloon
The classic Dead Or Alive bonus game. During these spins, you will notice a bit fewer hits, but with much bigger return per hit. In addition, you will be glad to find all wins with a 2x multiplier. As with the original, land a wild on each reel to receive five extra spins.
High Noon - Netents "MAX" Concept - The 110.000+ max potential.
Now this is where the impressive potential of Dead or Alive 2 comes in to play. The High Noon rounds play very similar as with the old saloon, however with one major twist. The wilds are not only sticky, if you land more than one on a reel, they will multiply! Let us explain: If you have two wilds on reel two, they will both have a 2x Multiplier. If another wild lands on reel two, All three wilds will have a 3x multiplier. This can happen on all reels, and the multipliers stack up. In other words:
If you have this set up: 10,W2x,W3x,W2x,W2x you will (and we pretend the outcome for five 10's is €10 for the sake of this example:
10x2=20
20x3=60
60x2=120
120x2=240
And this is just the one line. Now imagine filling those reels with wilds across the board :O This is where the insane potential of over 100.000x comes in to play.
Our Thoughts on Dead Or Alive 2
Well, it's hard to not be biased with this title, as we've been following the whole process from ideation to creation. So it goes without saying this slot is lies close to our hearts. - Being part of the process, and to see LetsGiveItASpin's suggestions being honoured has been a real joy.
Now, over to the nitpicking: Could the high-speed spins be a bit quicker? Yes, definitely. Would it be fun to see more feature triggers in the base game? Yes, but; we did ask for a highly volatile game, and Netent delivered. When you finally get to the bonus game, the volatility is up to you. - Want to see loads of spins and medium to high wins across the board? Then go for the Train Heist feature. Or else, if you would like to see the real potential of Dead Or Alive 2, then you max it out with the High Noon feature. All in all, we're super excited about this game, and we're looking forward to sharing more as we get closer to launch day.
Feel free to discuss and speculate around the slot in this forum thread 
Remember to check out Netents page for more updates on the Dead or Alive 2 slot