Contact Slot
Contact is a Mayan themed slot released on 30th March 2019 by Play 'n Go. According to the provider the aim is to "Decipher the ancient Mayan symbols and reveal their treasure", a feat achieved by landing clusters of 5 or more identical symbols.
This highly volatile game is played on a 5x7 grid with block symbols and has an RTP of 96.55%. Win multipliers aid bigger wins throughout the base game and the bonus game. There is no scatter symbol in Contact, instead the two bonus rounds (both free spins) are triggered by building up enough cluster wins, made possible by the game's unique win mechanic (explained in more detail later).
Both bonus rounds also come with multiple features which boost the potential. You can play Contact at Play 'n Go casinos from €0.20 to €100 per spin.
Design and Symbols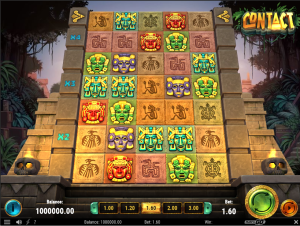 It's an impressive design by Play 'n Go. The gameboard takes centre stage and is constructed to resemble an entrance to some kind of shrine or temple. Steps lead up to the board which is constructed of stone blocks with Mayan carvings. Although considerably higher the blocks look similar to those found in Gonzo's Quest. Stone columns frame the board on either side – these columns show win multipliers carved on the 2nd, 4th, and 6th rows. The backdrop shows lush vegetation and with other buildings in the distance under the hazy sky. A hypnotic and eerie soundtrack plays throughout.
All symbols are carved into blocks of stone. The four low value symbols have etchings of turtles, snakes, birds, and jaguars. The high value symbols are Mayan masks in red, green, blue, and purple. Each symbol has its own cash value and the total win is simply that amount multiplied by the number of symbols in the winning cluster. Values range from 0.05 up to 1.5x the bet size for the purple mask.
Special Features
The win mechanic is worthy of a description as a unique feature of this game. Win multipliers are also in place. Finally, there is a Bonus Round and a Super Bonus Round.
Winning Cluster Cascade
Contact operates a cascading reels mechanic, although it works a little differently to than most. Usually, it is the winning symbols which disappear after a win, with the reels being filled by symbols cascading from above. In Contact, however, it is the losing symbols which disappear. This causes the winning combo to collapse to the base of the grid before new symbols cascade to fill the gaps. This means that not only can new combos be created but there is a good chance the initial win will be improved. This mechanic will continue until no new or improved winning combo lands.
Win Multipliers
As previously mentioned the stone columns either side of the gameboard indicates win multipliers on certain rows. Reel 2 shows 2x, reel 4 shows 3x, and reel 6 shows 6x. Fill one of these multiplier rows with winning clusters, and the win will be multiplied by that amount. The higher you go, the bigger the win multiplier.
Bonus Round
The main goal in Contact is to fill the grid with winning clusters. If you reach the top row with at least one symbol as part of a winning cluster then you will trigger the Bonus Round with 3 initial free spins with win multipliers on rows 2, 3, 5, and 6. Multipliers go up to 8x during the Bonus Round. One of the following 3 special features will come into play in the Bonus Round for each row filled which doesn't contain a multiplier:
Block Destroyer – Destroys one multiplier block from the side columns, therefore bringing the next multiplier one-row closer
Extra Free Spins – adds one extra free spin
Symbol Upgrade – Upgrades one winning cluster on the grid
Super Bonus Round
Filling the entire grid with winning clusters awards the Super Bonus Round with 6 initial free spins with win multipliers on rows 2, 3, 5, and 6. In the Super Bonus Round every row filled with award another win multiplier AND one of the special features. Multipliers go up to 30x during the Super Bonus Round. The special features are also enhanced as follows:
Block Destroyer – Destroys three multiplier blocks from the side columns.
Extra Free Spins – adds 3 extra free spins
Symbol Upgrade – Upgrades all winning cluster on the grid
Fill the entire grid with winning clusters in either bonus round to earn 25x the stake for every remaining free spin.
Our Thoughts on Contact
We thoroughly enjoyed Contact, another cracker from the team at Play 'n Go. It's not a new theme or especially original design-wise, but it is still visually impressive with decent artwork. The little twist with the cascading symbols is a nice touch, and it's always good to see innovation or modification of a good worm feature.
Reading back through the review, it may sound as though this is a complicated slot, but in reality, it is quite simple to follow. It is a high variance game, so the big wins don't necessarily come too often or too easily, but there are enough wins in the base game to keep things interesting. With the highest win possible just over 1,500x the bet size, there are certainly big wins to be had, although perhaps a higher max win might be a little more appealing with a slot Play 'n Go rank as 10/10 for volatility.
This is a minor quibble, however, as wins of several hundred times the bet size aren't uncommon once you're in the bonus rounds.
All in all this is another very well constructed and playable slot from Play 'n GO, and one that outperforms their previous Aztec-themed slot Phoenix Reborn by a long shot.