Buster Hammer Carnival by ReelPlay released on 01.2019 is a 5-reel & 5-row online slot with 32,768 ways to win and a 95.97% RTP. This is a circus-themed game offering players a max win of up to 8700x their stake. Buster Hammer Carnival can be played on all devices from €0.5 to €25 per spin and is considered a medium volatility game.
Design and Symbols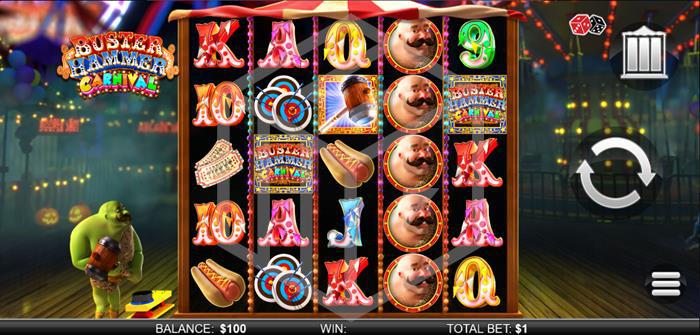 The design and animation in Buster Hammer Carnival are top-notch. The game board sits centre stage under a big top tarpaulin with rows of coloured flashing lights separating the reels which display the shiny, cartoon symbols on a black background. The background (and the foreground) shows all the fun of the fair with an illuminated Ferris wheel rotating in the distance along with carousels, roller coasters, and all manner of brightly animated fairground stalls. Buster stands to the left of the game board, mallet in hand, eagerly waiting to 'drop the hammer' whenever the hammer wildlands.
Interestingly one of the novelties of Buster Hammer Carnival is that you never know what kind of suit Buster is wearing. Depending on the holiday, he will change his attire, so remember to check him out for Halloween, Christmas, Chinese New Year, and St Patrick's day. This is an innovative way for Chance Interactive to market its new slot for any number of holidays!
The low-value symbols are the standard 9 - A playing cards in a Circus style font followed by carnival tickets, hot dogs, bullseye targets, and Buster himself as the highest value symbol worth up to 6x the stake. I say 'up to' as there are three levels of play with three different costs, although the wins remain the same (but more of this later). The wild is the hammer, and the scatter symbol is the game's logo.
Special Features
The Wild Hammer/Gold Wild Hammer feature appears in base and bonus games while three or more scatters trigger the games potential big money-spinner, the Mighty Free Spins. There are also three levels at which you can play each game.
Choose Your Level
Before you spin, you must choose which level you wish to play. Choose the base level, and you can spin from €0.50 up to €12.50 per spin. At this level, the Wild Hammer can only appear on reel three. Play at level two and the spins go up to between €0.75 and €18.75, and Wild Hammers can appear on reels 3 and 4. Level three plays between €1 and €25 a spin and allows Wild Hammers to fall on reels 3, 4, and 5.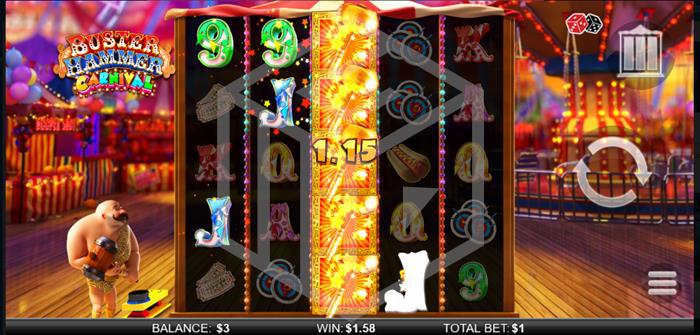 Wild/Gold Wild Hammer
Whenever a Wild Hammer lands in conjunction with a win, Buster will swing his hammer and send a Gold Wild Hammer up from the base of the reel in which the initial Wild Hammer landed. Depending on the strength of Buster's swing this could mean a full reel of Gold Wild Hammers, and considering this is a "pays all ways" slot, each Wild in effect acts as a win multiplier. Obviously the higher the level you play at, the more opportunities for hitting multiple Wilds and collecting exponentially bigger wins.
Mighty Free Spins
Land 3 scatters, and you'll trigger 10 Mighty Free Spins. When triggered, the board will expand an additional 3 reels in height and increase the ways to win from 3,126 to 32,768. It also means that any Wild Hammers could potentially lead to a full reel of 8 Gold Wild Hammers. With so many ways to pay, one or more Gold Wild Hammers can equate to some massive wins during the Mighty Free Spins.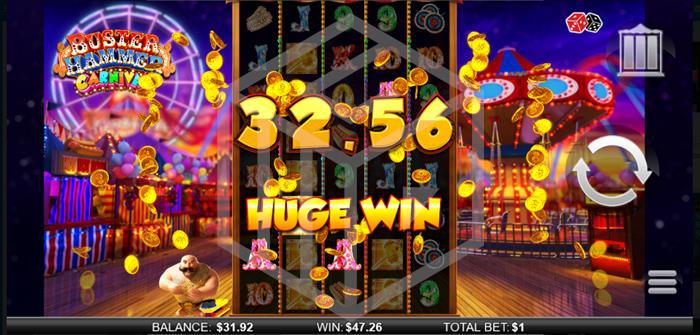 Our Thoughts on Buster Hammer Carnival
Overall we're giving the thumbs up to Buster Hammer Carnival. It's a beautifully designed slot with some great animation and lovely graphics. It's also a nice touch for any gimmick-lovers that you can choose Buster's theme.
I would have preferred it if the wins were a little bigger, and also if the amount you win depending on your bet size was made a little clearer. I'm such a fan of slots which just show you how much you stand to win in cash rather than by coin size which is often very confusing and can be more than a little annoying.
Buster Hammer Carnival is one of those games where you are pretty much playing exclusively for the feature round. The hammers during the base game do help keep you ticking over a little, but its always the scatters that you're hoping will drop. When they do, however, it is almost always worth the wait. The sheer number of ways to win coupled with the multiplying effect of the Gold Wild Hammers can and do lead to some spectacular wins, all the more so if you play at level three. If it's not considered too 'gimmicky' this game should appeal to high variance fans as well as to the casual fan who just likes the look of what is a well-designed, fun slot.