Beef Lightning Megaways by Big Time Gaming is a 6-reel & 7-row online slot with 117649 Megaways and a 96.43% RTP. Playable on all devices from €0.10 to €10 per spin, Beef Lightning Megaways is a high volatility game with a max win capped at 56000x your stake.
Tip 1: View our Big Time Gaming slots page for a complete, updated list of all their titles.
Tip 2: This title makes use of the Megaways mechanic. For a complete list of all games with this function, see our Megaways slots page
Big Time Gaming's latest Megaways slot is also their latest Mega winning slot with a max win of 56,000x. Beef Lightning Megaways comes with a farmyard theme, specifically a bovine bonanza with a cow auction at the center of the biggest winning spins. With a myriad of prizes to be won at the cattle competition, will Beef Lightning Megaways prove a winner with slot fans?
How to win big in Beef Lightning Megaways – Free Spins
Free Spins are where it's at when you're talking big wins in this slot, with the 56,000x max win only possible in the bonus round (although a possible base game win of over 28,000x is not to be sniffed at). 3 scatter symbols spelling out "MOO" gets the ball rolling and triggers 12 free spins. Additional scatter symbols on the triggering spin each add 4 extra free spins.
During free spins, a Bonus Coin is added to the reels. Upon landing, Bonus Coins spin to reveal one of the following awards:
An increased number of cows
An increased number of bids
Gold Trophies
Silver Medals
Bronze Medals
A retrigger
The extra cows and bids add to a bonus win at the end of the bonus round. The Gold, Silver, and Bronze awards act as set jackpots, with several trophies/medals needed to fill their respective meters. The Bronze Medals pay 500x the bet size, the Silver Medals pat 2,500x the bet size, and the Gold Trophies pay 25,000x the bet size. A retrigger adds 10 free spins.
A Cow Auction starts with the first free spin, and you are awarded one cow and zero bids. Acquiring additional cows and bids throughout the bonus round results in a bonus win. The total number of cows collected is multiplied by the total number of bids collected. The resulting numerical total is then added to your winnings as a multiple of your bet size.
Throughout free spins, wilds landing on up to 3 reels become duplicating wilds. Duplicating wilds cover the entire reel with wild symbols.
Special Features
Up to 117,649 Megaways
Cascades with Reaction Wins
Duplicating Wilds
For those unfamiliar with Megaways slots, the number of paylines, or in this case 'Megaways', changes every spin. During both the base and the bonus game the 6 reels contain up to 7 symbols, and that number changes on all reels every spin. The maximum number of Megaways in this set up occurs when all 6 reels land 7 symbols on the same spin. 3 or more identical symbols on adjacent reels from the leftmost reel constitute a winning combo. As such, the highest number of Megaways is 7x7x7x7x7x7, or 117,649.
In Beef Lightning Megaways, symbols cascade onto the reels rather than spin. After a win is added to your balance, winning symbols are zapped away and replaced by symbols cascading from above. A winning combo from a cascade is called a reaction win. Reaction wins continue until no new win is formed. Cascades occur during the base and bonus games.
The duplicating wilds mentioned during the free spins description also occur during the base game. However, unlike during free spins, not every wild becomes a duplicating wilds in the base game. Wilds land on reels 2-6, with the maximum number of duplicating wilds per spin being 3.
Look and Feel of Beef Lightning Megaways
Beef Lightning Megaways has quite an idyllic, cartoonish aesthetic, not dissimilar to the kind of vista you might see in the background of an Irish Leprechaun-themed slot. There are rolling green fields and plentiful green trees dappled in rays of glorious sunshine from the blue skies above. A red barn is visible to the left of the game board which is represented here by a cattle shed surrounded by a picket fence. This peaceful scene is somewhat punctured by the fast-paced keyboard-driven futuristic-sounding 12-bar blues soundtrack. It may not fit the scene depicted, but strangely enough, it does seem to fit the slightly absurd and fun premise of the game.
The location changes during free spins when the reels are relocated to an outdoor cattle market, with multicolored bunting hanging from the wooden pillars of the market roof. Cow posteriors can be seen on either side of the gameboard, safely penned in by iron gates, ready to be paraded on the market floor for sale.
There are 10 regular symbols. The 6 lows are the card values 9-A. The highs are a horseshoe, cow-bell, cow head, and bullhead. The bull's head is the highest value, with a full row awarding 20x the bet size. See the paytable in full below.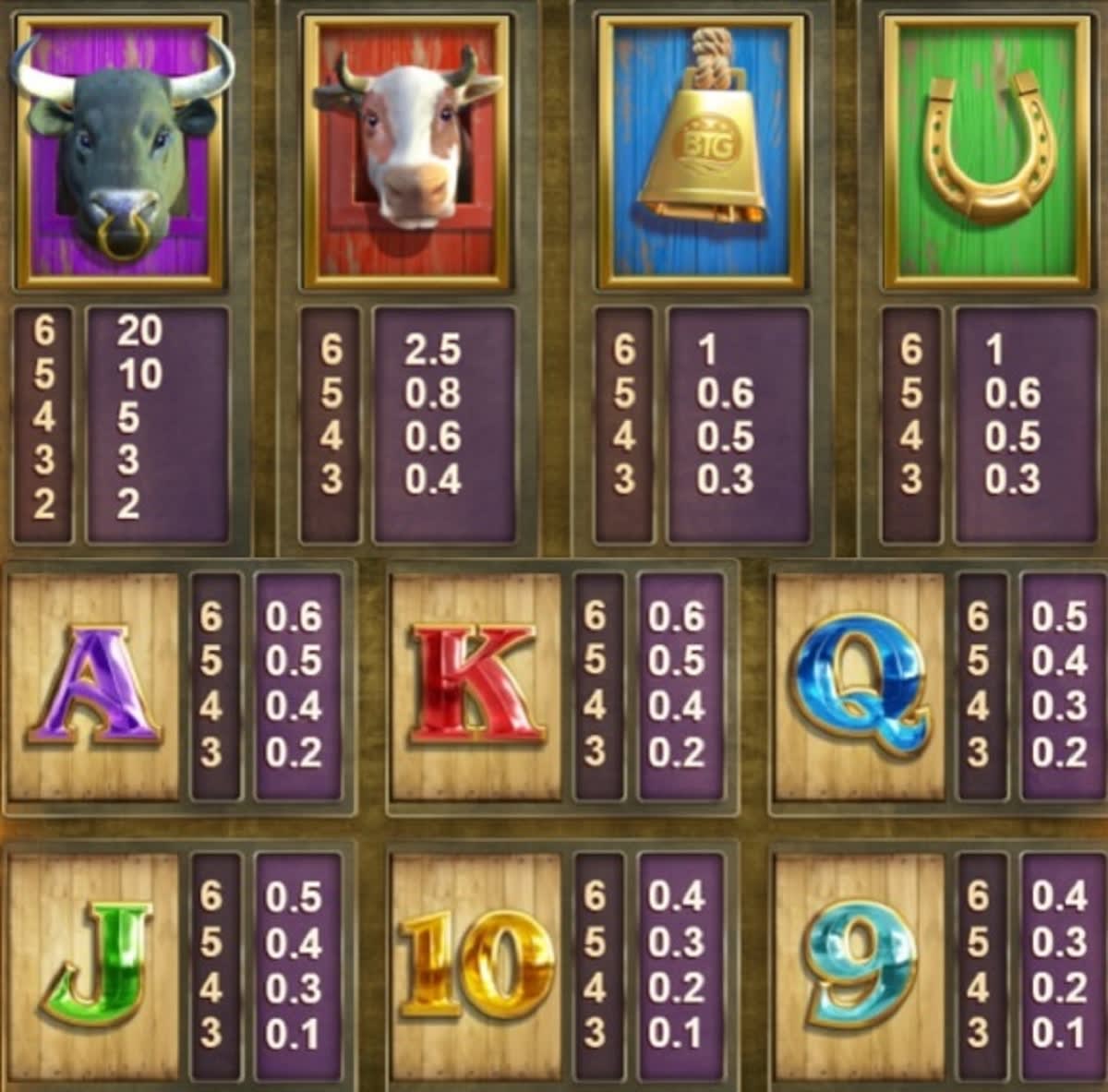 In terms of gameplay, Beef Lightning Megaways provides a fun, fast-paced romp packed with potential. The bonus round didn't appear to be too hard to trigger and offers decent (if not generally spectacular) returns. There is no increasing win multiplier at work here, so you tend to rely on the duplicating wilds for your bigger wins. Also, the bonus is capable of retriggering multiple times which can really add to a decent payday. The cow auction part of the bonus round is also a nice touch, although in my experience it acted more as a top-up win than the bulk of the potential winnings.
In summary, Beef Lightning Megaways is another quirky, highly volatile, and enjoyable slot from the masters of Megaways, Big Time Gaming.
Disclaimer: the game's RTP and min/max bet may vary depending on operator and jurisdiction. Use our data as a pointer, but always make sure you check the real RTP by locating the help file directly in the game itself once loaded.