Battleship: Direct Hit Megaways
Battleship Direct Hit Megaways by Red7 released on 12.12.2018 is a 6-reel & 7-row online slot with 117649 Megaways and a 95.9% RTP. This is a war-themed game offering players a max win of up to 2,500x their stake. Battleship Direct Hit Megaways can be played on all devices from €0,10 to €100 per spin and is considered a medium volatility video slot.
Design and Symbols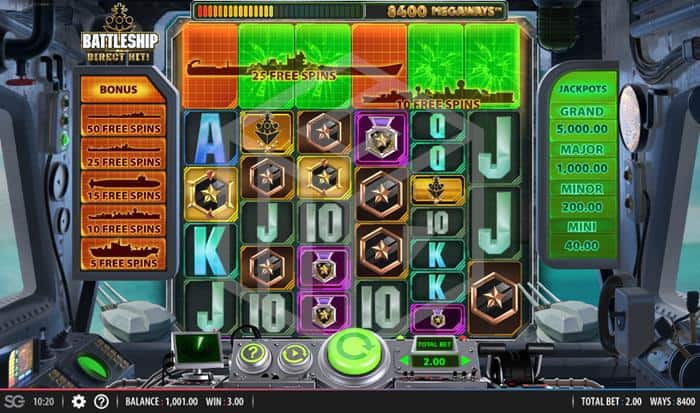 Based on the ever-popular Hasbro board game, Battleship Direct Hit is set on the bridge of an old school battleship replete with knobs, dials, radars, cannons, monitors, and gun turrets. The ship's bridge is suitably industrial looking with, of course, plenty of battleship grey around the control desk, walls, and windows. The game board occupies the centre ground with the bottom 75% of the board taken up by the symbols, and the top 25% displaying sights on passing battleships which you will endeavour to destroy during gameplay.
The low-value symbols here are royals 10-A while the high-value symbols consist of four different coloured medals and the game's battleship symbol. The battleship is the highest value symbol earning 4x bet size for 6 in a row. The wild symbol, which only appears during free spins on reels 2-5 is a white and red battleship with WILD written across the bottom of the square. The other symbols are the missiles which randomly appear on the reels and assist you in acquiring free spins and jackpots by shooting the battleships which appear in the screen above the game board.
Special Features
In the base game, both cascading reels and turret fire will help you to bigger and better wins while the free spin round brings with it wild symbols as well as the opportunity to win more spins and, if you're lucky, one of four jackpots available.
Cascading Reels
Cascading reels are very popular in other Megaways™ slots such as Bonanza and Buffalo Rising, as well as in one of the world's most beloved online slots, Gonzo's Quest. Simply put, if you land a winning combination then after the win has been recorded the symbols which make up that win will disappear (in this case as if they've been blown up by a battleship) and fresh symbols will cascade from above to replace them. If these new symbols help to form part of a new win then these symbols will also vanish, making room for more cascading symbols. This will continue until a cascade ends with no win visible.
Turret Fire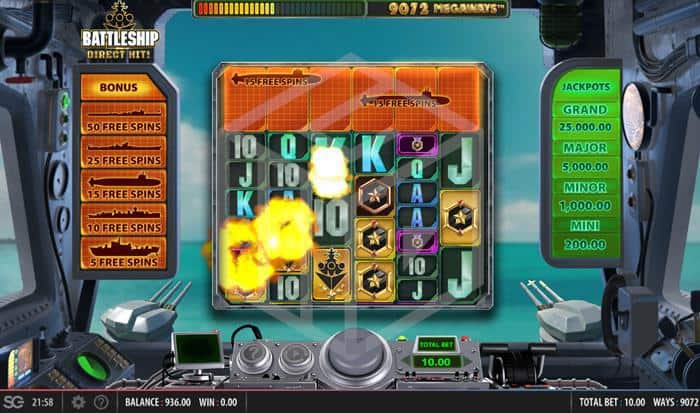 At any point after a spin in the base game the two gun turrets, either side of the game board might spring into action, firing directly into the symbols on the game board destroying low-value symbols and replacing them with high paying symbols which can result in a high-value win followed by cascading reels.
Free Spins
To earn free spins you must destroy one of the battleships which pass by overhead and are shown in the sightscreen above the game board. The number of ships and their relative value change with each spin and they range from smaller ships which cover two reels and are worth 5 spins up to the largest ship which covers 5 reels and pays 50 free spins if sunk. Ships are sunk by missiles which appear randomly on the reels during normal gameplay. When a missile arrives on a reel it launches straight up and destroys part of whichever ship or ships are directly above it. The missile symbol will then be replaced as the reel cascade brings in a new symbol. If combined with a win then both the missile symbol and all winning symbols will be replaced by cascading symbols. If new missiles are brought in with the cascading reels then they will launch and destroy part of a battleship above. Destroy all parts of a battleship and you will be awarded however many free spins that ship indicated it was worth.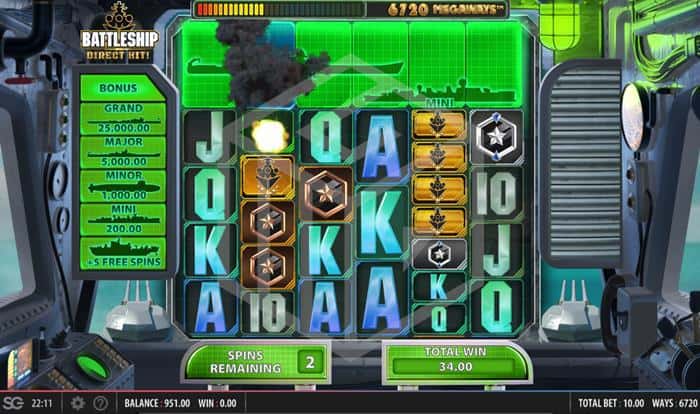 Once in the free spin round the battleships above the game board will not only carry further free spins, but some will pay out a jackpot if sunk. The size of the ship dictates the size of the jackpot which starts at the Mini jackpot then the Minor, the Major, and finally the Grand jackpot which pays 2,500x the bet size. Of course, the standard game board will also be in operation throughout the free spins and, as described earlier, will also carry wilds on reels 2-5 which seriously increases your chances of winning spins.
Battleship: Direct Hit! Summary
Battleship Direct Hit takes a beloved board game and comprehensively brings it to the online slot environment. I loved the theme and found the game immersive and endlessly entertaining. The fact that you end up shooting for free spins very regularly means you're always anticipating a feature and this helps to hold your attention. However, I know that what a lot of people love about Megaways™ slots is their high volatility; you may not hit free spins or features very often, but when you do it often rains down money. This is not the case with Battleship Direct Hit which has very much positioned itself as a medium variance slot with a feature you'll get into quite regularly and some not especially high-value symbols. Personally, I can see the appeal and be happy to sacrifice a potential monster of a win in exchange for a more engaging gaming experience – and the wins in the feature rounds were still pretty decent. I liked Battleship Direct Hit, but whether the die-hard Megaways™ fans will is another matter altogether.