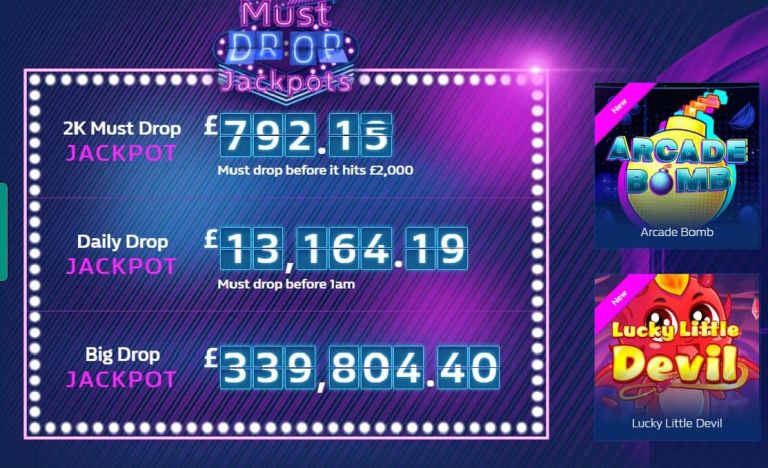 Daily Must Drop Jackpots ► A Red Tiger Promo
What are Must Drop Jackpots? - Well imagine getting a Jackpot every day. That's the dream of every slot player, and Red Tiger is making this a reality. The popular online slot provider, with numerous popular slot machines under its belt, like Arcade Bomb, Rainbow Jackpots, Dragon's Luck, are currently deploying this unique feature with a number of the very top online casinos.
Must Drop Jackpots
It's called "Must Drop Jackpots" and it's like nothing you have ever seen before. Must Drop Jackpots includes not one but 3 progressive Jackpots. As of now Must Drop Jackpots is running in a number of online casinos and all Red Tiger powered slot games available on these casinos will contribute to the three jackpots. But there is more!  All jackpots of the Must Drop Jackpots promotion are pooled between the different brands of the same operator. Thus, every big online casino and its sister brands will have their distinct local Must Drop Jackpots promotion. 
To specify:
First there is the

2K Must Drop JACKPOT

. Like the name suggests, this is a jackpot which must drop before it hits £2,000. Thanks to the popularity Red Tiger casino games have it doesn't take much to reach the

£2k

. As the jackpots draw closer to the 2k maximum, the probability of payouts increases, and players get much better value.  The best strategy is therefore to play the Red Tiger games when the jackpot is approaching its max. Moreover, as soon as this jackpot drops, everything starts all over again. Thus, multiple 2k jackpots can drop in a very short period of time. 

Then there is the

Big Drop JACKPOT

, which gives the biggest prize of all three. The Big Jackpot, works as a standard jackpot, and at time of writing stands at more than

€340k

. 

Finally we have the

Daily Drop JACKPOT

where things really get interesting. The jackpots will always drop before midnight UK time. As we mentioned the jackpots are local between each operator's brands, meaning that, every day, there will be a number of big 

jackpot winners. This is by far one of the best casino promotions out there. Moreover, thanks to the popularity of Red Tiger games, the players can expect this jackpot to exceed €10,000 on a daily basis!
If you want to try and win any of the 3 jackpots of "Must Drop Jackpots", you will find the promotion at William Hill's Vegas tab. In addition, the promotion is also running at Unibet casino, as well as many others. Furthermore, according to information we've received, Red Tiger intends to deploy the Must Drop Jackpots promotion with all online casinos that feature the provider's slot machines.