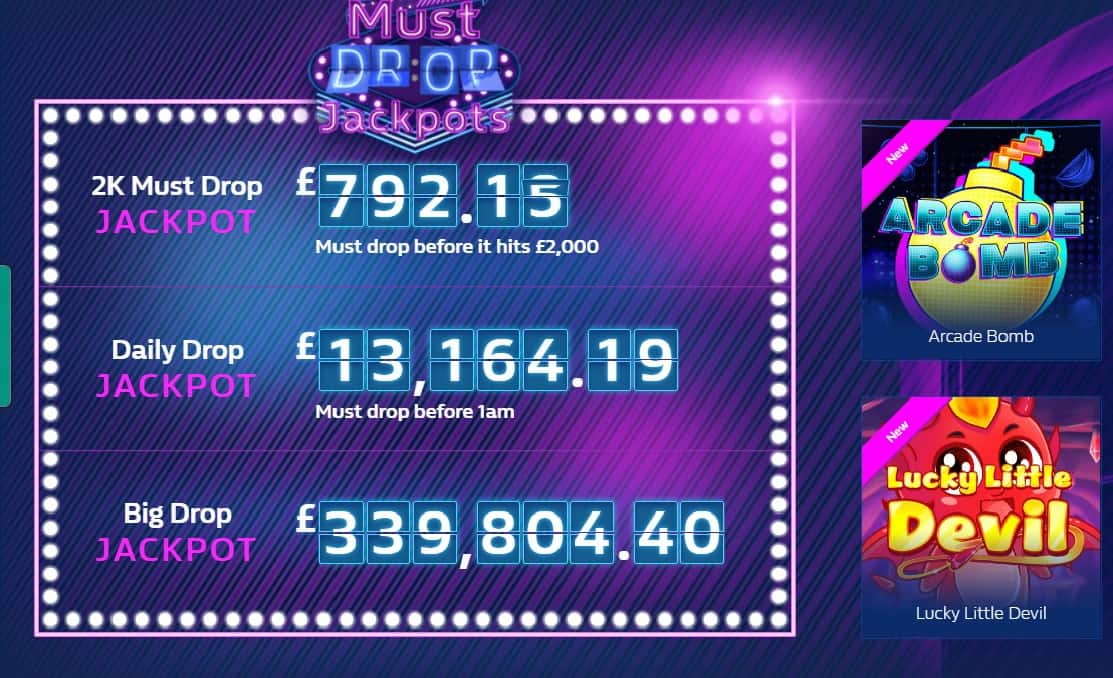 Daily Must Drop Jackpots from Red Tiger
The Must Drop Jackpots is an exclusive Red Tiger (formerly known as Red Tiger Gaming) promotion where players who play their slots have a chance of scoring jackpots on a daily basis.
Previously available to only a few select casino operators, the innovation first pioneered by Red Tiger can now be found on most casinos who have their slots available in their lobbies. With the increase in popularity, the Daily Drop is often seen surpassing €10.000, every day. That translates to over 3.65 million euros in guaranteed jackpots over the course of a year.

Looking for Red Tiger Casinos?
Looking to go hunting must drop jackpots on casinos that have Red Tiger slots? Our newly launched Online Casinos Index comes with an easy-to-use filtering function that shows you exactly who have them, and their corresponding new player signup-offer(s).
Step 1: Click the tab-icon at the bottom left on mobile ("Casinos" in the menu on desktop) to reveal our menu.
Step 2: Scroll/swipe your way down to "online casinos" and select your country of residence. If you can't find it, chose "rest of the world".
Step 3: Click/tap on "Filter", followed by a click/tap on "Providers" and chose "Red Tiger".
Step 4: Once you've clicked the Red Tiger-filter, you're immediately taken to the new landing page showing which casinos in our index that has Red Tiger's games. If you're on mobile, swipe downwards to see the list.
Step 5: There is no step 5 (unless you've not signed up? Then do so!) Happy hunting!
The Daily Drop Jackpots Network
The Daily Drop Jackpots are guaranteed to trigger, every day. Due to the ease of integration, a plethora of online casinos have opted-in to participate in this promotion already as it gives their players extra value.
Must Drop Jackpots includes not one but 3 progressive Jackpots.
As of now Must Drop Jackpots is running in a number of online casinos and all Red Tiger powered slot games available on these casinos will contribute to the three jackpots. But there is more!
Note: All jackpots of the Must Drop Jackpots promotion are pooled between the different brands of the same operator. Thus, every big online casino and its sister brands will have their distinct local Must Drop Jackpots promotion.
To specify:
2K Must Drop JACKPOT:

As the name suggests, this is a jackpot which must drop before it hits £2,000. Thanks to the popularity Red Tiger casino games have it doesn't take much to reach the

£2k

. As the jackpots draw closer to the 2k maximum, the probability of payouts increases and players get much better value. The best strategy is, therefore, to play the Red Tiger games when the jackpot is approaching its max. Moreover, as soon as this jackpot drops, everything starts all over again. Thus, multiple 2k jackpots can drop in a very short period of time.

Big Drop JACKPOT:

which gives the biggest prize of all three. The Big Jackpot, works as a standard jackpot and is often seen surpassing 6 figures.

Daily Drop JACKPOT: where things really get interesting. The jackpots will always drop before midnight UK time. As we mentioned the jackpots are local between each operator's brands, meaning that, every day, there will be a number of big jackpot winners. This is by far one of the best casino promotions out there. Moreover, thanks to the popularity of Red Tiger games, the players can expect this jackpot to exceed €10,000 on a daily basis!
Share with friends on
Email