So the day has come for us to write about big win board. – Yeah, not those guys, but a brand new in-game feature from our good friends over at Blueprint Gaming.
What's this all about, you say?
– In short, leaderboards with biggest wins from all Blueprint labelled slots at your favourite casino.
The new feature is well placed inside their games, where you can find daily, weekly, monthly and all-time biggest wins on a single game across Blueprint's games at the casino you play at. And get this! It's not about the money its all about the multipliers "CasinoGrounds style". This means that no matter if you're a high-roller or a low-roller, you will always be able to join in on the action.
What Do I Receive From Being Put on the Leaderboard?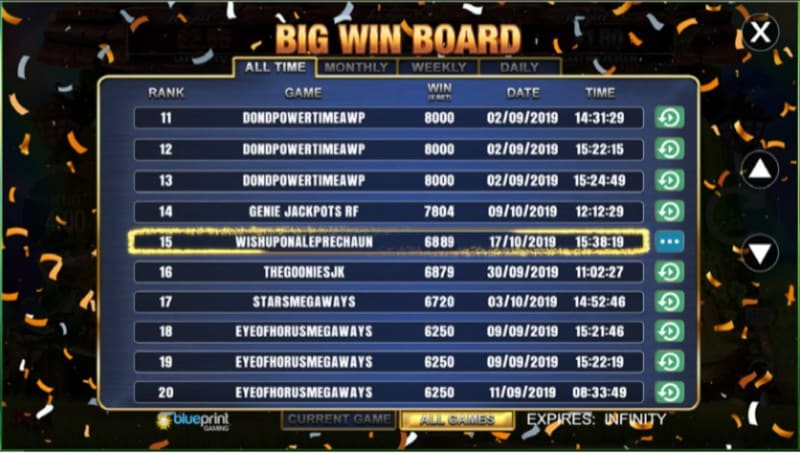 Fame and fortune (minus the fortune bit, for now)!
As of now, the Big Win Board feature is just that – a board with the biggest wins from Blueprint games.
That said, this enables operators to design their very own promotions around these, and we are confident you will see some promotions on this in the near future.
How Does the Big Win Board Work when I'm Playing?
As soon as you have won multiplier large enough to be featured on Blueprints leaderboard, you will be notified. Here you can see your place, time, and the multiplier of your win. In addition, you will be able to see a replay of your win! So make sure to record your record win and share it in our forum.
If you are lucky and hit several big wins, you can spot your name multiple times, and on all the relevant boards.
Where Can I test out the New Feature?
Well, in the beginning, this feature will only be available on Blueprint's Wish Upon A Leprechaun Megaways, at a selection of online casinos from this Thursday, the 24th of October.