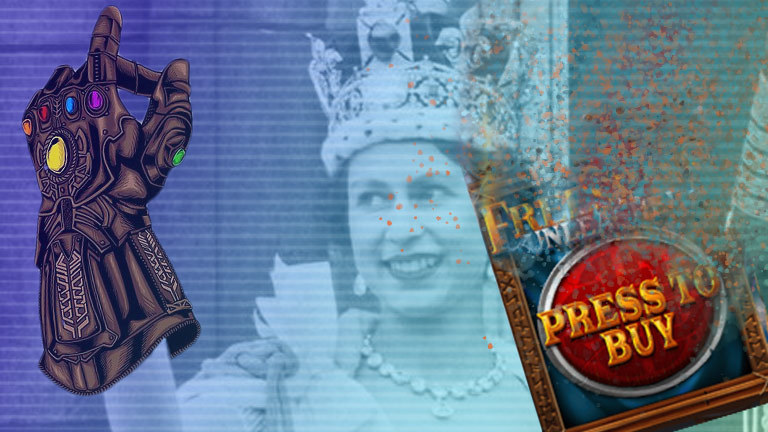 Feature Buy Slots Destroyed by UKGC – Money Train First To Go!
As you may have seen on our CasinoGrounds streams, Feature Buy slots are games where you can buy the bonus round for a specific game.
Your stake amount has some influence on the amount it costs to purchase the bonus round. Slot games such as White Rabbit, Extra Chilli and Book of Gods and several others allowed us to buy straight into the bonus round.
For bonus hunters, this feature was like a goldmine. However, UKGC is putting a stop to this! Yes, you read correctly, UKGC wants to remove all Feature Buy slot games from our online casinos!
Today we were informed by one of our trusted streamers that Money Train was the first slot to be removed from the gaming offerings at Rizk Casino for the UK Market.
Why is UKGC destroying Feature Buy slots?
Unfortunately, rumour has it that the UKGC (UK Gambling Commission) has gone and put a noose around Big Time Gaming's (BTG's) Feature Buy slot games and kicked the stall from beneath their feet. By this, I mean the UKGC has informed BTG that they have to remove White Rabbit, Extra Chilli and Book of Gods for UK players!
As well as Big Time Gaming, Microgaming will also start blocking Feature Buy slot games for UK players too.
Although this information is new and the full details are still to be clarified, it is clear to say it is going to cause an uproar within the gaming industry. This news has left a grey area surrounding Feature Buy slots generated by other gaming providers and whether they will also have to remove these slot games. As far as we are aware UKGC has enforced this rule to take further action over controlling Responsible gambling.
For the time being Scientific Games (SG) has not yet been notified of this information. However, this does not mean there is not a letter in the post on the way to them.
Is this the end of Money Train, White Rabbit, Extra Chilli and Book of Gods?
Blueprint has confirmed that it would not take long to remove the Feature Buy mechanic from any effected slot games, which in one aspect is good news for players who are a fan of these games whether they come attached with this feature or not.
However, we are still waiting for BTG to confirm this themselves, as rumour has it, that they would have to redo all their Feature Buy games!
So does this mean it is the end of the era for Feature Buy slots like Money Train, White Rabbit, Extra Chilli and Book of Gods? At this moment we can not 100% confirm. Although UK players will no longer be able to participate in buying the bonus rounds, there is still hope for these games to relaunch at our casinos. Minus this feature of course!
Until further details can be confirmed from the providers or UKGC themselves, let the Chinese whispers and rumours begin! Want to have your say? Head over to CasinoGrounds forum.
FaQ
Will I be able to Purchase Features from the UK today?
Yes
Do you have an official statement from the Gambling Commission?
No- However, we do have on good authority operators have been informed about this, however, nothing is 100% confirmed as of now.
Does every game provider have to remove their Feature Buy slots?
As of yet, this is still to be confirmed. For the time being, we can only confirm that BTG and Microgaming are to remove these games.
Where can I find casinos still hosting Feature Buy Slots?
Our best advice is to explore our Big Time Gaming and Blueprint Gaming Casinos
Share with friends on
Email