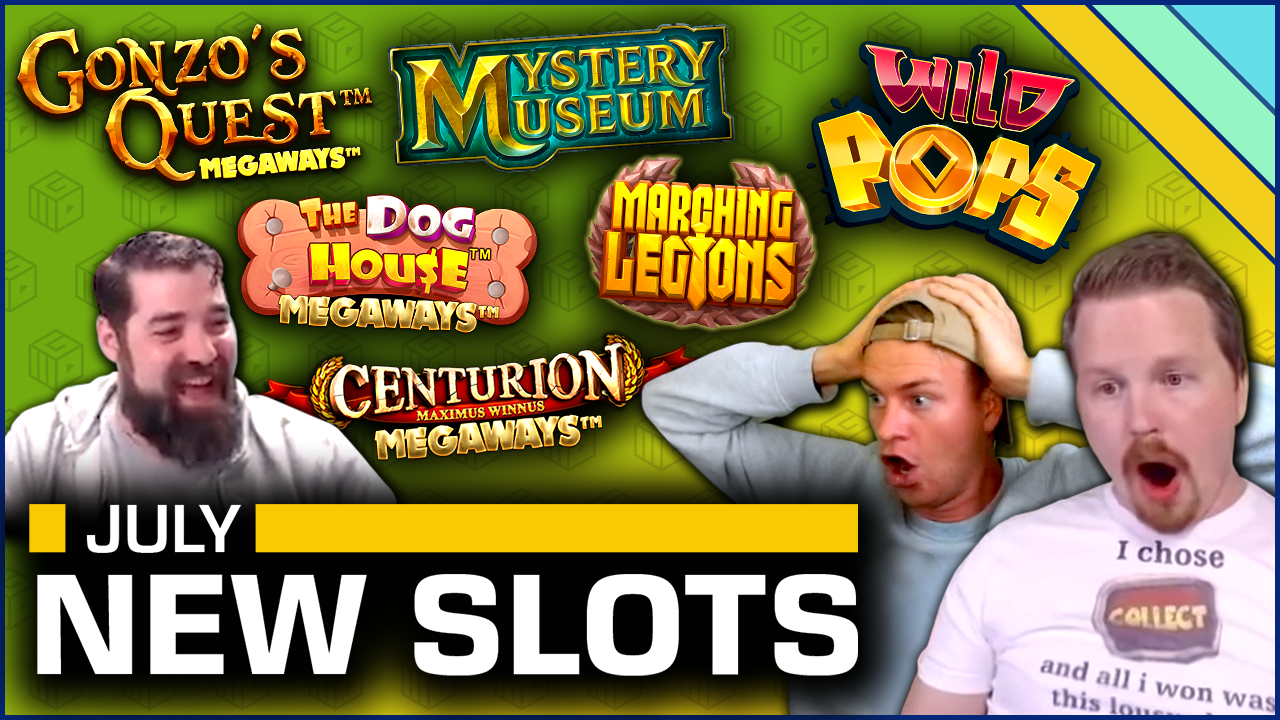 Top New Slots July
Evangeline
12/08/2020
Games
As the long, hot, summer continues unabated throughout the northern hemisphere, its time to take a look back at July's most sizzling new slot releases. In this month's round-up we have slots from Relax Gaming, Pragmatic Play, Red Tiger, Yggdrasil, Inspired, Amatic, and Push Gaming. Among those pushing the buttons are CasinoGrounds streamers, Daskelelele and LetsGiveItASpin, as well as two of the most popular twitch streamers playing today, Spintwix, and David Labowsky. So, without any further ado…
Daskelelele playing Centurion Megaways (Inspired Gaming) - 1,358x Win
First up is CasinoGrounds high roller Daskelelele, playing Inspired Gaming's Megaways adaptation of their 2015 slot, Centurion. As we join the action, Daskelelele has just committed €600 to buy straight into the game's free spins round at €6 a spin. Unhappy with only being dealt enough Centurion scatters to begin at Caesars Free Spins, Daskelelele riskily gambles his way all the way up to the top spins feature, Super Wild Power Spins, overcoming just a 23% chance to hit the final gamble. That winning gamble earned him 4 free spins with locking wild reels, with each wild having the potential to be assigned up to a 6x multiplier. Furthermore, a wild reel is guaranteed to land, one per spin, from reels 2-5 of the 6 slot game. Daskelelele's board runs out with wild reels on reels 2-5 with multipliers of 4x, 3x, 4x, 3x, meaning the win on the final spin is multiplied by 144x. That final win connected winning lines of Aces, Shields, and Coliseums, for a single spin win of €5702.40. Added to the €2,445.60 won on the previous 4 spins, Daskelelele's final winning total for the round was €8,148, a win equal to 1,358x his bet size.
EclipseSlots playing Hot Choice Deluxe (Amatic) – 2,537x Win
When we join this game of Hot Choice Deluxe, EclipseSlots, playing at €0.50 a spin, has just landed the Hot Choice logo on all 5 reels which pays 500x the bet size. Added to that, this win came during a round of 10 free spins which come with a 5x win multiplier meaning the win paid €1,250. Further to this, another 10 free spins were won. EclipseSlots eventual haul came to €1,268.50, a win of 2,537x.
Spintwix playing Marching Legions (Relax Gaming) – 1,087x Win
Similar in style to previous releases, Snake Arena and Micro Knights, Marching Legions gives you a bird's eye view of Roman Legions marching off to war. The main feature is a free spins round during which reels (waves) of Legionnaires march from right to left across the gameboard, adding more and more winnings with the more reels they amass. To cut a long story short (as it takes quite some effort to reach the free spins) Spintwix, playing for €10 a spin, has not only made it to the free spins but has also triggered further waves of Legionnaires. By landing a certain number of horns, extra reels of Legionnaires are released. Having reached wave 3 (3 marching legion rows), and with the soldiers about to start walking off the board, reels 4 and 5 are randomly filled with 2 more rows of Legionnaires, filling the entire board for a €6,000 spin. With his total win now at over €8,000, Spintwix fills another meter of horns, going up to wave 4. Alas, he can't make it to wave 5, but still he total winnings eventually come to rest at €10,865 (1,087x).
LetsGiveItASpin playing Wildpops (Avatar UX/Yggdrasil) – 528x Win
CasinoGrounds head honcho, LetsGiveItASpin makes an appearance this month, playing the Yggdrasil powered game by Avatar UX, Wildpops, at Caxino Casino. Playing for €5 a spin, we see LGIAS put together a string on consecutive wins in order to fully extend the board to 5x7 with 33, 614 ways to win. Once this height is reached the board size and ways to win are held, not only via consecutive reaction wins, but also with 3 extra lives (meaning, basically, that you can have 3 non-winning spins before the board resets). Each reaction win increases the win multiplier by 1x, much like in a Megaways bonus round. LetsGiveItASpin climbs all the way up to a 20x multiplier, enjoying big wins at the 8x mark (over €1,000) and the 16x mark (€896), along with several other 3-figure wins, for a total haul of €2,641, a win of 528x and, of course, a 'DING DING!'.
Daskelelele playing Mystery Museum (Push Gaming) – 1,171x Win
It's back to the Daskelelele channel now with just Phil at the controls this time as Jack takes some time out. Playing Push Gaming's new slot, Mystery Museum, at €10 a spin, Phil triggers the free spins bonus round. During this round full length Mystery Symbols lock into place upon landing and stay there for the duration of the free spins. When 3 or more are in place, the full reel Mystery stacks all change to the same random regular symbol. As in Book of Ra, wins pay whether the stacks are on consecutive reels or not. Phil manages to secure all 5 reels as Mystery Stacks on his 5th free spin, meaning that the last 4 free spins are all going to be full board wins. The first win (coins) wins €1,000, the second just €200, but the third lands green brooches for a huge €10,000 win. The fourth win (eye of horus) adds a final €400 for a total win of €11,708 for a 1,171x win.
n00dleater playing Gonzo's Quest Megaways – 4,576x Win
Having earned 12 free spins on the NetEnt/Red Tiger collab, Gonzo's Quest Megaways, n00dleeater, playing at 1kr a spin, strings together 3 consecutive wins to play his 4th spin with a 15x win multiplier (during free spins the usual increasing win multipliers shift from adding 1x per win to 3x per win up to a maximum of 15x). On this 4th spin he lands 9 of the top paying symbols plus 2 wilds spanning the 6 reels for a win of 4,050kr (18 win ways x 15x win x 15x multiplier). In total, his very first free spin earns n00dleeater 4,525,20kr. Unfortunately, the rest of the free spins are a bit of a disappointment, only adding another 50kr for a total win of 4,575.90kr – in other words, a 4,576x win.
David Labowsky playing The Dog House Megaways – 2,498x Win
We conclude this months exhibition of new slots with twitch favourite, David "Get Paid" Labowsky, playing Pragmatic Play's excellent The Dog House Megaways at €5.40 a spin. After triggering free spins, Labowsky opts for 7 Sticky Wilds free spins. Having quickly landed two times 2x kennel multiplier wilds on reels 2 and 3, Labowsky repeats "we're looking at you reel 4" throughout the next few spins as he hopes for a big win with 3 consecutive reels with multiplier wilds. However, in the end it isn't wilds on reel 4 which leads to his big win. Instead, the Doberman, the highest paying symbol at 7.5x per payline, lands on reel 1, 2 on reel 2 (along with the two times 2x wilds), 4 on reel 4, and 2 on reel 6. As well as this, a 2x wild landed on reel 5, thus completing a ton of high paying win lines with a combined 10x multiplier for an €11,668.32 spin. A ton of Kings join with the wilds on the final spin to add another €1,728 for a total free spins win of €13,490.28, a win of 2,498x the bet size. Get paid indeed! \
Share with friends on
Email