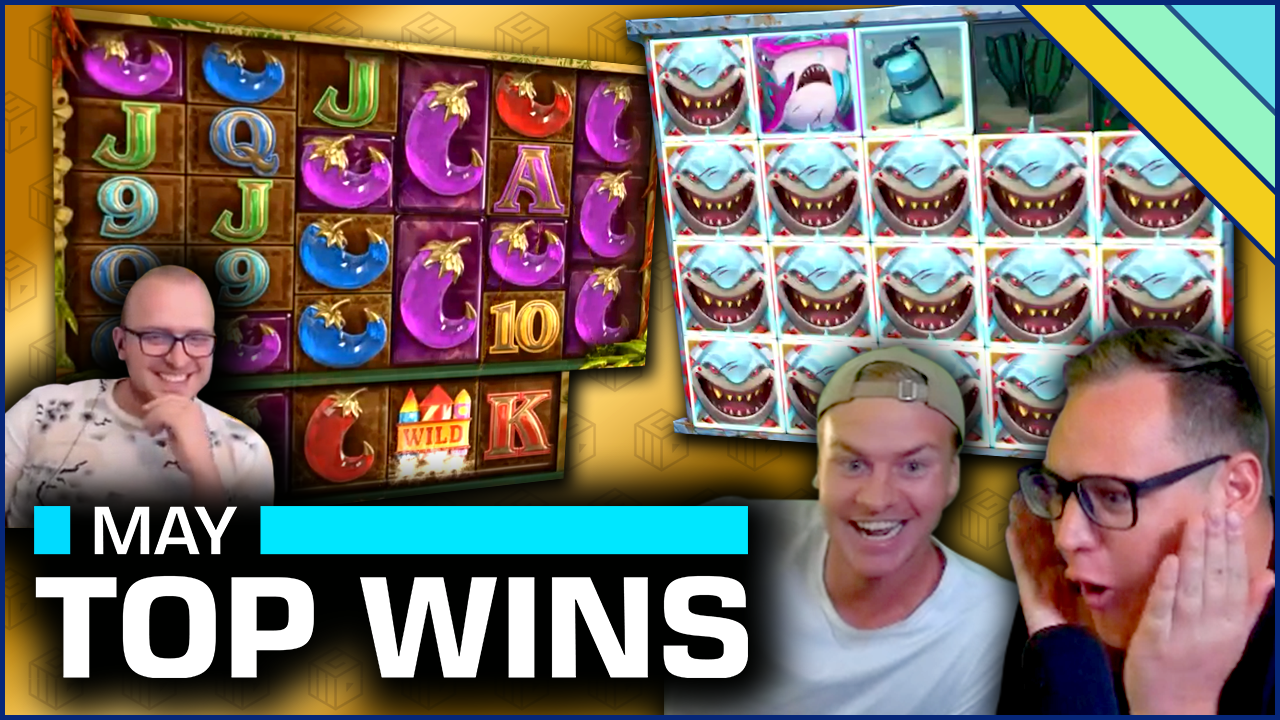 As May bleeds into June, the arrival of summer is making life outside the grind a little more bearable. Something else which puts a smile firmly on my face is counting down the biggest wins of the month, where our streamers and forum members hit the right side of variance and deliver the sort of wins I can only dream of. So, settle down and enjoy another fine compilation of super-stacked slot wins as I recount the biggest recorded wins we have on file for May 2020.
10. JessR playing Dragonfall (Blueprint Gaming) – 7,079x Win
The first clip today features long time CasinoGrounds forum contributor, JessR, enjoying a huge win on Blueprint Gaming's Dragonfall. We join proceedings just before JessR triggers 6 free spins. For anyone unfamiliar with Dragonfall's free spins round, it is basically a clone of Jammin' Jars with Dragon's Eyes instead of multi-coloured Jars, and Dragon's Egg symbols rather than fruit. The aim of the game is to include as many of those Dragon's Eyes wild multiplier symbols in as many cluster wins as you can. Each win they form a part of adds another 1x to their multiplier value, and more than one Dragon's Eye wild in a win increases it exponentially as all the wild multipliers multiply together.
Playing at £2 a spin, things only really start to heat up on the 4th out of 6 spins when all four Dragon's Eyes converge with multipliers of 4x, 4x, 5x, and 6x. All 4 join together with 8 high paying blue eggs for a single drop win of £2,880. After another couple of smaller wins spin 4 ends, only to drop an even bigger win for the first drop of free spin no.5 as once again all four Dragon's Eye join the same win which this time features 12 spiked eggs. With the multipliers now up at 5x, 5x, 7x, and 8x the total win for this drop amounts to £8,400. After a few more smaller wins spin 5 gives way to spin 6 where 3 of the Dragon's Eyes (6x, 6x, and 9x) combine with 17 spiked eggs to add a further $2,592. The final win of £14,158.70 equates to 7,079x the bet size.
9. Daskelelele playing Money Train (Relax Gaming) – 8,483x Win
CasinoGrounds streamer Daskelelele is up next with a scorching win on Relax Gaming's popular Wild West slot, Money Train, at €5 a spin. Of course, the action takes place in the game's bonus round, the Money Cart Bonus. The round takes place on a 5x4 reel set where there are only blanks or winning symbols. 3 initial spins are awarded which reset to 3 on every spin a winning symbol lands. The round only ends after 3 consecutive non-winning spins. The winning symbols are mainly win multiplier symbols worth between 1x and 10x the bet size. The other winning symbols are special symbols which add extra multipliers or add new reels to the reel set.
Daskelelele's first bit of luck comes on spin 3 when he lands a 'Persistent Payer' symbol. This symbol comes with a win multiplier which it then adds to all other win multiplier symbols on the board. Unlike a regular 'Payer' symbol, the Persistent Payer adds their multiplier value to every multiplier symbol after every single spin. Over the next 4 spins as well as a few more multiplier symbols, he also lands two widener symbols. These symbol unlock the two additional reels, increasing the number of symbols spaces to the maximum 28. On the very next spin Daskelelele adds a 'collector' symbol which adds up all the win multipliers currently on the board and assigns this number as the symbol's win multiplier. Best of all, however, he also lands a 'Persistent Collector' which adds the total number of win multipliers on the board to their own value after each spin. As there is also a Persistent Payer and a collector on the board, this number increases each spin. This gets even better a few spins later when a regular Payer symbol with a 3x win multiplier lands, adding 3x to every symbol on the board, meaning the Persistent Collector is now adding many more win multipliers to its value as long as winning symbols continue to drop. When the round finally ends, there are 22 winning symbols on the board and a grand total of 8,483x for the bonus round, a win of €42,415. An excited Daskelelele confirms that it was his biggest win ever.
8. MitaaSpins playing Extra Chilli (Big Time Gaming) – 10,083x Win
Playing Big Time Gaming's classic Megaways slot, Extra Chilli for €2 a spin, we join MitaaSpins just as he is gambling his free spins up to 24 before the start of the bonus round. 11 spins in and only a modest win of €71 has been reached, although that soon changes when a total of ten purple chillies land across all 6 reels. Purple Chillies are the biggest winning symbols by a long way, and with the increasing win multiplier from this Megaways slot up to 11x, this single win paid just over €19,800. His total win comes to €20,166.70, worth 10,083x his stake.
7. erwin1982 playing Razor Shark (Push Gaming) – 10,101x Win
We're back with a forum member's shared win for our number 7 for May, as erwin1982 logs a big Razor Shark win. Playing Push Gaming's popular 2019 slot Razor Shark for $1 (Canadian) a spin, we join erwin1982 who is already a fair way through his Razor Reveal bonus feature. With a win of over $1,200 already in the bag, and almost the entire gameboard covered in Mystery Symbols, it is obvious that more big wins are on the way. In Razor Reveal the Mystery Symbols drop down one row after each spin, before all revealing matching regular symbols. Furthermore, each new spin adds one more win multiplier. On just the second spin we see the Mystery Symbols are covering the bottom three rows with one on the top row and they transform into Great White Shark's for a massive $5,492 win. The Mystery Symbols then all move down one row so that now the bottom 2 rows are filled with Mystery's with one more on the reel above. Once again, they reveal the Great White Sharks, and with the win multiplier now up at 9x, the resulting win is another $3,029. This was the last big win of the round which ended up earning erwin1982 $10,101 for a 10,101x win.
6. Cheesycock playing Dragonfall (Blueprint Gaming) – 3,223x Win
Once again, a Dragonfall win makes it to our top 10, and it won't be the only repeated slot on the list as you'll see later on. We owe a debt of gratitude to CasinoGrounds forum member, the delightfully named 'Cheesycock' for posting this win on 6th May. If you thought JessR landed some big clusters in her video, then check these out. Near the start of his free spins round playing at £2 a spin, Cheesycock connects wild multipliers of 3x, 4x, and 4x with a huge 37 spiky eggs for a £980 win. On the next drop the three (now worth 4x, 5x and 5x) combine with another 30 spiky eggs for another £2,000. More big wins over the next few win, with the largest coming from all three wild multipliers now up a 6xx, 7x, and 7x, end up to landing attached to 23 purple eggs for a whopping £22, 050. The spins end soon after with Cheesycock leaving £26,446.60 richer – that's a win worth 13,223x the bet size.
5. Dumbros playing Jammin' Jars (Push Gaming)
Next up are Canadian forum members and fledgling streamers, Dumbros from Canada, playing Push Gaming's Jammin' Jars for $0.40 a spin. As ever with a Jammin' Jars free spins round, the wins come thick and fast, and the fun-loving duo seem incredibly excited as soon as they start to build a little momentum. There are four Jars on the board, but all of the early action comes from just 2 of them as they build up win multipliers of 15x and 19x while the others still languish 1x. This changes early in the 3rd spin (of 6) when the other two jars decide to get involved. In fact, the first time a third jar joins the other two for a combo win, the Dumbros squeal with excitement as a raspberry win reaches $256 (640x). The volume of squealing continues to rise as the three jars stay together a while, notching up wins consecutive wins of $171, $214, $316, $262, $921, $220, $950, and $1,470, after which the three jars finally split. The last 3 spins add a few hundred dollars more for a combined win of $5,819 or put another way, 14,548x the bet size.
4. tumtumyumyum playing Lil' Devil (Big Time Gaming) – 15,741x Win
Lil' Devil is very often close to the top when it comes to monthly big wins, and this month is no exception. The first of two entries from the BGT classic high variance super-slot makes it in at number 4 on our list for forum member tumtumyumyum. Playing for just €0.30 a spin we join the action with tumtumyumyum already well into a bonus free spins round of 'Be My Angel' free spins. The win we see as we join the action takes the total up to over €1,800 from 11 spins with 2 remaining. Also, both reels 3 and 4 have become fully wild and their win multipliers are up to 12x and 6x, respectively. Better is to come, however, and on the final spin with the multipliers up to 12x and 10x a rare purple heart lands on reel 1. With 3 wilds each on reels 2 and 5 as well as the fully wild multiplier reels this single win comes in at €2,365 (7,883x) making the final total €4,722,42, a win of 15,741x the bet size.
3. PandaMjolk playing Jammin' Jars (Push Gaming) – 17,306x Win
Jammin' Jars is back for its second appearance taking the number 3 slot with this win recorded on a mobile phone by PandaMjolk playing for 6 SEK (€0.57) a spin. In the free spins round with 4 jars in play, things don't really get going until the 4th from 6 spins. A few consecutive winning clusters featuring 2 of the jars earn a couple of thousand SEK before a win finally arrives with 3 jars. The wild multiplier jars by this time are up to 10x, 11x, and 13x and when combining with a couple of high value strawberries, it makes for a win of 8,580 SEK (€850). Consecutive wins of 4,435 SEK, 5,544 SEK, and 8,424 SEK follow immediately after. The biggest single win comes on the next free spin when the same three jars re-unite after separating for a few drops. By now their multipliers are up to 15x, 16x, and 18x as they combine alongside 4 strawberries for an enormous 51,840 SEK (€4,921) win. The end runs shortly after with PandaMjolk leaving the bonus round with a win of 103,834 SEK (€9,857), or 17,306x the original bet size.
Stauni21 playing Lil' Devil (Big Time Gaming) – 19,698x Win
Big Time Gaming's Lil' Devil is also back for its second appearance on this list, this time being played by forum member Stauni21 for €0.10 a spin. Slightly unfortunately for us, Stauni21 only started recording near the end of his superb Be My Angel free spins bonus round. By this time reels 3 and 4 were not only both fully wild but were also at their maximum multiplier values of 12x and 12x and the win by this time had reached €538.39 (5,384x). However, there was plenty more still to come with 4 spins remaining with a guaranteed win each spin with a 144x win multiplier. The first of those wins generated €172 but the second connected alligators from one end of the reels to the other AND landed a purple heart on reel 1. This spin added €662.40. The final 2 spins won €259.20 and €336.96 for a bonus round win of €1,969.75 (19,698x). In his forum entry Staun21 said "Being part in a video would be nice". With a win like that, there was never going to be any doubt about it Stauni…
1. Philconnors playing Money Train (Relax Gaming) – 20,000 Win
Taking the top spot this month is none other than Relax Gaming's Money Train, the 4th slot on the list to have two entries in the top 10. The win goes to forum member Philconners from a €0.17 bet. Unfortunately, we only get to see the win being counted up, but our video editors have zeroed in on the actual win amounts across the Money Cart Bonus board and they are just insane. The wins had been massively helped along the way by virtue of Philconners landing 2 Persistent Payer symbols as well as 2 regular payer symbols. If you look at the ridiculous win multipliers across the board, they actually add up to a win of 37,378x. However, unluckily for Philconnors, the slot's maximum possible payout in only 20,000x so the win of €3,400 could have been €6,354.
Share with friends on
Email