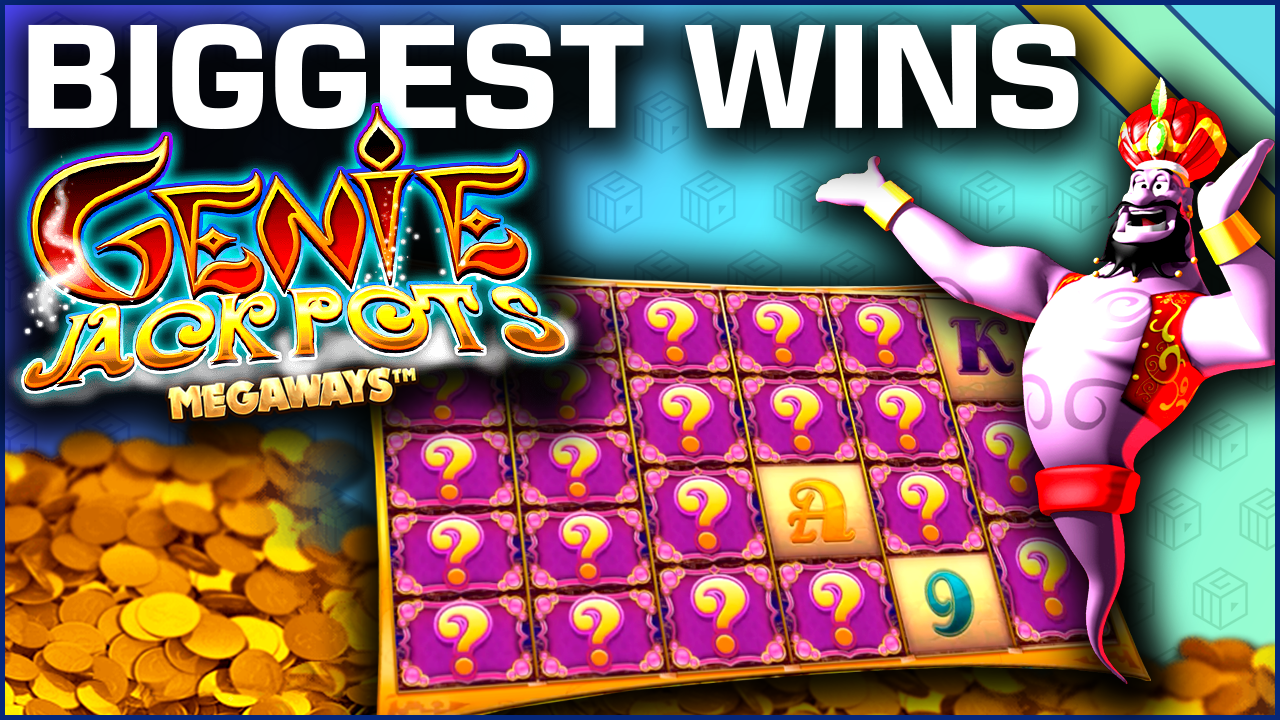 Top Ten Wins on Genie Jackpots
This week our Wednesday compilation video features one of the most popular Megaways slots currently on the market, Blueprint Gaming's genius slot, Genie Jackpot Megaways. With high variance action, a free spins round with a plethora of fantastic reel modifiers, and wins of up to 10,000x the stake, hold on to your hats from some top-tier Megaways craziness from both streamers and CasinoGrounds forum members alike.
10. FruitySlots – 1.445x Win
First up is pro streamer FruitySlots playing at €2 a spin. After triggering free spins, he randomly picks the Mystery Wishes reel modifier. This modifier throws down a random number of mystery symbols each spin which then reveal identical randomly chosen regular symbols behind them. On just his 3rd spin FruitySlots lands 14 mystery symbols across the first 5 reels. When they all turn into Genie Jackpot symbols (the game's highest paying symbol), he is shocked to have landed a €2,880 (1,440x) win. That's about it from the round though, which finishes with a winning total of €2,890, equal to 1,445x his initial stake.
9. Spajek – 1,721x Win
CasinoGrounds streamer Spajek, a Polish CasinoGrounds streamer currently living in the UK makes the number 9 slot playing for £0.60 a spin. Also activating free spins with the Mystery Wishes reel modifier, things don't look especially good for Spajek with zero banked going into his 7th spin out of 10. This is where his luck changes, however, as 9 Mystery Symbols turn into Genie Jackpot symbols and are joined by 2 wilds and 2 regularly landing Genie Jackpot symbols for a £600 (1,000) win. Just two spins later and 18 mystery symbols and 3 nines turn in 21 nines for another big win, this one worth £432. In total Spajek walked away a £1,032.72 (1,721x) winner.
8. Mitaaspins – 2,726x Win
Playing at the €0.40 a spin level Mitaaspins is awarded the unlimited multiplier feature to go along with his 10 free spins. With this feature the win multiplier goes up by 1x on each spin, regardless of whether it is a winning spin of not. On his 5th spin Mitaaspins lands two Genies lamps which awards a 5 free spins retrigger. That retrigger made all the difference here as it is not until spin number 12 that the round starts to pay dividends. This spin brings in 8 Genie Jackpot symbols and 2 wilds which connect right across the board. Along with the 12x win multiplier this produces a tidy win of €1,080 (2,700x). In total the round yields €1,090 for a 2,726x win.
7. Daskelelele – 2,939x Win
Our next clip sees CasinoGrounds streamer Daskelelele (Jack) playing with his streaming companion Philip. Opting to use the Bonus Buy at the €4 stake, Daskelelele parts with €400 and it turns out to be well worth the money as he lands all 6 scatters for the maximum 20 spins. He also hits the Locking Wilds feature, debatably the best of the bunch. As its title suggests, any wilds (which can land anywhere between reels 2-5 of this 6-reel game) which land are then locked in place for the remainder of the spins. Before the round starts Philip excited exclaims the 20 free spins with locking wilds is "the best you can have". After 7 spins Jack says they are finally "getting somewhere" 3 wilds on reel 2, another on reel 3, and another on reel 5, after which he says, "we need reel 4 now". Two spins later a wild comes down on reel 4 and the big wins start racking up. Over the next 10 spins, wins of between €125 and €400 rain down on the boys and their winnings grow to nearly €1,700 when a big win with swords puts their total up to over €2,500. By the second to last spin there are now 10 locked wilds on reels 2-5 and a big hit with Kings and Jacks pumps another €1,234 into the kitty. The final spin may 'only' add another €500 but it also completes a full reel of wilds which presents a "Wish Bonus" choice of 3 lamps to pick from, each containing between 1-3 free spins. Jack picks and lands the maximum 3 extra spins. The first adds €704, and with lots of Queens and 10's (as well as another wild) the second adds a further €3,000. It also filled another row of wilds, although this time just 1 more spin is added from the Wish Bonus. The final two spins bring in €2,310 and €960 respectively for an impressive final tally of €11,756, a win which equates to 2,939x Daskelelele's original bet size.
6. Winner – 3,142x Win
Playing at €5 a spin we join this win from the aptly named forum member 'Winner' when he is already well into a free spins round with unlimited multipliers where the win multiplier is already up to 25x and his winnings are already over €1,800. We can also see that Winner must already have enjoyed a number of 5 spin retriggers as with 25 spins already used, he still has another 10 left to go. But he is certainly not done there as over the course of this bonus round a further 3 retriggers make this round end with a win multiplier of 50x after 50 spins.
With the ever-increasing multipliers things go crazy on the wins front. On a 37x multiplier this lucky lad hit 7 jackpot symbols and a wild across the first 5 reels for an €11,100 (2,775x) win. By the end of this mammoth run, Winner had Won €15,710 for a score worth 3,142x his original bet size.
5. StephenCostello316 – 4,552x Win
It's another forum member up next, and once again we join things already well into the free spins action. StephenCostello316 has activated free spins with locking wilds and has just played the last of his 20 spins. With 15 locked wilds across reels 2-5 he has managed (so far) a win of €792 for his €0.40 bet (1,980x). However, as this last spin completed a full reel of wilds, he is awarded a further 3 spins. These spins earn him €243, €348, and €437 so he ends up with €1,821, worth 4,552x his stake.
4. Mellonix – 4,948x Win
Mellonix is playing at just €0.20 a spin when three scatters result in 10 spins with the Mystery Wishes feature. On only his 3rd spin he lands jackpot symbols once on reels 1 and 6 and then all but 1 of the symbol spaces from reels 2-5 are mystery symbols which reveal 15 more jackpots. This single spin results in a €960 win worth 4,800x his bet size. Mellonix finishes the round with €989.56 which equates to 4,948x his bet.
3. Studentgambling – 5,022x Win
Next up we have almost a carbon copy of the last win. Once again it is a forum member (Studentgambling) playing for €0.20 a spin and ending up with Mystery Wishes as their free spins reel modifier. He also ends up with a screen chock-full of Genie Jackpot symbols. In fact, just like Mellonix he ends of with a total of 17 Genie symbols across the screen. The slight difference in configuration, however, results in a slightly higher win of €1,000 (5,000x). He narrowly misses out on another big payday on his final spin as the mystery symbol once again reveals itself to be the jackpot symbol but alas, reel 3 misses out so they don't connect. Either way Studentgambling still celebrated a win of €1,004.40, worth 5,022x his stake.
2. Slotspinner – 7,212x Win
It will come as no surprise that CasinoGrounds resident luckbox, Slotspinner, makes it up as far as number 2 on this list. Once again it is the Mystery Wishes feature which provided the big win. Playing at 20kr a spin. On just his 3rd spin Slotspinner's mystery symbols all turn into treasure chests, the game's 2nd highest paying symbol on a board with 4,880 Megaways. In total there are 21 treasure chests for a win of 144,090 kr worth over 7,000x his initial bet. He may only have added another 260 kr or so during the remainder of his spins but still managed a win of 7,212x his stake.
1. Allinbob9211 – 7,572x Win
We join Allinbob9211, who is playing at just £0.20 a spin, as he lands a scatter on all 6 reels to earn 20 free spins with Mystery Wishes. For a 20p game Allinbob9211 has done reasonably well, and with one spin remaining he has earned £74.42 (373x) – but it is his final spin when things go off the scale. Mystery Wishes symbols land to fill 17 of the 24 symbol spaces on this 3,840 Megaways board. You won't be surprised to read that it is he Jackpot Genie symbol which appears from behind the mystery symbols. With a very good figuration, including 3 top symbols on the final reel, the win adds up to £1,440 (7,200x) 3,840 Megaways this creates a win of £1,440. In total Allinbob9211's free spins round earned him £1,514,42 for a 7,572x win.
Share with friends on
Email