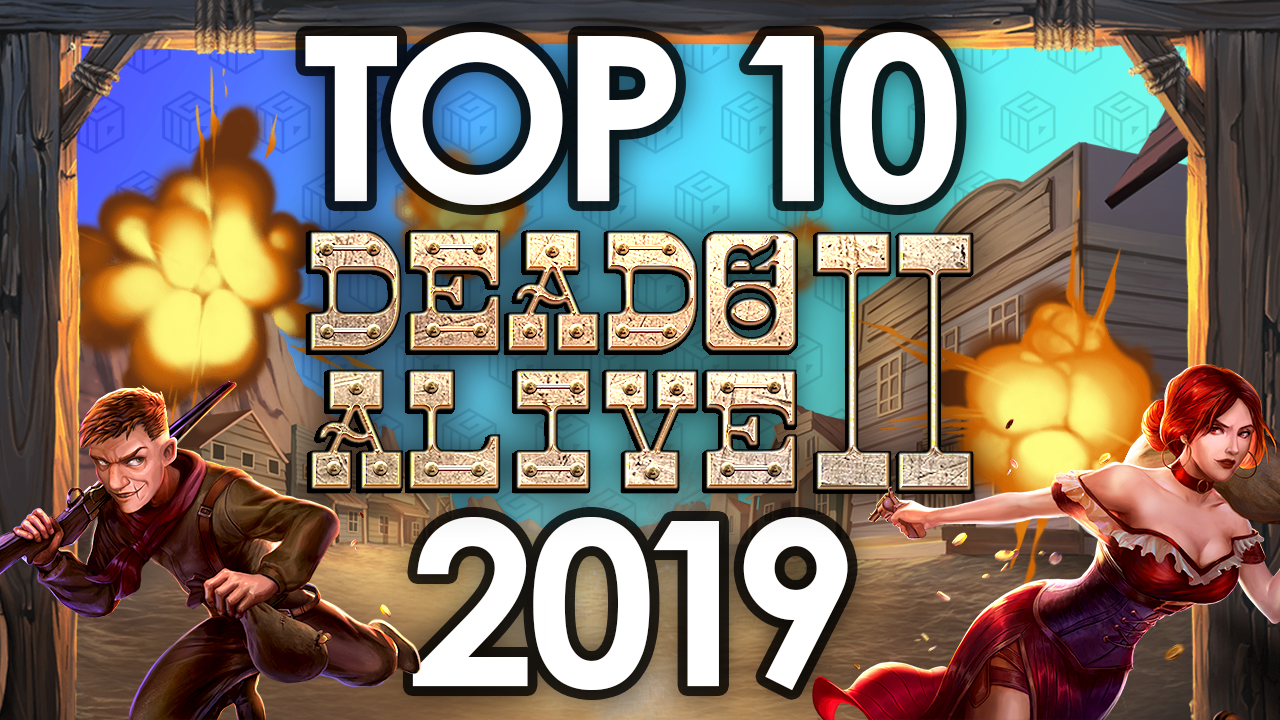 Top Ten Dead or Alive 2 Wins of 2019
If there's one slot (outside of the progressive jackpot selection) which has become synonymous with high volatility and huge wins in 2019 it is NetEnt's smash hit follow up to their original classic Dead or Alive, Dead or Alive 2.
This beast of a slot provides us with the biggest streamed or recorded win each and every month and usually has two or three in the top 10. We've dug through our DOA2 archives to present you with the 10 biggest wins (in terms of multiples of the bet size) we have recorded on file since the game launched back in April.
10. JimboCasino – 15,154x Win
Our first clip comes from UK streamer JimboCasino. Although a regular streamer, it turns out this particular session wasn't even being streamed as Jimbo settled down to play a little whilst also watching the soccer on TV. However, when he earned 5 extra spins at High Noon Saloon on a board stacked with wilds he decided to start recording. Playing at £0.90 a spin JimboCasino has already won over £2,500 before we join the action. He also has 2x multipliers on reels 1 and 2 as well as a full reel of 3x multipliers on reel 4 and a single wild on the remaining 2 reels. Cue a wealth of mega wins resulting in a huge £13,639.50 payday – a 15,154x win.
9. Slotspinner & Desity – 25,995x Win
Although only coming in at number 9 on our top 10 list, this November win by CG's own Desity and Slotspinner is the second biggest cash value win on today's list.
Desity is playing at High Noon Saloon alone at first and, having landed sticky wilds on 4 out of the 5 reels (including 2 reels with two times 2x wild multipliers) she is desperate to finally land a wild on every reel to earn 5 more spins and a potentially massive payday. Her prayers are answered on the 3rd last free spin and she shrieks to her partner, Slotspinner "I've done it".
When Slotspinner realises just what has happened Slotspinner chips in with, "Seven spins? Wow! at €3.60? You know how much this pays?" only to be met with an excited but nervous "I don't know, I don't want to listen about your math now". This spin alone adds almost €2,500 to the pot, and from this point onwards things go a little crazy.
The very next spin causes uproar as another wild rolls in on the middle reel on the top row which not only adds 2x win multipliers to the 2 wilds on this reel but also completes a fully wild top row for a €10,000 spin. It's at this point the Desity tells Slotspinner to get the Champagne, saying, "It's time to open it!" The next 3 spins average a little over €10k apiece, putting the win at just over €44k with 3 spins remaining. All hell breaks loose on the next spin when a 3rd wild lands on reel three, transforming all wilds on the reel to 3x win multipliers leading to €15,000 wins for the next two spins. On the final spin, a couple of Sherriff's badges nudge the final winning spin up over €19,000 for a final score of €93,582 or to put it another way 25,995x the stake!
8. HampusSolsidan – 35,113x win
Another CG streamer takes the number 8 spot in this compilation playing at 18 SEK (€1.70) a spin. HampusSolsidan is lucky enough to add 5 additional spins by adding a sticky wild to each reel on his very last High Noon Saloon Spin – and what a profitable few spins they turn out to be. Prior to that lucky last spin, his win total was just 1,338 SEK (€124). After landing the lucky wild, however, that immediately rose to over 11,000 SEK (€1,000).
HampusSolsidan started the additional spins with two times 2x wild multipliers on reels 1, 3, and 5. On spin 3 of the extra 5 spins, another two wilds drop so that all 5 reels now have two times 2x wild multipliers. Not only that, but the top row is now filled with 2x wild multipliers meaning only one thing – 3 HUGE winning spins. Those spins average over 200,000 SEK a piece, meaning that HampusSolsidan's final winning tally is an enormous 632,026 SEK (€59,000) equal to a staggering 35,113x the bet size.
7. Ragingponys – 44,692x Win
Ragingponys may only be playing for DKK0.9 (€0.12) a spin, and the recording quality is questionable to say the least (something our cheeky video editors pick up on of course), but this is a clip worth watching. When we join play there are already wilds on every reel with two 2x multipliers on reels 2 and 4 and a full reel of 3x multipliers on reel 5. In fact, the top and bottom rows both have 4 multipliers throughout ad with 7 spins remaining more wilds fill both reels 2 and 4 with 3x wilds. Mega win carnage ensues with a resultant win of DKK40222 (€5,386) which equates to a whopping 44,692x win!!
6. DarkBeats – 48,139x Win
Now, if you thought the quality of the recording was questionable during the last clip, then just wait until you see no.6! To be fair the definition is better but whoever recorded the footage on their hand-held device either had one hell of a hangover or they were in the middle of an earthquake. Consequently, this isn't the most enjoyable clip to watch, but it is certainly a biggie. Either way, the salient points are these; DarkBeats secured the wild line and 5 extra spins with 7 regular High Noon Saloon spins remaining giving him 12 spins with a wild on each line and with already two times 2x wild multipliers on reel 4. Over the course of those spins, even more, wilds piled on and by the time he was done DarkBeats had three times 3x multiplier wilds on reels 2, 4, and 5. Playing at just €0.09 a spin DarkBeats managed to wrangle €4,333, which works out at 48,139x the bet size.
5. Mafiaboy – 53,250x Win
This is probably one of the shortest clips in the CG archives, but the sheer volume of the win it depicts makes it more than worth its inclusion here. At the time the win took place it was the biggest DOA2 score ever. Playing for $4.50 (Canadian dollars) per spin Mafiaboy is playing at High Noon Saloon and in addition to multiple wild lines, he also has two 2x multipliers on the first 4 reels and a full reel of 3x multiplier on the last reel. The total win is a staggering $239,000 (€163,400) and represents a majestic 53,250x the stake haul!!
4. Nice Cashout – 76,335x Win
The ironically named 'Nice Cashout' takes the number 4 slot this time out, and its back to the shaky hand-held clips. Nice Cashout starts recording just after he earns his additional 5 spins as he knows it is likely to be an epic win playing at €0.45 a spin. The extra 5 spins mean he is looking at 9 huge spins in total given that there were 4 remaining prior to the spins being added. What's more, he has already earned a full row of 3x wild multipliers on reel 2, and two times 2x multipliers on reel 4. The very first of these spins results in yet another wild, making two times 2x multipliers are now also sticking to reel 5. The spin also results in his winnings jumping from just over €83 to €3,747. The next 7 spins all generate between €3,500 and €4,000 for a final bonus round win of €34,351 or, to put it another way, 76,335x the bet size!
3. Gambini101 – 90,369x Win
The next two big wins both took place back in July. The first stars gamer Gambini101 who is playing at $0.36 CAD (€0.25) a spin. We join the action with Gambini101 already well into his maximum volatility free spins round with 7 spins left. He has already earned almost 1,000x with $328 in the bank. More importantly, however, he has earned a wild on reels 1-4 and has a full reel of multipliers on the final reel, each with a 3x win multiplier. The very first spin we see brings more wilds on reels 1 and 2 and a $700 win. Reel 4 gets its second wild on the next spin for a $1500 score. Gambini really hits pay dirt on the next spin when a second wild on reel 3 fills the bottom row with wild symbols. This abundance of multiplier wilds leads to wins of around $6,000 for each of the last 4 spins. The totally free spins win comes in at a huge $32,532.88 (€22,235.40) for a preposterous 90,369x win
2. Jucepi91 – 100,641x Win
Any slot player would be over the moon with a €9,000 win, but imagine how Jucepi91 felt when he earned €9,057.73 from just a €0.09 bet? Jucepi91's win is already at €3,300 when we join the action and he has a wild on reel 1 with two 2x wilds on reels 2, 3, and 4, as well as the magical three 3x wilds on reel 5. The next 5 free spins all earn Jucepi91 between €700 and €1,000. The penultimate spin brings the third wild to the second reel, helping the very last spin to a €1,500 win and a total win of €9,057.73 – a staggering 100,641x the bet size!
1. Wojciech – 111,111x Win
In terms of multiplies of the bet size, this effort from Wojciech's back in August is quite literally is big as it can get as he maxes out at 111,111x his bet size! (note to self, playing DOA2 over the summer months seems to pay off!)
Playing at the minimum stake of €0.09 a spin, our lucky punter realises he's onto something huge playing at High Noon Saloon after accumulating a ton of sticky multiplier wilds. As a result, he thankfully found a way to film his cell phone and bring us most of the juicy action. Wojciech already has 2x multipliers on reels 1, 3, 4, and 5, and 3x multipliers filling reel 2. He also has 9 spins left to show us and every single one is colossal. The first 8 average around €1,000 a spin (over 11,000x each). On the very last spin, the 4th reel adds the third wild, making all the wilds on the reel 3x win multipliers. So huge is this win that the round comes to an end as Wojciech reaches the game's maximum possible win of 111,111x the bet size before the total win has even been added up. Wojciech seems a little annoyed at this but I'd imagine that once he got his head around the fact that he had landed a win of €10,000 from just a €0.09 bet his annoyance quickly dissipated!
Share with friends on
Email