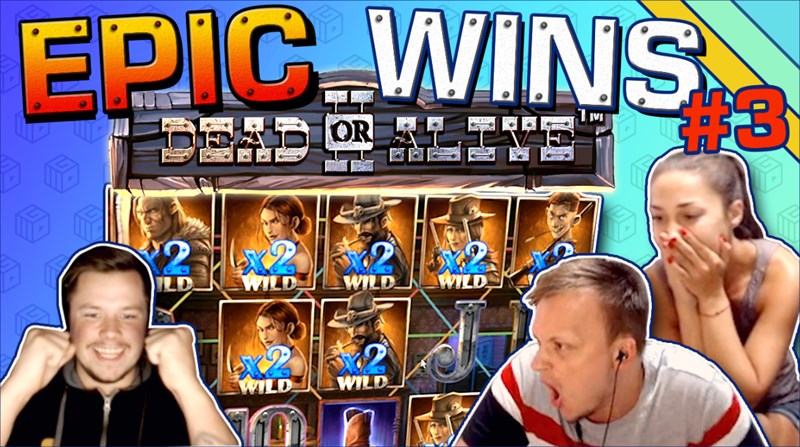 The Biggest Dead or Alive 2 Wins #3
As soon as we saw the outrageous potential offered by NetEnt's outstanding sequel to Dead or Alive we knew our 'Biggest Wins' compilations were bound to contain a few examples from the April 2019 slot. However, little did we know just how much it would end up dominating our monthly round-up.
By now it is almost a given that the month's biggest captured win is going to be coming from someone playing Dead or Alive 2. As such, just 6 months after its release we're already on our 3rd compilation showcasing big wins purely from this one slot.
This compilation is particularly exciting as not only does it feature the biggest wins we have ever seen from it in terms of cash value, but we also have a win of over 100,000x in the mix!
9. Jarttu84 – 4,736x win
Jarttu84 is first up playing at the maximum of €18 per spin. After triggering free spins, it almost goes without saying that the popular Finnish streamer opted for maximum volatility and took 12 free spins at High Noon Saloon.
It looks like a duff round for Jarrtu84 who, with only 1 spin remaining has earned just €208 with wilds on only 3 of the 5 reels. However, after Jarrtu begged for the other two reels to bring in wilds to give him more spins (and wins); his wish was granted on the final spin – much to the larger than life streamer's disbelief. This single spin more than quadrupled his winnings to €948, and there was much, much more to come with the additional 5 free spins.
For the first 2 additional spins Jarttu played with two times 2x wilds on 3 of the 5 reels earning €1,600 and €4,000 respectively. For the final 3 spins, however, he benefitted from two times 2x wilds on 4 of the five reels. While the first of those 3 spins seemed to disappoint the big man a little, bringing in a win of 'only' €2,500, the final two more than made up for it. Jarttu can't believe it when the penultimate spin brings in close to €9,000 and then goes absolutely nuts when a star shows up on the bottom row and results in an ENORMOUS €67,440. After much leaping around and a few of his trademark "Hello YouTube" screams of joy, Jarttu84 looked down at a total win of €85,244, or 4,736x the bet size.
8. Erik – 9,287x win
The first of our hand-held wins shared by a forum member here as Erik shows off his final three spins on what had already been an epic High Noon Saloon round played at €0.90 (Canadian $) a spin. Out of the five reels, 2 of them have 2 times 2x multipliers and 1 has three times 3x multipliers. Each of the final spins we see earns Erik over 2,000x the bet size, resulting in a total win of $8,358, equal to 9,287x the bet size.
7. R0BAF3TT – 17,673x win
Another community member here as RobaF3tt shares with us his doozy of a DOA2 win. Rob is lucky enough to earn his additional 5 spins while he still has 5 spins remaining, giving him a lot of time to take advantage of those wilds. Over the course of the next 10 spins he manages to fill the first two rows with 3x wilds as well as landing two times 2x multipliers on the 3rd and 5th rows. With 3 spins remaining RobaF3tt has earned just £165 from his £0.36 bet but those last three make ALL the difference. Wins of £847, £2,785, and £2,565 bump his total win up to £6,362 for a win worth 17,673x his bet size.
6. Lifehack_2996 – 19,269x win
Another last minute recording from a hand held device here, although this time with a little bit of commentary. We join Lifehack_2996 about 2/3 of his way through his High Noon Saloon free spins round and he has already earned his 5 extra free spins and is playing at DKK 1,80 (€0.24) a spin. With 7 spins left he already has two times 2x multipliers on the first three reels. On his 5th last spin Lifehack fills reel 3 with 3x multipliers, and on the next spin reel 4 joins those with two times 2x multipliers. The last four spins all bring in wins of between 4,000x and 4,500x, giving him a total bonus round win of DKK 34,684.40 (€4,625) or 19,269x the bet size.
5. MyBee20 – 26,174x win
Next up is German twitch streamer MyBee20 playing at $0.36 a spin. We join his stint at High Noon Saloon for just the final 4 spins. The board is already showing two times 2x wilds on all of the first 4 rows and with the bottom row fully wild. The positioning of the wilds makes for decent wins for all of the final spins. However, a sheriff's badge lands on the penultimate spin to complete a top paying line, resulting in a single spin win of over 5,000 the bet size. Add to this a win of over 9,000x the bet size for the final spin (aided by a third wild landing on the middle reel) and MyBee20 leaves town with a haul of $9,423 – that's 26,174x his initial stake!
4. Slotspinner – 26,674x win
Finally a big win in this compilation from one of our very own CasinoGrounds superstars, Slotspinner. Playing at €1.80 a spin Slotspinner has a fantastic long run of huge winning spins after landing a wild on each reel just over halfway through his High Noon Saloon spins. With 9 free spins left and plenty of wilds on the board Slotspinner gets as excited as you might expect, especially when the very next spin brings a second sticky wild to reel 5, meaning that he now has two times 2x wild multipliers on every reel but the first. This one spin alone takes his winnings from €139 up to €6,375. Over the next 5 spins Slotspinner yields over €5,000 a spin. With 2 spins remaining things go even crazier as the final reel lands another wild meaning all three of them now have a 3x multiplier attached. Over €15,000 in winnings later and a squealing Slotspinner cannot contain his joy at having won a total of €48,013.20 – 26,674x his price per spin.
3. HampusSolsidan – 35,113x win
Another CG streamer takes the number 3 spot in this compilation playing good old DOA2 at 18 SEK (€1.70) a spin. As with Jarrtu84, HampusSolsidan is lucky enough to add 5 additional spins by adding a sticky wild to each reel on his very last High Noon Saloon Spin – and what a profitable few spins they turn out to be. Prior to that lucky last spin his win total was just 1,338 SEK (€124). After landing the lucky wild, however, that immediately rose to over 11,000 SEK (€1,000).
HampusSolsidan started the additional spins with two times 2x wild multipliers on reels 1, 3, and 5. On spin 3 of the extra 5 spins another two wilds drop so that all 5 reels now have two times 2x wild multipliers. Not only that, but the top row is now filled with 2x wild multipliers meaning only one thing – 3 HUGE winning spins. Those spins average over 200,000 SEK a piece, meaning that HampusSolsidan's final winning tally is an enormous 632,026 SEK (€59,000) equal to a staggering 35,113x the bet size,
2. Nice Cashout – 76,335x win
The ironically named 'Nice Cashout' takes the number 2 slot this time out, and its back to the shaky hand-held clips. Nice Cashout starts recording just after he earns his additional 5 spins as he knows it is likely to be an epic win playing at €0.45 a spin. The extra 5 spins means he is looking at 9 huge spins in total given that there were 4 remaining prior to the spins being added. What's more, he has already earned a full row of 3x wild multipliers on reel 2, and two times 2x multipliers on reel 4. The very first of these spins results in yet another wild, making two times 2x multipliers are now also sticking to reel 5. The spin also results in his winnings jumping from just over €83 to €3,747. The next 7 spins all generate between €3,500 and €4,000 for a final bonus round win of €34,351 or, to put it another way, 76,335x the bet size!
1. Wojciech – 111,111x win
In terms of multiplies of the bet size Wojciech's effort from August is quite literally is big as it can get as he maxes out at 111,111x his bet size!
Playing at the minimum stake of €0.09 a spin, our lucky punter realises he's onto something huge playing at High Noon Saloon after accumulating a ton of sticky multiplier wilds. As a result he thankfully found a way to film his cell phone and bring us all the juicy action. Wojciech already has 2x multipliers on reels 1, 3, 4, and 5, and 3x multipliers filling reel 2. He also has 9 spins left to show us and every single one is colossal. The first 8 average around €1,000 a spin (over 11,000x each). On the very last spin the 4th reel adds a third wild, making all the wilds on the reel 3x win multipliers. So huge is this win that the round comes to an end as Wojciech reaches the game's maximum possible win of 111,111x the bet size before the total win has even been added up. Wojciech seems a little annoyed at this but I'd imagine that once he got his head around the fact that he'd landing a win of €10,000 from just a €0.09 bet his annoyance quickly dissipated!
Share with friends on
Email