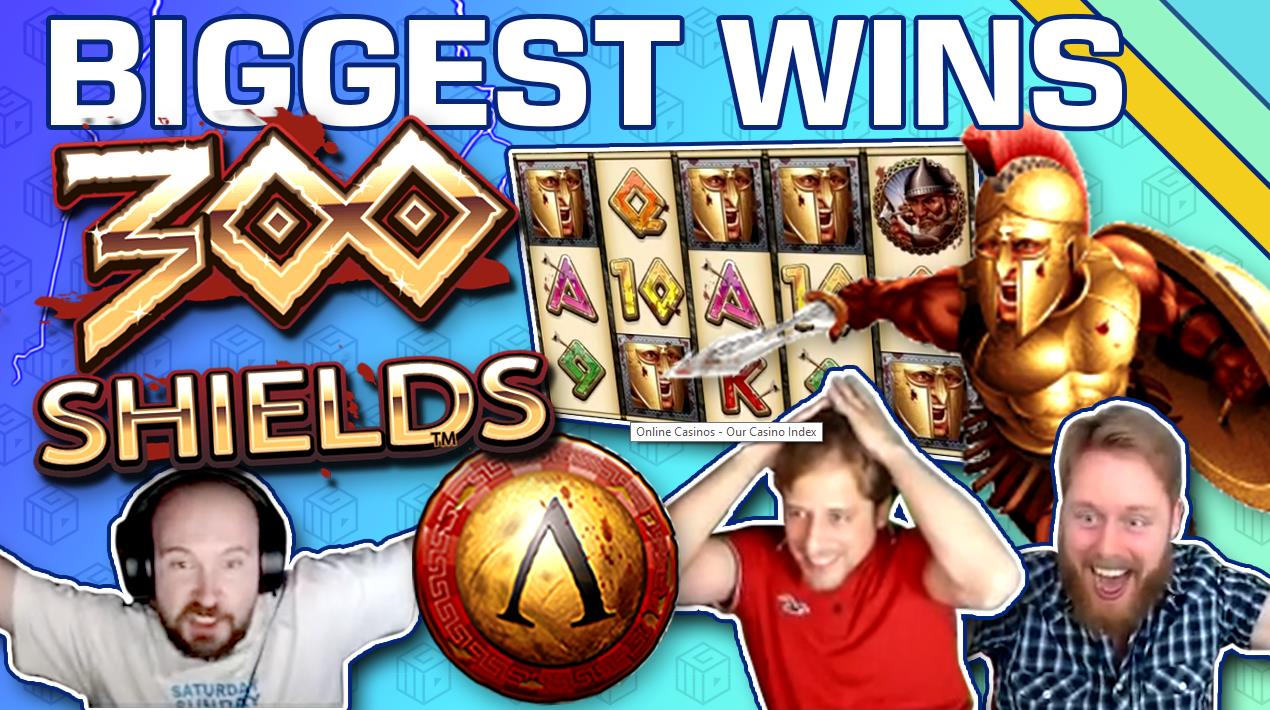 Top 7 300 Shields Wins
To celebrate the release of 300 Shields Extreme, NextGen Gaming's updated version of their classic movie themed 2014 slot 300 Shields, we decided to take a dig around our video archives in order to present you with a cracking compilation of top 300 Shields wins. We're also running a 300 Shields Extreme promotion with LeoVegas with plenty of free spins and cash prizes to be won. So go ahead and enjoy our video to get in the mood, then head on over to the forum to check out the promo and get in on the action for yourselves!
Number 7: CasinoReggie – 2,415x Win
Our first clip features our very own CasinoReggie playing at €2.50 a spin. We join the action just in time to see Reggie land three shield scatters to enter the free spins round. For anyone unfamiliar with the way the Battle Feature free spins round works in 300 Shields here's a quick recap. 3 scatters awards 5 free spins with all warrior wins paying double (the warrior is the game's wild symbol so the multiplier is applied to all wins including at least one warrior symbol). Land another two scatters at any point during those free spins and another 5 free spins are awarded all warrior wins this time subject to a 5x multiplier. 6 total scatters during the free spins awards another series of 5 free spins with a 25x warrior win multiplier. 12 total scatters earn you a final 5 free spins with all warrior wins paying with a huge 300x multiplier.
Once the Battle Feature gets underway Reggie starts racking up the shield scatters fairly quickly. He earns his second set of 5 free games by landing 2 scatters on his 2nd spin. By his 9th spin he has 9 scatters, giving him 6 more spins to land 3 more scatters for the all-important 300x level. It gets a little tense but on spin 13 another 2 scatters land, and on spin 14 out of 15 the 12th scatter falls – earning Reggie 5 spins with a 300x win multiplier on warrior wins. When he starts his final 5 spins, Reggie has only won €67 from 15 free spins, but two spins later and that total changes dramatically. Three connected warrior wilds land, one on each of the first three reels helping to generate a huge win. The biggest single win came from a full win line of five 10's. With a €2.50 bet five 10's would normally result in a win of €10. However, with a 300x multiplier this becomes an enormous €3,000. Five combinations of 3 Aces add a further €1500, while 4 arrows earn Reggie €600 rather than the usual €2. In total this single spin added almost €5,800 to the bonus round earnings which ended up at €6,038.20 – that's 2,415x the bet size. As soon as the big win lands, Reggie lets out a squeal of delight which causes CG top dog LetsGiveItASpin, to come charging in from another room to share in the joy of his buddy's big win!
6. David Labowsky – 2,457x Win
David Labowsky often features in our biggest wins compilations, and he's often playing pretty high stakes. On this particular occasion he isn't playing quite as high as he sometimes does, but €2.50 a spin is a fairly decent stake, especially if you get lucky on 300 Shields – and that he does!
Once again we join the action shortly before the streamer activates the Battle Feature. On his 6th free spin, David retriggers the bonus round by landing 3 shield scatters on the same spin, earning him an additional 5 free games at the 5x warrior multiplier level. This of course increases his chances of reaching the coveted 300x round, which he does on his 18th spin. David is understandably excited by the prospect of a big win but his hopes diminish with each of his 5 big spins. With zero warrior wins on his first 4 free games in level 4 it all comes down to the last of his 25 free spins. Happily for Mr Labowsky, a warrior wild on the last reel completes a full line of arrows, earning him a cool €6,000. This score is inevitably met with a rather vocal celebration, including a few of DL's signature big win cries of "GET PAID". His total bonus round earned him €6,141.40, equivalent to 2,457x the bet size.
5. Lifehack – 2,869x Win
We don't get to see an awful lot of the bonus round in this clip as it was obviously hastily recorded on a handheld device when it became apparent to player Lifehack that something big was going down. Nevertheless, we're very glad he was as quick on the draw as he was or else we would have missed out on this beauty!
By the time Lifehack gets his recording started he is playing at the 25x level but has already collected enough shields to guarantee 5 spins at the hallowed level 4. Playing at 2.50dkk (€0.33) per spin Lifehack can't contain his glee when his five 300x spins add over 7,100dkk to the meagre 56.40dkk he had won from the previous 20 spins. After the completion of this Battle Feature, Lifehack had won 7,173.40dkk (€961) or 2,869x his stake.
4. Boffy – 3,315x Win
Playing at £0.75 (€0.83) a spin, Boffy follows a familiar pattern (well, familiar to this compilation, not so familiar for your average Battle Feature win playing the highly volatile 300 Shields of course!) by advancing to the 300x stage of the Battle Feature and hitting one big spin.
Boffy just about manages to reach the final stage, hitting his 12th shield scatter on his last remaining free spin. Up to spin number 17, Boffy had only banked £10.71 (14x his stake); but that all changes as three conveniently placed warrior wilds help him complete a full line of Archers, the top-paying regular symbol. What would normally have earned Boffy £7.50 instead brought in €2,250, as well as over €100 more in smaller wins from the same spin. With another couple of wins during his final free spins, Boffy's total win from the Battle Feature was £2,485.95 (€2,751), which equates to 3,315x his initial bet per spin.
3. Bendelonge – 3,484x Win
We join Bendelonge at stage 3 of the Battle Feature where warrior wins are worth 25x. At this stage our hero needs two more shield scatters to reach the 300x round, a feat he accomplishes with 3 free spins to spare. For once in our compilation, a streamer enjoys more than one big warrior wild during the 300x round, as all of his last three wins pay well – although admittedly most of his winnings came from a single spin. Nevertheless, the other wins are worthy of note. Spin 23 nets Bendelonge wins totalling 228x his stake, and spin 24 results in a win of 804x his bet size. It's his 25th and final free spin, however, where this gambler's bets pay off biggest. A single warrior wild on the 3rd reel, bottom row helps complete a full line of arrows for an 1,800x win. This epic spin enabled Bendelonge to leave the bonus round with £2,612.97 (€2,892) for a 3,484x stake win.
2. Jarrtu84 – 3,526x Win
With well over 40,000 twitch followers, Jarrtu84 is always in the thick of the action and it is the Finnish streamer who takes our number 2 slot here with this epic 300 Shield win. Jarrtu84 is another player who manages to retrigger the free spins, thus giving himself an additional 5 free spins to reach the target of 12 shield scatters for the 300x round. Of course he reaches that goal, by which time he has already banked €408 playing at €5 a spin. On his 3rd big spin Jarrtu84 hits a nice €720 (144x win), but it's the following spin where he hits pay dirt. Warrior wilds roll in on the last three symbols on the bottom row, and with two jacks covering the other two spaces on the bottom row, and an Ace on each of the first three reels leading down to the bottom row, Jarrtu84 manages to hit two different full pay lines for a combined single spin win of €16,500 (3,300x bet size). The total win from this Battle Feature was an enormous €17,631,20, equal to 3,526x the bet size.
1. TimSchaeffer – 5,888x Win
Ironically our biggest win of the compilation is also the smallest win of the compilation – it is the biggest win in terms of return on investment, but the lowest in actual cash value. Similarly, you could say it is the best clip of them all as it produces by far the biggest win/stake ratio but you could also say it is the worst as the recording quality is so low! Tim clearly wasn't prepared to record his win as he probably didn't expect to reach the legendary 300x stage of the Battle Feature. Nevertheless, he did reach stage 4, and he did manage to record most of his win on his cell phone. Unfortunately, he was either too nervous to hold the phone straight, or he's just a really poor cameraman! So be warned, it may be big but this clip sure ain't pretty!
We join the action in the final stage of the Battle Feature and in among the shaky camerawork you can make out (if you look hard enough) that the three warrior wilds which land on his 22nd spin help Tim to a huge payday. The wilds are positioned such that they complete both a full line of Aces and a full line of battleships for a combined win of €1,200. As he's only playing for €0.25 a spin, these two line wins alone equate to 4,800x his bet size. Smaller wins from the same spin earned Tim a further €135, and in total his feature win reached €1,472 – 5,888x his bet size.
Share with friends on
Email