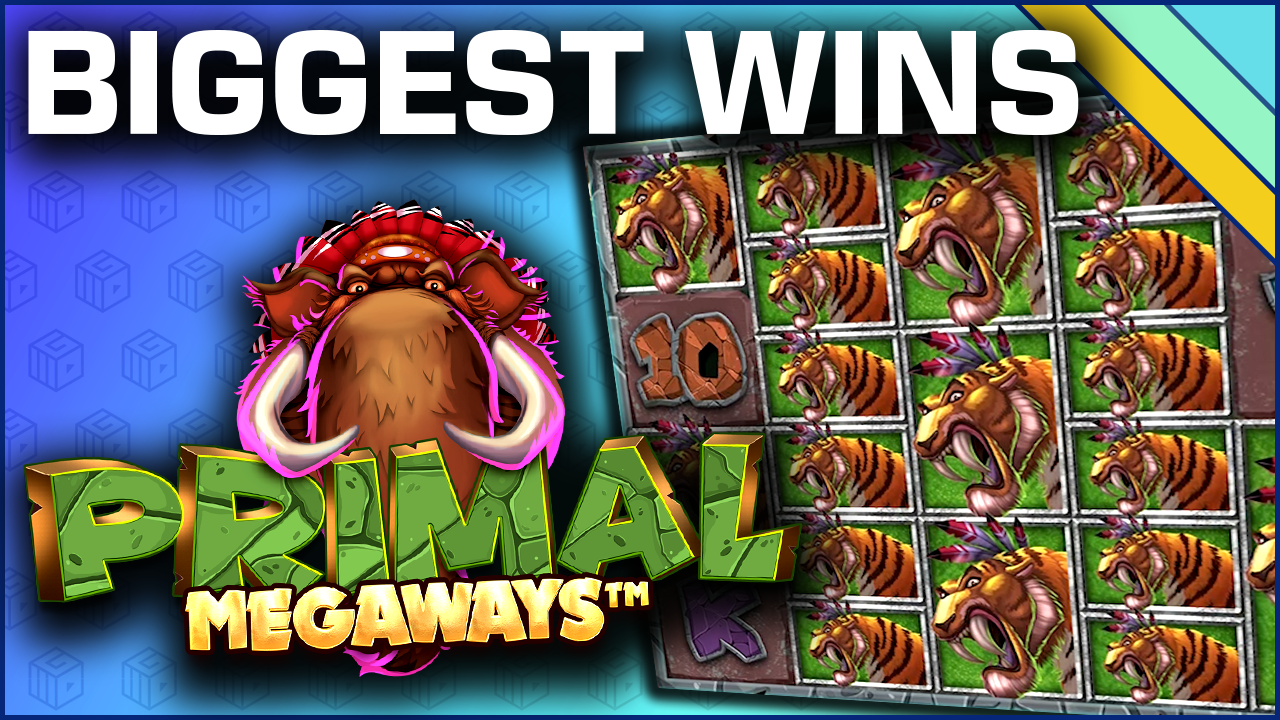 Top 10 Primal Megaways Wins
This week we'll be taking a look back over the biggest wins we could find from one of our favourite Blueprint Gaming slots, the prehistoric powerhouse, Primal Megaways. Released back in November 2018, Primal Megaways is one of Blueprint's earliest Megaways slots and remains a firm favourite. This highly volatile slot is primed to deliver big payouts of up to 50,000x the bet size across its 46,656 ways to win. Although none of our intrepid streamers manages to bring home quite that much prehistoric bacon, there are still some killer wins ahead.
10. Casinohoppers2019 – 1,800x Win
Casinohoppers2019 are a UK streaming partnership who formed last August, and which consists of two brothers and a friend. Now playing as CasinoGrounds streamers, they often play together but, in this clip, just one of the brothers is streaming Primal Megaways at £0.60 a spin. And it is just the one spin we see, a base game spin in which our happy hopper lands high-value sabre-tooth tiger symbols on each of the 6 reels. With a total of 18 tigers and 1 wild spread across the board, the £0.60 spin turns into a win of £1,080, the equivalent of 1,800x the original bet. The Casinohoppers2019 boys are known for their 'colourful' language and there is plenty of it in this clip as the win is duly celebrated!
9. Miikapekka – 2,000x Win
Proving that you don't necessarily have to trigger free spins in order to win big, the number 9 on our list also comes from just one single base game spin. This time up it is popular Finnish streamer, Miikapekka at Rizk Casino, playing slightly higher than Casinohoppers2019 at €2 a spin. The win this time is helped on its way by a combination of mystery symbols, wilds, and Mammoth symbols. Mystery symbols usually land in abundance and transform at the end of the spin into matching regular symbols. On this occasion, they transform into the game's highest paying symbol, the Mammoth. The Mammoth pays so well that just 7 mystery symbols, 2 wild symbols, and 2 Mammoth symbols spread over all 6 reels pay a 'Mammoth' win of €4,000 (2000x the bet size).
8. Prophetting - 3,000x Win
Yet again we have another short (but extremely sweet) clip, this time from Canadian CasinoGrounds streamer Jaryd, better known by his streamer name, Prophetting. Playing Primal Megaways at $0.40 a spin, Prophetting has to double take when he notices an unusually large base game win has just rolled in. Mystery symbols covering reels 1 and 6 reveal Mammoths (the largest paying symbol). Reel 4 is also full of Mammoths, and all the reels are joined together with a wild on each of the other three reels. This single spin pays Prophetting $1,200 for a 3,000x base game spin.
7. David Labowsky – 3,155x Win
Next up is Netherlands based super-streamer David Labowsky playing at €5 a spin. Primal Megaways might not have the increasing win multipliers many other Megaways slots include during free spins but instead, it has multiplier wilds – and it is an abundance of said wilds which produce a huge win here for David.
The action starts when David triggers 10 free spins with wild multipliers of 2x or 3x. On the 4th spin, two more scatters land to add another 5 free spins – something which turns out to be very important as there are no more worthwhile spins until the 13th. On this memorable spin, 3 of the top-paying Mammoth symbols land on reel 1, with wilds landing on reels 2, 3, 4, and 5. Every one of the wilds reveals a 3x multiplier, meaning that all winning combos have an 81x win multiplier applied. The Mammoth win alone comes in at €12,000. There is also a large win with Kings worth €3,200 on the same spin. In total, the spin nets Labowsky €15,633. His total bonus round win comes in at €15,775,50 for a 3,155x score.
6. Siccmade – 3,872x Win
This next win might only come 6th on our list of 10 but it is by far the biggest cash value win of them all. This is down to the fact the forum member Siccmade was playing at $10 a spin when he triggered free spins. We only get to see the final 2 spins out of the 30 Siccmade eventually ended up with after landing several retriggers. When we join the action on spin 29, Siccmade has already won over $2,200, and he's about to win a lot more. The 29th spin brings in 2 Mammoths on reel 1, a 3x wild multiplier on reel 2, another 3x multiplier on reel 3, a 2x multiplier on reel 4, a Mammoth on reel 5, and another 2x multiplier on reel 6. Alongside a win with Kings, which also included two 3x multipliers, this single spin netted over $36,000. In total, Siccmade won $38,723 from the free spins round, a haul worth 3,872x the stake.
5. KatyBella – 4,050x Win
We're back to single-spin win land here as yet another base game spin makes the top 10 list. You might need to squint a little to make this win out as the hand-held recording from forum member KatyBella is a little fuzzy to say the least! No matter, we're always grateful for CasinoGrounds forum member input, and playing at £0.20 a spin at Casino Calzone, KatyBella's win is certainly worth repeating. We only get to see the final board as the winning spin has already spun. What we see are the reels almost completely covered in Rhinos, the game's third highest paying symbol. In total there are 21 Rhino symbols and a wild which creates a win of £810 from just a 20p stake – that's a win of 4,050x the bet size.
4. ZAKATTACKzb – 5,400x Win
The number 4 spot is taken by yet ANOTHER single spin win, and yet again comes courtesy of a CasinoGrounds forum member – ZAKATTACKzb. The size of this win is largely down to the number of mystery symbols which land. Mystery symbols cover reels 1, 5, and 6 as well as 7 more between reels 2 and 5. Happily for ZAKATTACKzb, the only other reel (reel 3), contains a wild symbol, and 2 of the second-highest paying tigers. Playing at £3 a spin, the win comes to a staggering £16,200, or 5,400x the bet size.
3. Nickslots – 5,400x Win
The 3rd biggest win of the countdown comes from none other than CasinoGrounds legendary slotsmith, Nickslots, who gets rather worked up here after landing (yes, you guessed it) a colossal base game win. Playing £5 a spin Nick doesn't look especially excited when a regular spin brings in several rows of mystery symbols. His countenance soon changes, however, when they all transform into the second-highest value symbol (tiger). With tigers already on reel 1 and filling reel 2, the transformed symbols almost fill the board. The 4,320 Megaways spin results in a £27,000 (5400x stake) win for the exuberant Englishman. Nick's reaction to this win is priceless and well worth sticking around for!
2. Brian Koppen – 12,841x Win
The runner-up spot goes to forum member Brian Koppen who luckily manages to press record on his mobile device just as this humungous win is being counted. Brian's camera work is a little shaky, but considering the size of this win, who can blame him? This win comes from a free spins round where Brian managed to land wild multipliers on every reel but reel 1. They were also very good multipliers of 4x, 4x, 2x, 4x, and 4x, meaning that his wins for multiple full lines of Kings, Queens, and tigers, were all multiplied by 512x. This €10,273 win was worth a staggering 12,841x his bet size.
1. Vaffel1 –21,731x win
The biggest Primal Megaways win we have for you comes from another helpful forum member who managed to capture a huge win on a hand-held recording device. Playing at 20kr a spin Vaffel1 lands a huge win on his 5th free spin when lands 4 of the highest paying symbol (the Mammoth, which pays 50x for any 6 adjacent symbols) on reel 1, another on reel 5, and wild multipliers on every other reel. In this game the reel multiplier values multiply together, so with wilds of 3x, 4x, 3x, and 3x, the win is multiplied by 108x, resulting in a single spin win of 434,592kr (€40,372). Unfortunately, we don't get to see how much was added from the remainder of the free spins, but this win alone was worth 21,731x Vaffel1's bet size!
Share with friends on
Email