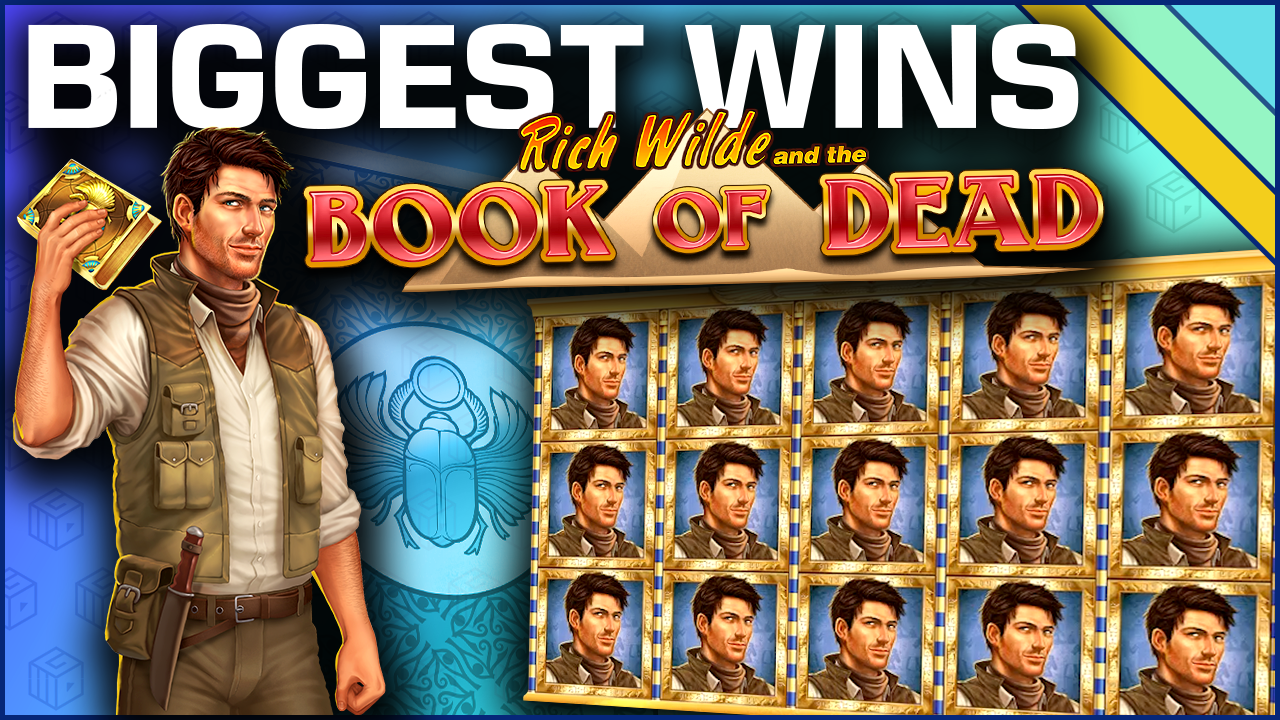 Top 10 Book of Dead Wins
For this weeks compilation video, we've trawled our archives for some of the biggest streamed or recorded wins on one of the online slot world's true, Play'n GO's Rich Wilde and the Book of Dead (more commonly known as simply "Book of Dead".
Ever since its release in January 2016, Book of Dead has cemented itself as one of the most popular online slots of all time, charting number 1 or 2 (alongside NetEnt's Starburst) in almost every jurisdiction in the world. In a slotscape filled with clones of Novomatic's 2004 game-changing slot, Book of Ra, Book of Dead stands head and shoulders above all others. It quickly eclipsed the original (and its many clones) in popularity with its superior design, backstory, volatility, and, perhaps most importantly, its significant increase in RTP (96.21% compared to Ra's 92.13%).
10. Nickslots – 1,000x Win
Our first clip comes from way back in October 2017 with CasinoGrounds favourite, Nickslots, playing Book of Dead at £5 a spin over at Calzone Casino. Unusually for this compilation this is a base game win. The chances of a full line of Rich Wilde's are so rare that they carry a 1,000x payout. You can imagine Nick's surprise then, when an up & down line containing 4 Rich Wilde's and finished off with a Book wild send £5,000 his way from a simple base game spin. As he wanders off camera in disbelief, we're not quite sure what the moans of pleasure signify, but we're quite sure he was not expecting that win to roll in.
9. Slotspinner – 2,024x Win
From one CasinoGrounds heavyweight to another, this next big win comes courtesy of CG power couple, Desity and Slotspinner from a session earlier this year. It's actually Desity at the reels, playing at £5 a spin who triggers free spins on what was her last spin of the session. In Book of Dead, one of the main symbols is chosen as a special "expanding symbol" before free spins begin. If 3 or more (2 or more for the high value symbols) land on different reels then they fully expand to cover the entire reel and payout as though they are paying adjacent reels. The golden pharaoh (the second highest paying symbol) is chosen, and on just her third spin, Desity lands one on each reel. The resulting full screen of golden pharaoh's pays 2,000x. Both Desity and Slotspinner (who was sitting just behind her) leap from their chairs to celebrate with Slotspinner's confused "That NEVER happens?" met with Desity's jubilant "That happens to me!". With a couple of small wins added from the remainder of the free spins, the final winning score of £10,120 equated to 2,204x the bet size.
8. Wokingjames – 2,526x Win
Number 8 on our list comes from forum member Wokingjames who shared this clip played on a mobile device. Playing at £1 a spin, we join the action quite late as Wokingjames has already managed to retrigger free spins twice and is on spin 19 out of 30. Not only that, but he has also earned over £1,700 (1,700x). Spin 19, however, bumps that win up considerably as he combines 3 Anubis symbols (his chosen special "expanding" symbol for the round) with 2 Book wilds for a full screen of Abubis which is worth another 750x his bet size. By the end of the 30 spins he had amassed a win of £2,526 (2,526x).
7. DCT Slot Channel – 5,000x Win
This win, posted on our forum by DCT Slot Channel back in April 2019, is the first on our list to feature the Rich Wilde jackpot. Playing at €0.50 a spin, DCT, having been awarded Rich Wilde as their expanding symbol, only have to wait until spin number 4 before the rugged adventurer appears on all five reels for the 5,000x jackpot. The unfortunate thing about hitting the jackpot early in the bonus game (at least at some casinos) is that once it has been hit, the round ends, so DCT Slot Channel had to 'make do' with just the €2,500 (5,000x) win – oh well!
6. AyeZee – 5,000x Win
Taken from July 2019, and playing at €5 a spin on LuckyDino, popular twitch streamer AyeZee is not having the best of days, down €400 on the session when he finally gets some free spins. Desperate for a bit of good fortune AyeZee prays for a good bonus round just before his random expanding symbol is revealed to be the game's top paying symbol, Rich Wilde. More often than not this isn't particularly good news as the best paying symbol appears far less frequently than lower paying symbols – but if a row of Rich Wilde's comes into view then its party-time! AyeZee does a little more praying, offering up "for the love of 25,000 euros, please" to the slot gods. It would appear (that on this occasion at least) they were listening, and on his 4th spin a Rich Wilde appears on each reel. As this is also his expanding symbol each reel suddenly fills with the top paying symbol before paying out the jackpot of 5,000x the bet size. A disbelieving AyeZee is suddenly €25,000 richer!
5. BitsAssJornt– 5,023x Win
In this brief but lucrative clip Twitch streamer BitsAssJornt, playing at €1 a spin lands 3 scatters to trigger free spins on the world's most successful "Book of Ra" clone. He is assigned Rich Wilde (the game's hero and highest paying symbol) as his special expanding symbol, and on the very first of his free spins Rich Wilde symbols land on every single reel. Once they have expanded, the entire 5x3 reel set is filled with the top paying symbol, earning BitsAssJornt 5,000x his bet size. This is clearly an emotional moment for the young streamer who spends the remainder of the free spins round virtually crying in joyous disbelief. BitsAssJornt is playing at CasinoLuck, which presumably doesn't automatically halt the game once the 5,000x max win is hit, as the now whimpering BitsAssJornt is able to play out the remainder of his free spins, earning another €23 along the way so his final winning total is €5,023 (5,023x).
4. Marius1900 – 5,028x Win
This may not be the smoothest of recordings, with some fairly shaky camerawork going on from Marius1900 on a hand-held device – but we're sure glad he made the effort nonetheless. Spinning the reels at €0.80 a spin back in June 2019, Marius1900 decided to record once he had triggered ten free spins. It's looking like a fairly bleak bonus round until the 6th spin when he hits the mother lode. Although Marius1900's recording starts after the expanding symbol was chosen, it becomes obvious that it was Rich Wilde once the 6th free spin is completed. With one Rich Wilde symbol dropping on every reel the entire gameboard fills with the highest value symbol, resulting in a 5000x (€4,000) win. The final free spins haul totalled €4,022.40 – equal to 5,028x the bet size.
3. Gamble_gangsta – 5,032x Win
It's back to a CasinoGrounds streamer now, as GambleGangsta, playing for €1 a spin, triggers good old free spins. Gamblegangsta's face drops when he sees Rich Wilde randomly chosen as his special expanding symbol for the duration of the bonus round. His initial disappointment was probably down to the smaller chance he had of securing many wins with such a rare symbol. This disappointment turns to joy soon after as on his 7th spin a Rich Wilde symbol appears on every reel. Once the Rich Wilde symbols had expanded to fill the board a huge jackpot win of 5,000x was winging its way to Hamburg. In total Gamble_gangsta won €5,032 from 10 free spins playing at LeoVegas casino, a nice 5,032x his initial bet size.
2. Gunnslots – 5,151x Win
Sent in by forum member Gunnslots back in December 2018, this win came from a £2 stake. At the time, Gunnslots (two brothers who like to play slots) had only just started their twitch channel, and once Rich Wilde was chosen as the special expanding symbol the brother at the controls announced, "Ooh it's the big boy, if we land a full screen of that we retiring and going to Vegas". What happened next perhaps explains Gunnslots abrupt end to their streaming career just a month later!
After 10 free spins were up, Gunnslots had won just £79 (39.5x). However, on spin 5, three Book scatters added a further 10 spins, and on spin number 12 those Rich Wilde symbols covered the entire screen for a massive £10,000 (5,000x) win. Gunnslots also performed slightly better than previous big winner with 20 spins, ending with a total win of 5,150x his bet size, or £10,302 in cash.
Despite being ecstatic throughout the final 8 spins, Gunnslots was unaware of how much he'd actually won. It wasn't until the round was over and the wins had been added to his account that he swooped in to have a good look. He soon reeled back and announced in shock, "Oh my f**king GOD, it's ten grand, it's TEN GRAND!!"
1. MrGtonic – 5,258x Win
MrGtonic's Book of Dead win from December 2018 makes the top of our top 10 wins and was played at €1.00 a spin. MrGtonic was another lucky punter who managed to not only hit the top win, but also to trigger additional free spins on a site which allowed him to play the remainder of his spins. The inevitable big win with Rich Wilde expanding symbols didn't come until spin number 13, by which time he'd already earned €154. As well as the huge €5,000 win, another couple of small Rich Wilde wins, along with the win from retriggered free spins, meant that MrGtonic was able to end the round with a win of €5,258, worth 5,258x his original €1 bet.
Share with friends on
Email