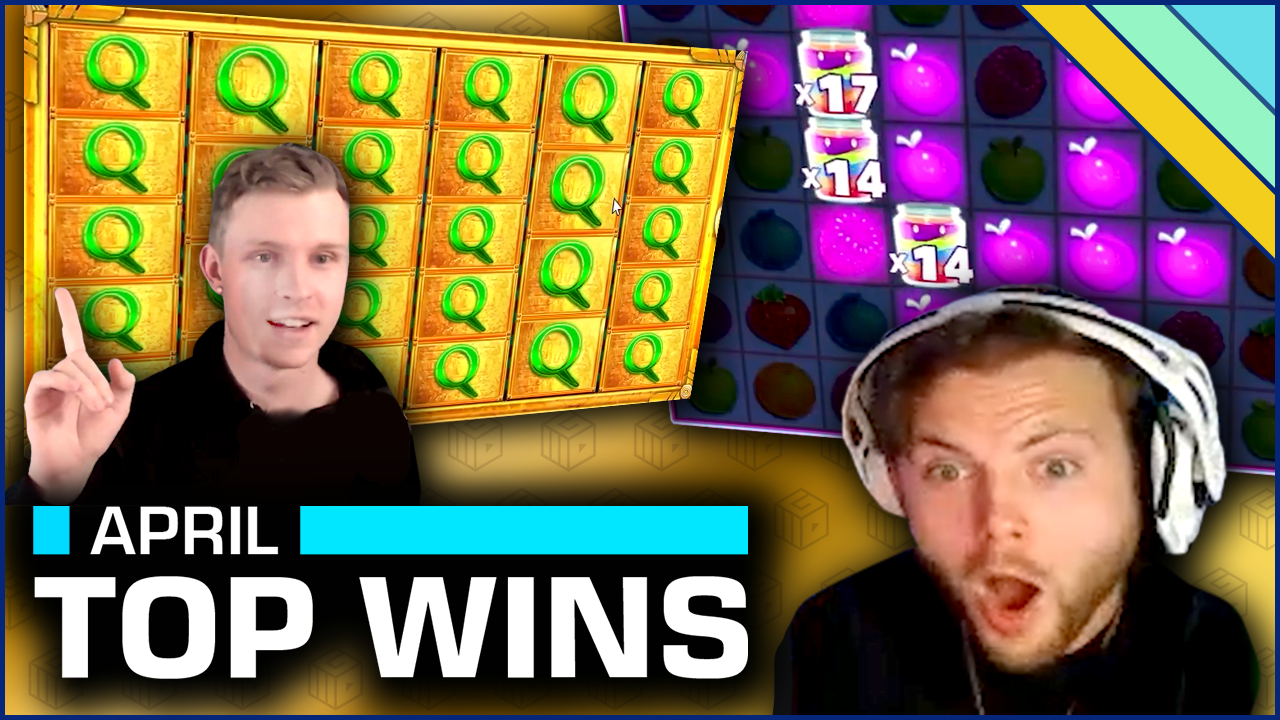 Top 10 Wins of April 2020
Top 10 April Wins
As we tentatively approach the summer months it's time to take a quick look back at some of the biggest action to take place at virtual casinos around the globe. This month we have a ton of forum members in our countdown who each managed to record at least some footage from their impressive wins. We also have a couple of recognisable streamers in there, and one VERY big cash win from popular YouTube slot player, The Bandit which is well worth waiting for!!
10. Prophetting playing Primal Megaways (Blueprint Gaming) – 3,000x Win
We start proceedings with a short (but extremely sweet) moment for Canadian CasinoGrounds streamer Jaryd, better known by his streamer name, Prophetting. Playing Blueprint Gaming's stone age themed Primal Megaways at $0.40 a spin at Bit Starz casino, Prophetting has to double take when he notices an unusually large base game win has just rolled in. Mystery symbols covering reels 1 and 6 reveal Mammoths (the largest paying symbol). Reel 4 is also full of Mammoths, and all three reels are joined together with a wild on each of the other three reels. This single spin pays Prophetting $1,200 for a 3,000x base game spin.
9. Xavier playing The Final Countdown (Big Time Gaming) – 5,335x Win
Our first non-streamer clip comes from Swiss player Xavier playing Big Time Gaming's The Final Countdown on interwetten casino at 0.80 CHF (€0.76) a spin. Xavier must have realised he was on for a big win as we join his hand-held recording during a round of Countdown Free Spins. Xavier wants just one more countdown scatter to turn his already 27x (3x3) roaming wild into a 256x (4x4) wild and he lands in on the first spin we see. At this point his free spins winnings are at just over 120 CHF (€114), but they're about to get a lot bigger. The first of his 5 spins with the giant 256x wild which covers the middle 4 reels of this 6 reel slot brings with it a purple gem on reel 1 for a massive 1,454 CHF win. His second spin isn't nearly as good but still earns him another 369 CHF. However, spin 3 brings with it another purple gem on reel 1 for a massive 1,515 CHF (€1,441) score. His last two spins add a further 810 CHF between them for a final total of 4,268 CHF (€4,058), equal to 5,335x his bet size.
8. DaVeThErAvE6 playing Eskimo Dough (Core Gaming) – 5,396x win
Eskimo Dough is a recent release from Core Gaming and this clip comes courtesy of forum member DaVeThErAvE6. DaVe is playing at £0.40 a spin when he triggers the Bonus Builder round. During the Bonus Builder round, you must pick from the Yeti's footsteps to reveal hidden bonuses such as free spins, random wilds, and win multipliers as you cross the ice islands. When you get to the last island you pick one igloo to reveal a special bonus and then head off to your accumulated free spins.
DaVe manages to collect 7 free spins with a x2 win multiplier, and with 2 random wilds falling on every spin. For his special bonus he reveals a x25 win multiplier for his final spin. The first 6 spins are mediocre to say the least as DaVe limps to £18.80. However, he certainly saved the best till last as 4 random wilds connected with 4 of the game's highest value symbol, as well as helping create full lines of Kings and 9's for an £85 win. When the x25 win multiplier is applied that shoots up to £2,125. As this is a cascading reels game further small wins add another £14 to make a grand total of £2,157.80 for a 5,395x win.
7. Japajapa11 playing Jammin' Jars (Push Gaming) – 5,831x Win
Another forum member takes slot number 7 with this tasty win at the ever popular Jammin' Jars by Push Gaming. Playing for 3 PLN (Polish Zloty) a spin (€0.66 a spin) we join the action towards the end of Japajapa11's first free spin from which he banked just over 94 PLN. His second and third spins pass without incident before spin 4 picks things up a little with a win of 187 PLN. Spin 5 only added 24 PLN so as you've probably worked out, it's the final spin once again where the magic happens.
At the start of the final spin there are 4 jars in play with multipliers of x4, x5, x8, and x11. A couple of small wins bring the jars closer together and on the third drop Japajapa11 connects 4 oranges with a x5, x7, and x9 multiplier for an 1,890 PLN (€417) win. The very next drop (with each jar x1 higher on the multipliers) the same three jars connect with more fruit for a combined 1,700 PLN win, the most of which came from a 1,440 strawberry combination. Plums are up next for the cash-hungry jars as they once again combine for an 832 PLN score. The three jars slightly separate for a couple of small winning drops before coming together again for another 806 PLN plum win. From this, and now with multipliers of x9, x13, and x15 the combine with 6 apples for a huge 4,212 PLN (€930) win. The next move is even more profitable as all three join with 5 bunches of grapes for a 6,720 PLN (€1,481) win. The final win comes from 2 of the jars as the third finally separates and totals 640 PLN. The final tally of 17,493.15 PLN (€3,848) equated to 5,831x the stake.
6. Lambgodson playing Tombstone (Nolimit City) – 6,124x Win
Our next big win was also posted on our forum, and this one is from Lambgodson playing Nolimit City's gunslinging slot, Tombstone. £0.50 a spin. Lambgodson, who is playing the most valuable feature, Bounty Spins, manages to land all three Outlaw Wilds by the second spin (the three Outlaw Wilds convert reels 2-4 into fully wild reels. He has also earned a win multiplier of x9 which is sticky for all of his remaining spins. Starting with 12 spins, Lambgodson also hits a couple of scatter during his bonus round which add 2 more free spins to his total. His biggest single win of £425 comes from landing full lines of horseshoes but he also enjoyed plenty of wins between £150 and £400. After 14 successful spins Lambgodson's round came to an end with a win of £3,061.80, worth 6,124x his original bet.
5. KnOxxarn playing Legacy of Ra Megaways (Blueprint Gaming) – 10,152x Win
KnOxxarn is playing Blueprint Gaming's Legacy of Ra Megaways for 4kr (€0.38) a spin in our next clip. We join things during a free spins bonus round where KnOxxarn has already earned over 600kr and is about to take his 10th and final spin. It becomes obvious that KnOxxarn's special symbol for the bonus round must have been Queens as when a Queen lands on every reel they proceed to multiply to cover the entire gameboard which rolled in with 10,000 Megaways. This single spin earned KnOxxarn 40,000kr (€3,675) and made his overall free spins win 40,608.80kr (€3,730), or 10,152x his original bet.
4. JacksonBung playing Legacy of Ra Megaways (Blueprint Gaming) – 10,237x Win
It's back-to-back Legacy of Ra action here with twitch streamers JacksonBung one-upping KnOxxarn for the biggest Legacy win of the month. The boys have bought straight into the bonus round playing at €0.20 a spin (costing them €20), but it works out to be well worth their while. They get lucky right off the bat, landing 6 scatters from their bonus buy which entitles them to 50 free spins. The Ace is chosen as their special expanding symbol. It takes the trio of streamers just a quarter of their spins to earn their investment back, but the next quarter aren't so kind, adding just €2 to the kitty. However, after exactly half of their spins their big win is secured as an Ace lands on every reel on a 10,000 Megaways board for a €2,000 (10,000x) score. The rest of the spins bring in some more small wins for a total free spins win of €2,047.44 (10,237x).
3. Jonno 75 playing Lil' Devil (Big Time Gaming) – 12,516x Win
Lil' Devil is famous for producing some of the biggest wins in the business, and once more the Big Time Gaming beast makes it to the higher echelons of our monthly big wins. This time up it is forum member Jonno 75 who caught the tail-end of a very nice Be My Angel free spins round. By the time we join the action Jonno has already filled reels 2, 3, and 4 with wilds. Anyone familiar with this game will know that when reels 3 and 4 are full of wilds they transform into Angel Wild Reels starting with a win multiplier of x4 which goes up x2 with every spin until they reach x12. Reel 3 has just become a x12 wild multiplier and reel 4 a x8 reel multiplier when our coverage starts. Furthermore, Jonno 75 has already turned his 5kr (€0.47) stake into 13,041kr (€1,227). However, his last 3 spins make his total win many times higher. The first and second both bizarrely come in at 5,760kr, but it's the third and final spin with both Angel Wild Reels up to their maximum combined 144x win multiplier which really pays off. The spin brings in two high value alligators on reel 1, another on reel 5, and 2 more on reel 6. When combined with all the wilds this makes for a huge win of 38,016kr (€3,165). The full free spins win came in at 62,577.50kr (€5,757), or to put it another way, 12,516x the bet size.
2. The Bandit playing Jammin' Jars (Push Gaming) – 16,693x Win
Now this win really is something special as UK YouTube slot player The Bandit conjures up some magic playing Push Gaming's Jammin' Jars for a hefty £6 a spin. Starting out with 4 jars the wins start to pour on from the 3rd of The Bandit's 6 free spins when 3 of the jars end up sticking together for several drops. Starting out with win multipliers of just x2, x1, and x1, by the end of the spin they are up to x11, x12, and x15 after winning a combined £8,626 for the spin. Spin 4 in considerably shorter but only slightly less profitable as the very first drop combines the three big multiplier jars again, this time with 5 apples for a £7,128 win in what ended as a £7,806.60 spin. If you thought the first drop from spin 4 was big, the first drop from spin 5 makes it look like a minnow as the three jars with their multipliers now up to x14, x14, and x17 connect with both grapes and plums. The five grapes combined with all three jars earns a whopping £19,992 but it's the 10 plums plus jars that really blow The Bandit's mind as they add another £59,976. You might want to adjust your volume at this point as The Bandit quite understandably temporarily loses his mind shrieking "OH MY GOD" over and over at a distressing volume. A couple more drops add another £560 before the spin ends at a staggering £80,532. Just for good measure, the final spin brings in wins totalling £3,180 to take The Bandits win into 6-figures as he clears £100,156.50, a win worth 16,683x his original bet size.
1. Gareth Morris playing Dead or Alive 2 – 64,482x Win
Surprise, surprise the biggest win of the month once again goes to NetEnt's Dead or Alive 2, this time played by forum member Gareth Morris at $0.18 a spin. While Gareth's winning total cannot compare with The Bandit's, it terms of win to stake ratio, he totally smashes it. Unfortunately, we don't get to see Gareth's entire round at High Noon Saloon, but we do see the best of it. When we join the action, he has already banked $1,920 (10,667x) and has 4 spins left and an enviable looking set of reels which he improves the moment our coverage starts. Landing a wild on reel 2 completes Gareth's second full reel of x3 wilds to go along with reel 4. Reels 1 and 3 both have two times x2 wilds, with a final wild on reel 5. The configuration allows his final four spins to pay handsome dividends, each coming in at just over $2,400 (13,333x) each. Gareth's total win came in at $11,606.70, which is equal to an incredible 64,482x his bet size.
Share with friends on
Email