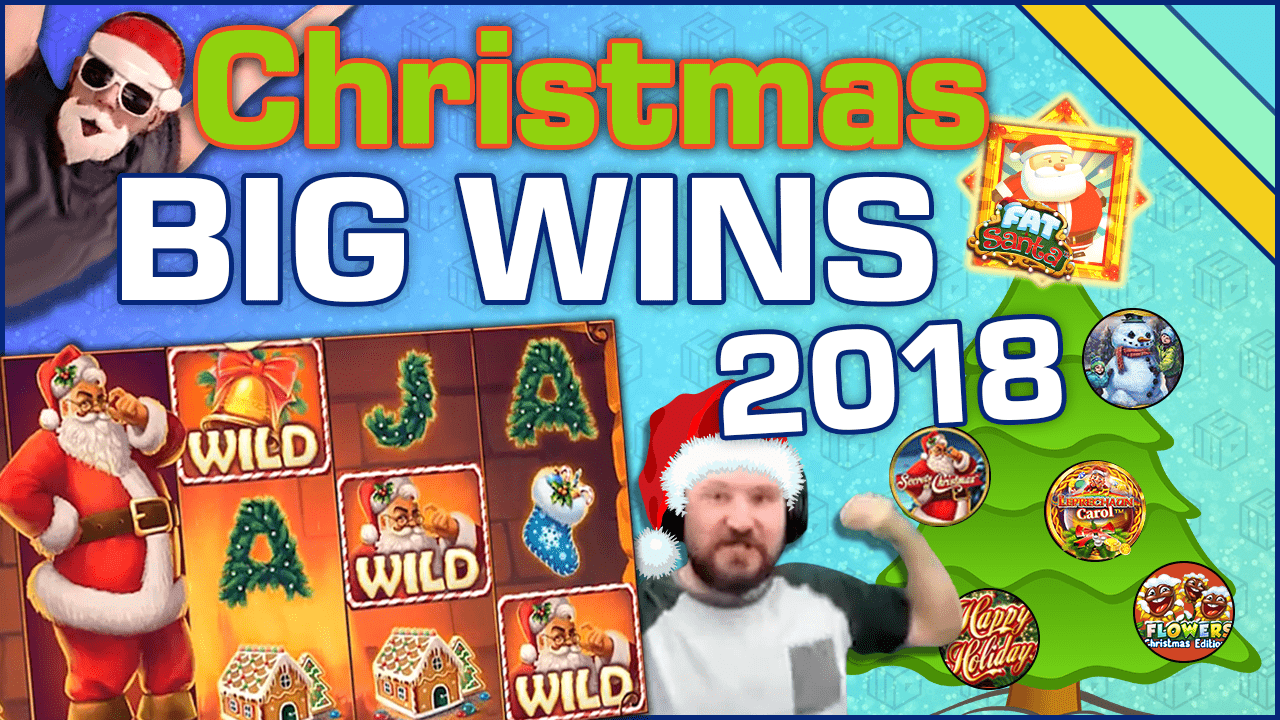 Year 2018 is coming to the end. This means that you should prepare yourself as the ''best videos of 2018'' are getting uploaded everywhere on YouTube. This year has been great year, but before any new year words, we have much better to offer for you. We have wrapped a real Christmas treat for you, as ''big wins from Christmas slots this year 2018'' takes over the stage of ours. Six Christmas slot clips with six different streamers. Do not miss the last clip, it will amaze you!
Slotplayer – Happy Holidays
We start off with Slotplayer and his great win on Happy Holidays with the Cold Mode free spins. After Slotplayer triggers the feature, he is not totally sure if its Cold mode or not. Few spins into bonus, he totally knows it as big wins are filling the screen almost every spin. On the fifth last spin, he hits the first five of a kind with the best symbol. This pays over 200x on one spin. On the last spin, he hits another Santa hit, which pays almost 100x. With £1,50 bet he won £805 which is 536x win!
LetsGiveItASpin – Maja edition – Flowers Christmas Edition
On our next clip, Maja has taken over LetsGiveItASpin stream. Maja gets excited as soon as the bonus starts, but the feature is giving a lot deadspins. After nine spins she has won almost 100x the bet, which was SEK 30,00. On the last spin, she hits re-trigger with six clouds which means 20 free games more. Maja keeps rolling and smaller wins keep coming. In total the bonus pays SEK 6,075,00 which is over 200x the bet size!
Slotspinner – Leprechaun Carol
Slotspinner gets surprised on Leprechaun Carol. With three free games, he starts slowly with smaller wins on first two spins. On the last spin, he gets surprised big time. On the ''Giant Symbol'' free spins, you can hit also a Giant wild. Of course, he hits the wild on the last spin. This wild covers the reels 1-3 and last 2 reels are filled with wild, premium and non-premium symbols. This last spin pays over €1300 on €4 bet. In total bonus pays 368X the bet!
David Labowsky – Secret of Christmas
Labowsky's viewers are doing great work with the pick and click bonus, as David gets wild reel 2, 2x multiplier and bell wild. First five spins are giving one 50x win and smaller hits, but on the sixth spin the something insane happens. Three times five of a kind with the gingerbread house symbol pays €376 with €1,50 bet. He doubles the balance with one spin in the feature, and in total bonus pays €561,60 which is 374 times the bet.
Casinokiller97 – Happy Holidays
Casinokiller97 gets the same Cold Mode as Slotplayer on the beginning of the video. This time the bet is €4.80. Great translations make the clip ten times better than the original video would have been. Already after three spins, bonus has paid almost 150x without any great hits yet. On the fifth spin, he gets the first santa hit which is the best symbol. This pays over 100x. On the very next spin, he gets another 100x hit with santa's, and finishes the bonus with big win as well. In total bonus pays €2657,12 which is 553x the bet.
Jarttu84 – Fat Santa
Jarttu gets Fat Santa bonus while playing videogames. The Christmas Pie hunt begins, and after 2 spins he got two pies. On the third spin, he gets Four pies more and gets to the next level. After afive spins, he has completed already 2 levels, and bonus starts to pay. As soon as the third level starts, he has already two pies waiting. On next two spins, he gets three more and takes Jarttu to next level. He has five spins left and needs three more pies for the FAT SANTA. He hits two more pies straight away, but the third pie lands on the last spin. Before FAT SANTA bonus has paid €11,251,50 with €7,50 bet. This is already 1500X win, and as Fat Santa pays 1000x, total win grows to 2500X win!
Share with friends on
Email