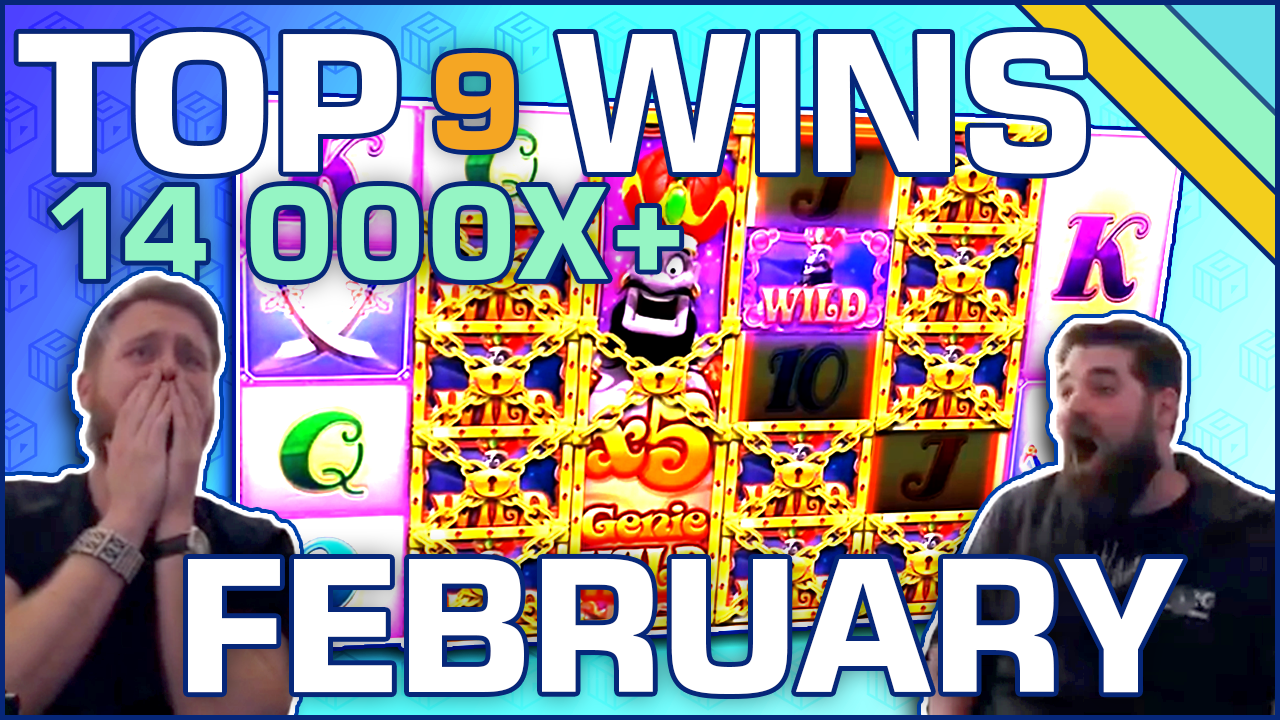 The Biggest Wins of February 2019
Bananas! Bananas everywhere!
Take a closer look at the biggest wins of February 2019, and let's synchronize our jaw dropping facial expressions.
A 3064x on a €2 Stake by Huneasd on Buffalo Rising Megaways
Huneasd purchases the bonus of Buffalo Rising Megaways on the €2 stake and walks away with a 3064x for the hefty sum of €6.127.
You'll see one pretty funny reaction that makes him jump out of his chair when the buffalo's decide to pay him a visit.
A 4552x Win on a €0.40 stake by StephenCostello316 on Genie Jackpots Megaways
Little did StephenCostello316 know that his bonus feature game trigger on Genie Jackpots Megaways would net him one of the bigger slot wins in February for the pretty sum of €1.820.
He played 23 Free Spins and got a whole bunch of sticky wild symbols, ensuring a 4552x his stake of €0.40. Yup, that's a "Hello CasinoGrounds" right there.
A 4690x Win on a €5 Stake by Spintwix & David Labowsky on White Rabbit Jars
Playing the base game of White Rabbit, Spintwix and David Labowsky triggers the bonus feature on a €5 stake, granting them 15 free spins.
Long story short, the clip starts at the 11:28 mark in one of our compilation videos, and ends at 18:33. That's a lot of minutes to spend in the bonus game of White Rabbit. A lot! 47 spins in fact.
Those minutes in la-la-bonus-game-land translate to a €23.488.50 for a 4690x win!
A 4960x Win on a €1.80 Stake by Darkandrew1291 on Dead or Alive
Triggering the free spins feature of Dead or Alive on his €1.80 bets, Darkandrew1291 pulls of a hail mary, landing not one – but two (seriously dude …) wild lines in DOA on his first free spin.
5 spins later, total winnings = €8.928.80 for a 4960x. Wow. Just wow. Much impressed.
A 5051x Win on a £5 Stake by Gunderful on Book of Ra Deluxe
Gunderful is playing the good old classic Novomatic game Book of Ra Deluxe when he triggers the bonus feature. 10 free spins on a £5 stake is a welcome sight indeed.
The first spin is a dead spin. The second gives him a 4x win. Nothing out of the ordinary here. 7 spins later Gunderful's balance is only at £305. Then watch what happens on his 8th spin.
Adventurer-symbols on all reels, expanding into infinity smothering the whole screen. HAH! I mean come on, what a beauty of a hit, right? We're talking a 25k win, on one free spin. Book of Ra Deluxe goes into hiding after that, not giving him more monies – but alas, £25.305 later, his total winnings equals a 5051x.
A 5342x win on a £0.20 Stake by Ryan Bellamy on Holy Diver
Ryan's fiddling around with Holy Diver on a rather modest stake of £0.20 spins when he triggers the bonus feature of the game. The length of the clip is over 3 minutes, which pretty much sums it up like this; holy ****!
About a bunch of retriggers and 50 Free Spins later, Ryan Bellamy's looking pretty cool like a penguin with his 5342x win for a smooth £1.068 balance. Well played sir … well played!
A 8144x Win on a €1 Stake by Marko slots on Jammin' Jars
We're not done yet! Jammin' Jars keeps delivering, and that's probably why so many players are flocking to this game.
Highly volatile, and lots of dead spins can be daunting enough, but those who are patient – or down right lucky like a horse shoe covered in gold and diamonds with a 4-leaf clover laser engraved on it – might just win a nice amount of money.
That's exactly what happened to Marko slots when he played around with a €1 bet, triggering the bonus feature of the game granting him 6 free spins. The jars "holds the line" as LetsGiveItASpin would say, boosting the multipliers all the way up to between 15 and 18.
You can hear Marko getting excited, and we're basically holding our breath with him. A few Jammin' Jars later, he can laugh all the way to the bank with his newly found real money balance of €8.144 for a 8144x win. Sweeeet.
A 8289x Win on a €0.18 Stake by TonninMonni on Dead or Alive
I don't know what's going on with DOA nowadays … Tonninmonnin is clearly having fun with his €0.18 stake on Dead or Alive, and triggers the free spins feature.
Guess what happens. Just take a WILD guess. Yeah, two instant wild lines, and a screen smothered in wilds. Yeah, he gets three wild lines eventually and walks away from that screen with €1.307.64 for a 8289x win.
A 14521x heater win on a £1 stake by Dragon_Sack on Extra Chilli
Winter is coming, and John Snow and his girlfriend with her dragons is right around the corner. Any time time now.
Oh, and here comes Dragon_Sack with a clip playing Extra Chilli for €1 a spin, when triggering the bonus game. Dragon_Sack, I mean dude … He literally sets the slot on fire. I am sure something broke, because his smokin' hot win of .. Just wait, I need to look at the sum again …
Yeah, £14.521.15 for a 13521x win. Geeeez, what's going on these days.
Share with friends on
Email