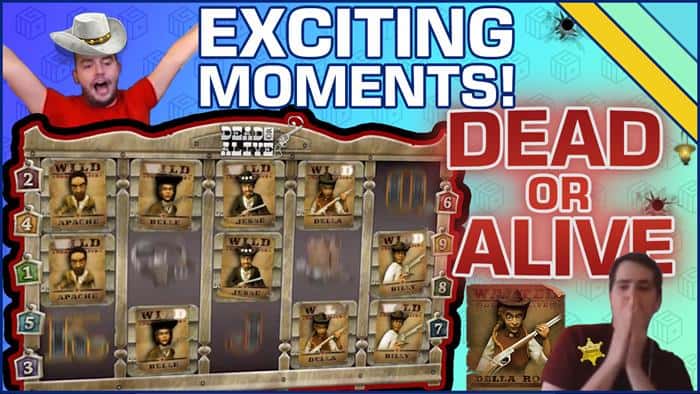 8 Times Dead or Alive Made People's Jaw Drop
As there has been a lot of talk about Dead or Alive 2 lately, we wanted to remind you of the original version's potential as well. This is a real wild west robbery treat for you viewers, as we have compiled a video with 8 times the DOA slot delivered some jaw-dropping wins and surprising hits for you. Expect a lot of sticky wilds, memorable moments and excitement.
1. JimboCasino: £41.223 Won on a £7.20 Bet
Jimbo has a huge balance and decides to try out some big bets Dead or Alive. He sets 50 auto spins, and a bit later he lands three scatters for a bonus. On the first spin, he lands the first wild, and after seven spins, he has 4 wilds in the screen. Three of them are connecting as a line and spin after, he lands the fourth wild on the same line.
Again, spin after, the fifth wild lands and the wild line is ready. Few spins after, he connects double wild line, and Jimbo can't believe it. The bonus has paid £15k before the extra spins already, and in total the bonus pays £41,223.60 which is a5727X win. Well done!
2. Huneasd: €1.800 Won on a €0.72 Bet
Editors have done such a great job with the translations again, as Huneasd is doing a Wildline hunt. He lands 3 scatter and as soon as he sees it, he calls for five scatters. All five scatters land, and the 2500X win is real! Free spins give him extra an €6,88 win, but that's nothing compared to the scatter win …
3. LeeDamian: a £0.45 Bet Nets a £1.817 Win
Sometimes, you don't need to 12 spins to hit the wild line. LeeDamian has a great example of it, as he gets his first wild on the fifth spin. After this, wilds are landing everywhere on the screen and on back to back spins, he gets 4 wilds in total for a wild line. Extra spins are guaranteed this way. During the extra spins, he lands wilds here and there, and in total the bonus pays £1,817.05 which is a 4037X win.
4. Rexborgerse: Wildline "au naturel" on a €2.70 Bet
Wild line bonuses usually happen (if they happen) during the bonus game. In the base game though? A natural wildline? Yeah, apparently that can happen to, which Rex found out when he landed one "el natural". That's just super rare. That spin and hit alone paid him in the form of a 168x win, which is a €453.60 hit!
5. Breinaaja: When a €9.00 Goes "Hollywood" and Nets €30.578
Breinaaja goes with a High risk, High reward tactic. Big bet rewards him with a bonus game, and we believe that he didn't expect this result with the feature. First spin, Bang Bang, two wilds on the first line. Slowly, more wilds are landing and when he has 5 spins left, he has 4 wilds on the first line. Then something unexpected happens; he gets two wilds, and the 9th payline is covered with wilds. In total the bonus pays €30,578.00 which is 3397X win.
6. LetsGiveItASpin: a 27.00 SEK Bet DING DINGs a 61.842 SEK Win
The first wildline to happen on LetsGiveItASpin's stream, and he's not even there to watch it happen. Reggie is spinning for Kim, while he is gone and the Bonus round lands. Wilds are landing on top of the slot, and the possibility for a wild line shows up. On the last spin, the final wild lands for the wildline and the extra spins can start. Total win of this round is 61,842,00SEK which is 2290x win.
7. Carltoby: £1.80 for You – £11.032 for Me
Carltoby recorded everything that he could, and when the clip starts, we can see a double wildline. Ever spin pays over a 666X win and the total win of the feature is £11.032.00 – a 6129X win.
8. BlackCatSeven: When a 4,50 SEK Bet Goes 8.164x …
BlackCat gets an insanely good start on Dead or Alive bonus when after five spins, he has five wilds. He is missing 2 wilds from a double wild line already. On the next two spins, he lands both missing wilds from a double wildline. This means, that rest of the 10 spins what he has left, every spin will pay minimum 667X win. BlackCats reactions are priceless when the bonus ends, and it has paid 8164X win. In SEK it paid the massive amount of 36.737,00 SEK.
Share with friends on
Email