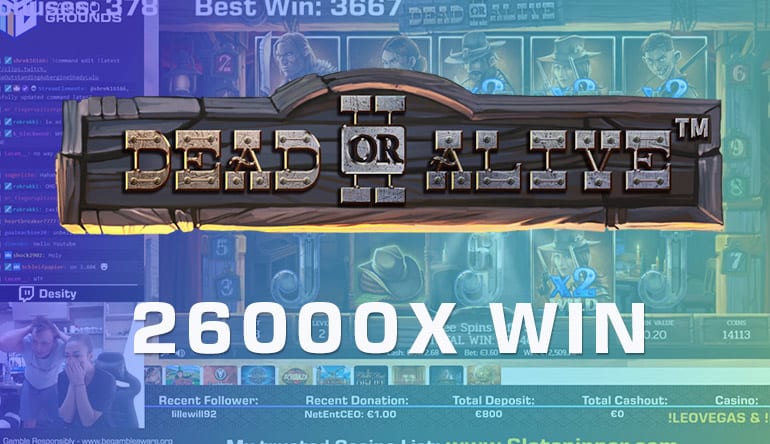 GET IN! Check out Desi's €100.000 win on Dead or Alive 2 From Netent!
Wouldn't it be nice to drag yourself out of bed for a quick session at your favourite slot before the rigours of the day begin only to find yourself almost €100k richer before brunch? Well, that's what has just happened over at Slotspinner and Desity's place after a wild bonus round on Dead or Alive 2 on LeoVegas.
Released back in April, Dead or Alive 2 has already taken our regular Big Wins videos by storm, with forum members topping the compilations week in, week out on the NetEnt classic-in-the-making.
Today, however, CasinoGround's very own Desity was playing a DOA2 session on her beau Slotspinner's twitch stream when she found herself at High Noon Saloon, the super-high volatility free spins round, playing at the relatively high stake (especially for a game as volatile as DOA2) of €3.60 a spin.
Played at LeoVegas Full Dead or Alive 2 Review
What unfolded next was the kind of run of luck we all dream about but rarely, if ever, convert. After selecting High Noon Saloon for her 12 free spins things looked promising as within the first 3 spins 3 reels were already in possession of a sticky wild. After a few dead spins another reel gained a wild, and a couple of spins after that two reels were in possession of two 2x wilds. Desity is visibly nervous as she hopes and prays for that final reel to land a sticky wild, and with just 2 spins remaining the all-important wild lands on reel 2 to earn 5 more free spins and a potentially HUGE final 7 spins.
Shrieking for joy, Desity cries attract the attention of Slotspinner who joins her for the all-important mega spins. Realising what is likely to happen Slotspinner can't stop smiling, especially when he realises Desity had increased the bet they had been playing to the €3.60 a spin, saying, "Seven spins? Wow! at €3.60? You know how much this pays?" only to be met with an excited but nervous "I don't know, I don't want to listen about your math now". This spin alone adds almost €2,500 to the pot, and from this point onwards things go a little crazy.
The very next spin causes uproar as another wild rolls in on the middle reel on the top row which not only adds 2x win multipliers to the 2 wilds on this reel, but also completes a fully wild top row for a €10,000 spin. It's at this point the Desity tells Slotspinner to get the Champagne, saying, "It's time to open it!" The next 3 spins average a little over €10k a piece, putting the win at just over €44k with 3 spins remaining. All hell breaks loose on the next spin when a 3rd wild lands on reel three, transforming all wilds on the reel to 3x win multipliers leading to €15,000 wins for the next two spins. On the final spin a couple of Sherriff's badges nudge the final winning spin up over €19,000 for a final score of €93,582 or to put it another way 25,995x the stake!
Despite complaining that the Champagne isn't the best, I'll bet it tasted like a vintage after that win!
Congratulations Desity and Slotspinner – almost €100k should help with the Christmas shopping!
Share with friends on
Email