Casinogrounds Special: The one line strategy
It has been the talk of the town, speculations are spreading that this is the new way of sending casino's to Brooklyn. Rumors have it that Governments used this strategy, to secretly control the slotmarkets for decades. Well, no longer will you be wondering if it's true. No more asking yourself "What if ?..". In our newest addition to our online casino guide articles, CasinoGrounds proudly presents:
The one line strategy
Let's hop right into it! How does it work?
Well, you pick one of these slots: Pimped or Royal Masquerade. Now bring the number of lines you want to play on, down to just one, as shown on the picture below with a red box. The coin value and bet level can be adjusted freely to your desired stake. The number of lines played for this strategy, however, should always remain at 1.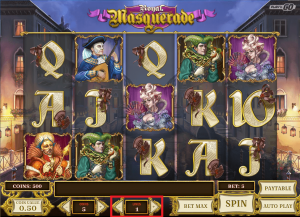 With the "lines" set to 1 and the slot adjusted to your desired stake, you start hunting.
"Hunting for what dear Sir?"
Hunting, for the bonus. Three scatter symbols, regardless of the number of lines you are playing, will offer you a bonus game. Within this bonus game you are given 5 freespins, of which each spin is a guaranteed win! In other words. Every single freespin, is a winning spin. Even when you're playing only one line. You might want to play with a lower stake than your usual because this playstyle is rather volatile and you won't hit often in the base game.
The potential of "the one line strategy" lies within the bonus, where your one line will always hit a win. Note that Royal Masquerade gives you 5 free spins on 3 scatters. Pimped also gives you 5 on 3 scatters. Both games offer +2 free spins when you collect another scatter symbol while in the bonus.
By the way, you don't need to get the bonus to collect boxes of bananas. Slotspinner used the one line strategy and hit a huge payday in the base game of Pimped, once.
Try out the strategy at LeoVegas Slot pages. Remember there are no guaranteed wins in gambling!
*Disclaimer: The one line strategy is a different flavor of playing slots. It is

not

a sure way to win or a method to get an edge on the casino. It's a high volatile way of playing, without the guarantee of any payout whatsoever. Casinogrounds takes no responsibility in your playstyle, nor your winnings or losses of bananas.
Share with friends on
Email