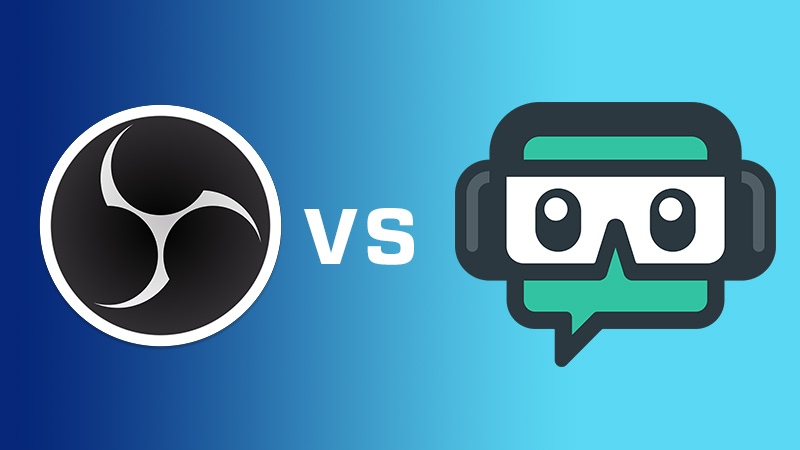 [Comparison] Best Casino Streaming Software: OBS vs Streamlabs OBS
If you're a regular or a new casino streamer, your broadcasting software is the interface that you will spend a lot of time on. Hence, you should make the right choice. Some factors to consider are ease of use and what functions are available.
In this article, we will dive deep into two of the major players for Broadcasting Softwares: OBS and Streamlabs OBS. We will look at their functions, ability to use easily, fast commands, quick to start up, among other things. We will mainly look at :
Cost
Ease of Setup
Features
What is Broadcasting Software?
A Broadcasting Software is nothing but a computer program to record and broadcast live, their computer screens among other content they are working on. In the vast sea of such software, OBS, XSplit and Streamlabs are among the more well-known programs. In this guide, we will solely look at OBS and Streamlabs.
Open Broadcaster Software Studio (OBS)
OBS is one among the very few broadcasting software that is available to the users free of cost. It lets you record your computer screen and broadcast it to a streaming platform simultaneously. Users who want to just record videos are also finding sanctuary with this program. OBS Studio can broadcast your streams to all popular platforms such as Twitch and Youtube, also for creating screencasts. It's no doubt a powerful program but is probably overkill for anyone who just wants a quick and easy game capture solution.
Cost
OBS is not only FREE, but its source code is open to the public. What this means is, developers can improve the software as they please.
Ease Of Setup
Once the software is downloaded, the setup process is pretty simple. Follow the installation instructions which is mostly giving permissions to the program to run and access different programs and settings on your computer. They also offer an "Auto – Configuration Wizard" option for ease of setup.
OBS also lets you configure your settings to your liking: Whether you'd prefer to stream or just record or do both simultaneously. The next step will allow you to select which platform you would like to stream on.
OBS pretty much works seamlessly with most major platforms such as Twitch, Youtube, Facebook Live, among 30 other platforms. It even allows you to stream to custom streaming servers!
Before you begin your casino streaming, however, you would be required to enter the respective Stream Keys into the OBS software, while setting up.
To get your Stream Key for Twitch:
Log in to Twitch and click on your profile avatar in the top right-hand corner.
Click "Dashboard".
Go to "Channel" on the sidebar on the left of the page.
Here, you will find your Stream Key.
To get your Stream Key for Youtube:
Log into your Youtube Account.
Go to "My Channel" from the sidebar on the left.
Click " Video Manager" at the top.
Select " Live Streaming".
Now choose " Stream Now".
Go down to Encoder Setup and hit Reveal.
Here, you will find your Stream Key.
Note: DO NOT SHOW THIS KEY TO ANYONE. If anyone has access to your stream key, they can directly stream to your Channel or Account. This can be misused and you may end up getting a Permanent Ban.
A couple more clicks and your setup is done! They also test your bitrate from servers in different countries. The program then shows the settings that it recommends for your PC and usage. These can come in very handy if you're a new casino streamer.
Once you click on "Apply Settings", all you need to do is click "Start Streaming" in the bottom right-hand corner of the program and Voila! You will be streaming your favourite casino games
Features and Performance
OBS Studio brings a plethora of features and tools to the table. If you're willing to put in the time and effort to learn these, this will seem to be a must-have tool for any streamer out there. For the user's convenience, OBS offers an automatic setup wizard that guides users to set up their account as they wish: To stream or to record.
We recommend having a multiscreen setup to get the best out of OBS, one screen with just OBS settings. This way, you're always in full control of your settings and stream scenes. Unlike the other apps, OBS doesn't throw up an in-game overlay. Instead, it just does its work in the background. In OBS, you have to manually start streaming or recording. OBS cannot automatically pick up a game or function on the computer.
However, if you feel you'd like more features, simply install plugins that OBS provides. Some overlays are available free of cost but if you'd prefer going Premium, that can get pretty pricey. We recommend Nerdordie, for all the free features they offer that are compatible with OBS.
If you are planning on setting up a donation bar, you will have to set up another service like OBS. Twitch has recently started a new way of donations: Bits. Viewers can purchase these bits and directly donate them over to you and your channel.
Streamlabs OBS
Streamlabs is another free to use the software, that actually birthed from OBS! That's right. Streamlabs got into OBS' code, improved it, and came up with their own version of it which is not only more user-friendly but packed with so many features! Streamlabs OBS might just be the one-stop-shop streaming program you have been looking for all your life. Streamlabs is one of the most popular streamer tools around, whether you're on Twitch or YouTube. It offers donation management, custom overlays and so much more. Much of the core functionality is the same as the regular OBS Studio. One of the best features, for example, is when you're live on Twitch, Streamlabs OBS will pull your chat into the program window, so you don't need to have a browser or third-party app open to see what's going on.
Cost
Streamlabs OBS is also a free to use program. Would you believe us if we told you that you can make money off Streamlabs OBS? Don't believe us? Streamlabs can provide you with an Affiliate Link. You will receive a $0.50 commission every time a person uses your link to install it. For the cherry on top, they donate another $0.50 to a charity of your choice!
Streamlabs 1 – OBS 0.
Ease Of Setup
The installation process is as simple and easy as any other software out there. Simply download the file and run the Setup Wizard.
Once you're done with the installation, Streamlabs configures all the settings for you and takes you straight to your dashboard.
Now, you need to configure the settings according to your liking and needs and sync up with Twitch, Youtube or any other streaming platform you plan on using.
First, log in to your Streaming Platform through Streamlabs by clicking Login in the top right-hand corner. If you haven't optimised the program for your bandwidth and hardware configuration, we recommend doing it.
Settings → General → Run Auto Optimizer. This will ensure your program is set up and configured correctly to give you a seamless streaming experience. The next step is to add your Stream Key. If you don't know how scroll up and follow the steps mentioned.
Here comes the fun part, THEMES! Who doesn't love a good theme? There are dozens of themes to choose from, that is just one click away to be added to your account. They have pre-made scenes available to help you with your streaming setup. Scenes like "Stream Starting Soon" or " Will be Right Back" are already set up and ready to go. All you have to do now is click "Go Live" in the bottom right-hand corner, and you're Live!
Features and Performance
Streamlabs OBS comes packed with TONS of features. Widgets, Alerts, Layouts are all readily available. Text-To-Speech(TTS) is also built-in with Streamlabs OBS and thus, very easy to set up and use. Customisations to the type of media you play, the voice that reads out TTS, are at your service. Some themes were so beautifully made and packed with tons of features that would usually require separate software or plugins to be installed. Some of these features are Alert Box, Goals, Events List, Donation Jar, Donation Ticket, ChatBox, Viewer Count and Stream Boss. We also loved the fact that you could easily Moderate your Chats through the application itself. This prevents you from switching between different windows back and forth. If you're able to Sync these features with in-app alerts, you will never have to click away from Streamlabs OBS. We were pretty impressed with its performance as well. AAA title games like Rise Of The Tomb Raider seemed to work very well, without any friction between scenes or transitions. Our setup is pretty dope though, so we won't be able to speak for lower config PCs.
Conclusion
After examining all the facts, we had to give this win to Streamlabs OBS! We just cannot seem to overlook the functionality features, performance rating and most importantly, the $0.50 Affiliate Program and $0.50 Charity donation.
In today's market, most of the pro streamers like Ninja or DrDisRespect, use Streamlabs OBS for its easy to use functionality. This is an all-in-one tool for any streamer, be it regular or new. This is just our opinion, however. We recommend you to try out both and choose what works best for you. Both are free anyway, might as well give it a shot.
What do you guys think, Have you used OBS or Streamlabs OBS in the past? We would love to hear your thoughts on OBS vs Streamlabs OBS in the forum.