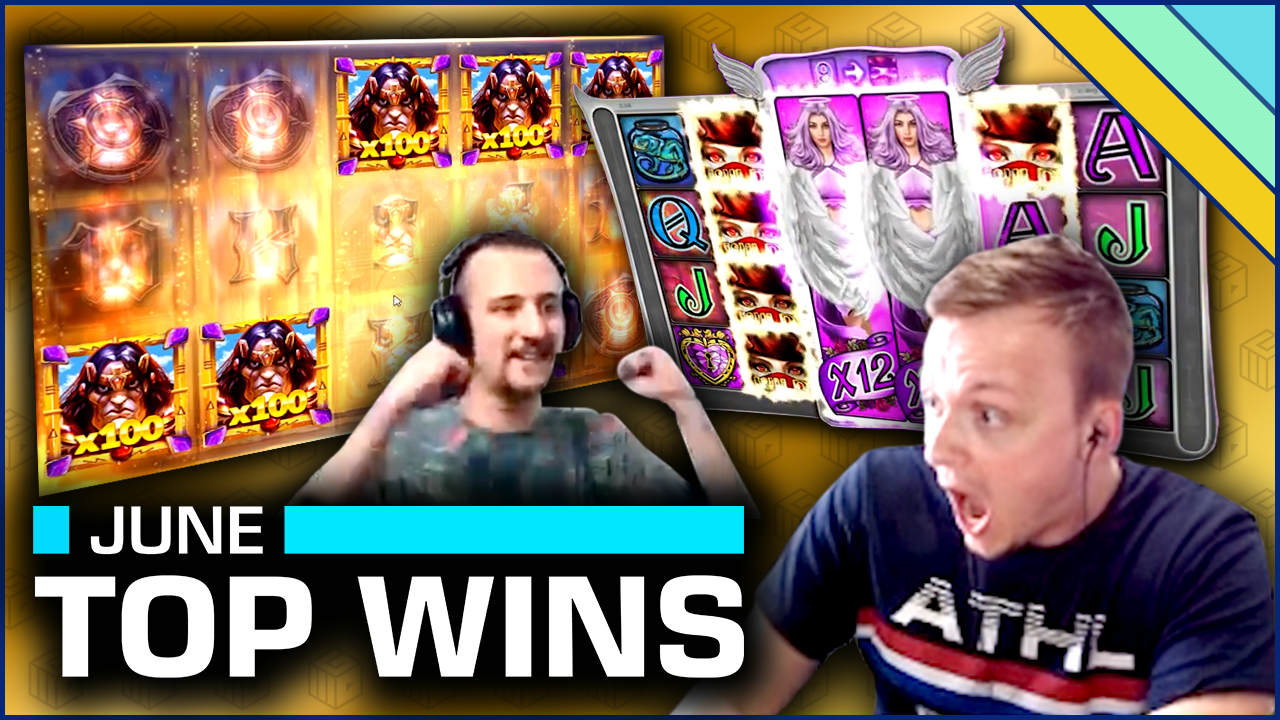 Top 10 Wins of June
July is here and the summer is hotting up, and so, it would seem, are the big wins from our streamers and forum members. It's time to take a look back at the top 10 wins we have on record for June 2020 and there are some real monsters on show today. In total this month's list features 8 games, with double entries for both Big Time Gaming's Lil' Devil and NetEnt's Dead or Alive 2. There are also three five-figure wins to look forward to.
10. Slotspinner playing Rise of the Mountain King (NextGen Gaming) – 4,016x Win
Our first clip today features top CasinoGrounds streamer, Slotspinner, playing NextGen Gaming's February 2020 slot, Rise of the Mountain King at €1.50 a spin. During this free spins round Slotspinner displays some of his legendary luck as he lands scatter after scatter, thus earning himself not only plenty more free spins, but also propelling himself further and further up the Wild Multiplier ladder.
Slotspinner has a couple of mediocre wins on his way up the wild multiplier ladder which push his free spins winnings up to €414 with just one spin remaining. Although the Wild Multiplier has been pushed up to the maximum 100x for some time, the wins have not been particularly huge. That is until the final spin when he manages to land three wilds for a King's Respin. Funnily enough, just prior to this landing, Slotspinner had said "If that goes King's Respin, I'm gunna shit my pants".
Whether he did soil his undercrackers I'm not sure, but with the win that followed, I wouldn't be surprised. He won €680 with Shields and Wilds from the initial spin before adding another three 100x Wild Multipliers on the King's Respin for an even bigger Shields win of €4.9380. His total free spins win of €6,024 equates to 4,016x his bet size.
9. Casinobrothers playing Fruit Party (Pragmatic Play) - 5,000x Win
It's another CasinoGrounds streamer up next as one of the b enjoys an epic win playing Pragmatic Play's Fruit Party at €0.40 a spin. After landing a bunch of stars for a €1.20 cluster, they are replaced with a bunch of oranges with 2x multipliers (15 oranges with seven 2x multipliers in fact) for a mammoth €2,000 win, a win worth 5,000x times his stake.
8. Marius J playing Viking Runecraft (Play'n GO) – 5,000x Win
Forum member, Marius J joins the Casinobrothers with a 5,000x Win, this one played on Play'n GO's popular Norse themed cluster slot, Viking Runecraft. This all stems from a huge number of consecutive cascading cluster wins. By getting so many consecutive wins, Marius J chargers the special features meter over and over, as well as earning a 15x multiplier for the entire win. By the end of the win he ended up with a win worth €4607 and equal to 5,000x his initial stake. However, this win would have been as much as 15,000x the stake had this slot not had a max win set at 5,000x.
7. Smacslots playing Money Train (Relax Gaming) - 5,390x Win
Next up is another of our forum members who was kind enough to share his big win with us as Smacslots manages to rob Relax Gaming's Money train for a five-figure sum. Playing at $2 a spin, we join the action at the start of the game's awesome 'Money Cart' bonus feature. Right from the kick-off, Smacslots starts pulling in the premium symbols, landing a payer and a widener on the very first spin. To translate for the uninitiated, a payer symbol adds their own multiplier value to every other symbol on the board, and the widener adds another row of symbols, giving Smacslots more opportunities to land winning win multiplier symbols. A few spins later and a few more regular win multipliers had landed, as had another payer symbol. A couple of spins later one of the ultra-premium symbols, the permanent payer lands. This acts the same as the payer (pays out its own win multiplier to every other symbol on the board) but does it for every remaining spin. Win multipliers continue to rain down, as does another payer symbol and then the REAL biggie, the permanent collector. The permanent collector adds up all of the multipliers on the board and adds them to their own win multiplier on EVERY spin until the end of the round. The permanent collector continues to collect for many more spins, ending up with a win multiplier of 4,773x. In total Smacslots win ends up at a huge 5,390x the bet size for a $10,780 win.
6. Finehaakon playing Testament (Play'n GO) - 6,840x Win
We don't get to see a huge amount of this mega-win, courtesy of forum member Finehaakon. Also, the hand-held recording isn't the best. However, it's plain to see that he's had a hell of a free spins round playing Play'n GO's Testament as he has 13 wild symbols out of a possible 23 on the board and amassed 191531.20 Rubles (€2,455) from a 28 Ruble (€0.36) bet. This works out at 6,840x the bet size.
5. BigC9977 playing Lil' Devil (Big Time Gaming) – 7,690x Win
There's almost always at least one big win on this list every month from Big Time Gaming's Lil' Devil. This win comes from German Twitch streamer, BigC9977, playing at €0.50 a spin. Anyone who regularly checks out our big win compilations will know what happened next. BigC9977 triggered free spins and chose 'Be My Angel' free spins and went on to fill reels 2 and 3 with wild symbols which automatically turns them into 4x wild multiplier reels. These reels then go on to add 2x to their value on each spin thereafter until they max out at 12x. Both reels also multiply each other's value. As BigC9977 finally brought both reels up to 12x wild multipliers on his very last spin, he got one winning spin with a 144x win multiplier – although the previous wins along the way hadn't been too shabby. When the final free spin ended, he had turned his €0.50 into €3,844.95 for a 7,690x win.
4. Lucky555 playing Crystall Ball Golden Nights (Gamomat) – 9,091x Win
This next win was submitted by forum member Lucky555 and was taken from a session of Gamomat's Crystall Ball Golden Knights. Playing at €0.55 a spin, Lucky555 gets into the Jackpot side-game and draws enough multipliers to fill his power bar all the way to the €5,000 jackpot. This win of 9,091x his bet size was Lucky555's biggest ever win. He greets the news with a triumphant, "Hello CasinoGrounds."
3. Steven playing Lil' Devil (Big Time Gaming) – 21,899x Win
It's back to Big Time Gaming's Lil' Devil for our number 3 win for June. This time out it is forum member Steven who is having all the luck with his 'Be My Angel Free Spins'. We don't pick up the action until Steven is already very much on course for a big win, playing for £1 a spin. He has already filled the special wild multiplier reels 3 and 4, and they're well on their well to the 144x maximum reel multiplier. In fact, Steven gets 3 spins with the maximum 144x win multiplier and reels 2, 3, and 4 are all fully wild, with reel 5 half wild for a total win of £21,899 (21,899x) including a final spin win of £9,446.
2. Ruthless69 playing Dead or Alive 2 (NetEnt) – 31,201x Win
We're moving into ridiculous win territory here as the first of our two big wins from NetEnt's Dead or Alive 2 comes in at number 2 on our list. Ruthless69 is playing for €0.36 a spin when 12 High Noon Saloon spins are triggered. It takes Ruthless a mere 4 spins to fill a wild line on the bottom reel. This not only guarantees a huge win every remaining spin, but also adds 5 more free spins to bring his total up to 13 remaining. A few more wilds come in quick-smart and the final 10 spins there are two times 2x win multipliers on 3 of the five reels. In fact, things get even better towards the end and the final two spins are playing with three times 3x win multipliers on the 5th reel. In total, Ruthless69 turned that €0.36 bet into €11,232.40, a win of 31,201x the bet size.
1. Saitama playing Dead or Alive 2 (NetEnt) – 50,694x Win
Unfortunately it is extremely hard to make out much of what is going on in our last clip as the recording, done on a hand held device from forum member, Saitama, is extremely shaky, very out of focus, and the win is already very sizable before we join the action. Nevertheless, it is one hell of a win. What we can make out, however, is that Saitama is playing with 5 extra spins on High Noon Saloon and has managed to accrue two times 2x wild multipliers on reels 1 and 3, and three times 3x wild multipliers on reels 2 and 5 (as well as one wild on reel 4).
Like Ruthless69, Saitama was playing for €0.36 a spin. With a colossal total win of €18,250, Saitama managed to breach the 50kx win barrier with his win worth 50,694x his initial bet size.
Share with friends on
Email