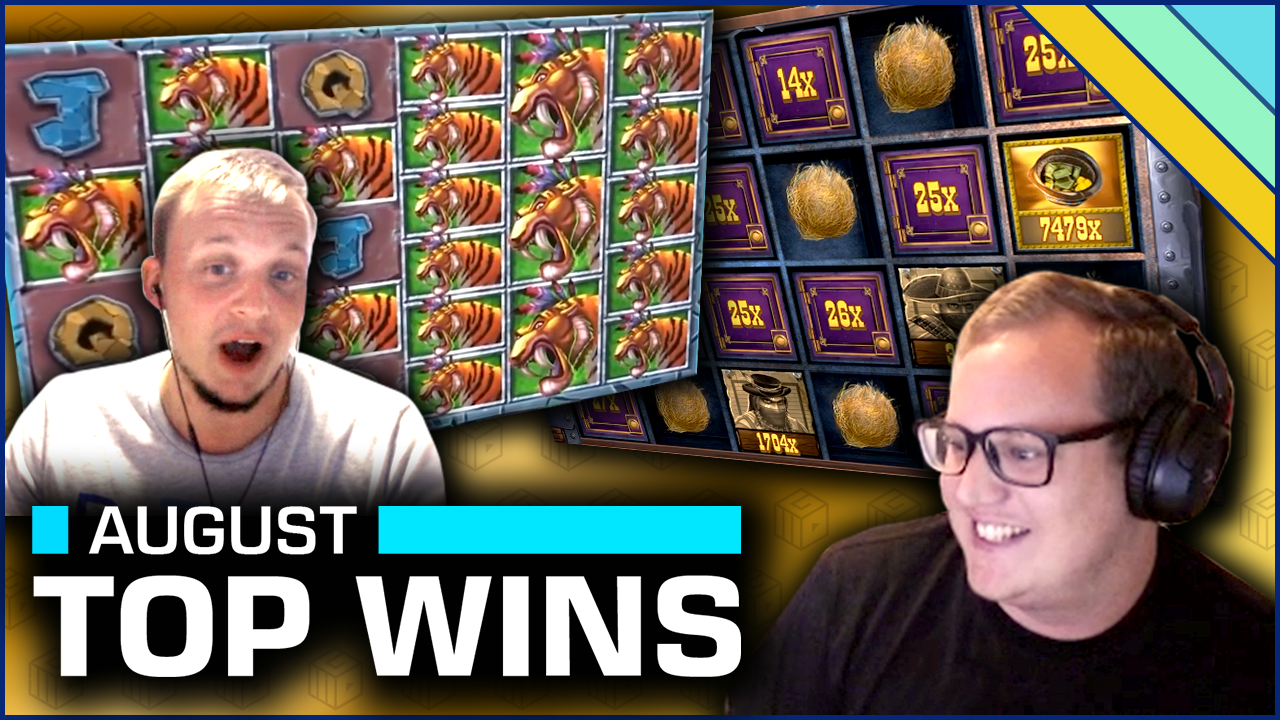 Top Wins August 2020
Top 10 Wins of August
As the long, hot, summer of 2020 draws to a close its time to check out some equally hot action from August's online slots streamers. Here, for your enjoyment, are a collection of the biggest wins we had the pleasure of sharing this August.
10. Gamble_Gangsta playing 300 Shields Extreme (NextGen Gaming) – 3,217x Win
First up is German CasinoGrounds streamer, GambleGangsta, playing NextGen's super volatile upgrade to their classic 300 Shields, '300 Shields Extreme'. The aim of the game is to trigger free spins and then land as many scatters as possible to move up through win multiplier stages, adding extra free spins as you do so. The ultimate goal here is to earn 5 spins with the maximum 300x win multiplier for all Warrior Wilds – and that's exactly what GambleGangsta does here.
Playing at LeoVegas for €0.50 a spin, GG races through the 5x and 25x Warrior Wild stages, reaching the 300x stage in record time, and with just €6.74 in winnings to his name. It only takes one spin at the top level for things to go crazy, however, as (with the help of a 300x Warrior Wild) he lands a full line of Battleships for a €1,500 (3,000x) win. In total, this single spin brings in just over €1,600, and his free spins round final tally of €1,608.74 is worth 3,217x his bet size.
9. Slotspinner playing Dead or Alive 2 (NetEnt) – 4,070x Win
It's not often we see Dead or Alive 2 this early in a big wins compilation (don't worry, there are more to come), but here we are with a summer win for CasinoGrounds favourite, Slotspinner, playing at €1.80 a spin. When we join Slotspinner he's playing four tables at once, but we soon focus on one table where he's already over halfway through some highly volatile free spins at High Noon Saloon. With just 2 spins left Slotspinner lands 2 wilds on the middle row to complete a fully wild line – earning him a big wild line win AND 5 more free spins.
Slotspinner already has two times 2x wild multipliers on reel three, making every spin worth over €600, and for the last 4 of his 7 remaining spins, he also gets paid with two times 2x wild multipliers on reel 5. His total win for the bonus round of €7,325.80 equates to 4,070x his bet size.
8. Miikapekka playing Primal Megaways (Blueprint Gaming) – 4,500x Win
Next up is Finnish streamer Miikapekka, playing Blueprint Gaming favourite, Primal Megaways at 2kr (€0.19) a spin. This is a short but sweet base game win. A ton of mystery symbols land across the 5 reels (20 in total), all of which turn into the second largest paying symbol (the Sabre toothed tiger). With 2 Sabre tooths on the 6th and final reel this added up to a 9,000kr (€872), equal to a 4,500x win.
7. RocknRolla playing Primal Megaways (Blueprint Gaming) – 4,500x Win
Bizarrely, the next win is played on the same slot, with the same symbol win, and for the exact same size win (in terms of multiples of bet size). Another slightly unusual aspect of this clip is that it is from an established streamer (RocknRolla), yet is recorded last minute on a hand held device. Obviously, this wasn't part of a streamed session. Playing at £5 a spin, this big Sabre toothed tiger win adds up to £22,500 (4,500x).
RocknRolla acknowledges the lack of camera-finesse saying, "What a sht vide, but what s f*king screen!"
6. Daskelelele playing Money Train (Relax Gaming) – 9,550x Win
Back to the CasinoGrounds fam next as Jack from the Daskelelele partnership streams this mammoth win playing Relax Gaming's game-changing Wild West slot, Money Train. Spinning the reels at Mr Green casino at €10 a go, we join the action at the start of the game's Money Cart Bonus Round. If you don't know how this modern classic works by now, a full description is available right here in our Money Train slot review. As a very brief guide, however, the players has 3 spins on a 6x4 board to bring in as many money multipliers or special symbols as possible. The board contains multipliers, special symbols, and tumbleweed symbols. Land a winning symbol and the respins reset to 3. The bonus round ends after 3 consecutive tumbleweed only spins. The special symbols either collect all the multipliers currently on the board and add them to your total (collectors), pay a multiplier value to all the multipliers already on screen (payers), or add an extra reel to the screen (wideners). There are a maximum of 2 wideners available. There are also two super special symbols, 'Persistent Collector' and 'Persistent Payer' – which either pay or collect like the normal special symbols, only on every single spin until the end of the round. Got it? Good.
During this bonus round, Jack only hits one widener, but he manages the rare achievement of landing both a Persistent Collector AND a Persistent Payer – meaning he collects the combined total of all multipliers on the screen on every spin, AND that total is guaranteed to rise each time. With his win already close to 1,500x, Jack lands a regular collector which immediately guarantees a HUGE payday. Not only does the collector amass 1,700x to add to the total win but it also means that the Persistent Collector win collect this amount (and more) for all remaining spins.
By the end of this crazy bonus round, Jack's winning total reached a whopping €95,500 (9,550x).
5. Bobo123 playing Money Train (Relax Gaming) – 14,829x Win
For the second time in this compilation we have a game featuring twice on the bounce, as forum member Bobo123, playing at €1 a spin, shared this Money Train mega-win with us.
The fact that he didn't land a single Persistent special symbol during this Money Cart bonus round makes this win all the more impressive. Having landed both wideners to extend the board from a 6x4 board with 24 symbol spaces, to an 8x4 board with 32 spaces, Bobo123 has a lot of room to land winning symbols. He manages to do this in the most spectacular way, landing a total of 9 collector symbols out of 30 winning symbols. As each collector symbol adds more than doubles the total of the previous one to the overall win (it collects the full amount from the previous collector symbol as well as the totals from every other winning symbols), multiple collector symbols really add up. The final collector symbol alone added 7,415x to the total win, a win which ended up at €14,829 (14,829x the bet size).
4. Paddy playing Lil' Devil (Big Time Gaming) – 19,207x Win
It was inevitable that Big Time Gaming's legendary Lil' Devil would make an appearance somewhere in this line-up, such is its propensity to deliver huge wins. In fact, this win by CasinoGrounds forum member, Paddy, is only the first of two Lil' Devil appearances this month.
Playing at €0.80 a spin, we join the action mid-way through the Be My Angels Free Spins bonus round. As you should all know by now, this round can produce some truly historic wins if the player is able to fill reels 3 and 4 full of wilds. If they do so, then these reels become "Angel Wild Reels" which add a 2x win multiplier every spin (starting at 4x) until they become 12x win multipliers. Not only this, but the reels values multiply together to reach a maximum of 144x.
As you may have guessed, Paddy manages exactly that. Not only that, both reels fill on the same spin, and as 3 extra free spins are added in the event of filling a reel with wilds, his 1 remaining spin turns into 7 remaining spins. This means that his last 4 spins are played with a 144x reel multiplier. These 4 spins alone add over €13,000 to Paddy's win, including a €5,174 spin when a Purple heart lands on reel 1 on the very last spin. His total win of €15,365 is equal to 19,207x his stake.
3. Nico_b17 playing Dead or Alive 2 (NetEnt) – 33,703x Win
It's back to NetEnt's Dead or Alive 2 for our 3rd biggest win of the month as we join forum member Nico_b17 playing at High Noon Saloon for €0.18 a spin.
Nico is halfway through his 12 spins when we join the action and he has landed a lot of wilds already with single wilds on the top row for reels 1 and 3, as well as three times 3x wilds on reel 2 and two times 2x wilds on reel 5. It is on his 9th spin, however, that the real money starts rolling in as a wild on the top row on reel 4 completes a fully wild line and also adds 5 more free spins.
With so many wilds and wild multipliers already in place, Nico_b17 is guaranteed 9 spins with at least a 1,000x win on each spin. As it transpires, he collects considerably more as 5 more spins in a wild lands right in the middle of the board. This not only makes reel three a two times 2x wild multiplier reel, but it also completes another wild line. This guarantees a win of at least 4,000x for each of the last 5 spins. Things get even better on the next spin when another wild makes reel three a three times 3x wild and bumps the win per spin for the final 4 spins up to over 6,000x.
By the end of the bonus round, Nico_b17's winnings from just a €0.18 spin reached €6,066.62, a win of 33,703x his initial bet.
2. Tricky Slots playing Lil' Devil (Big Time Gaming) – 41,631x Win
It's back to Lil' Devil again for this hefty win courtesy of forum member Tricky Slots who was playing the Big Time Gaming beast at VideoSlots casino at 20p a spin.
During this round of Be My Angel Free Spins, Tricky Slots manages to do the unthinkable, he completely fills reels 2, 3, 4, and 5 with wilds. This not only unlocks reels 3 and 4 to progress to 12x win multipliers, but also adds a combined 12 free spins to his initial 12. The final wild drops to complete reel 3 on spin number 14, and by the time both reels 3 and 4 have reached the maximum 12x reel multipliers, there are still 2 spins remaining to be played with a 144x win multiplier.
I won't go through all the very many big wins throughout this clip but the final two spins (which we don't see as unfortunately Tricky Slots video cut) added over £4,500 (22,000x) to the £3,764 (18,800x) already on the score board. His final win of £8,326,16 equated to 41,631x the original bet size.
1. Azkickr playing Dead or Alive 2 (NetEnt) –
The biggest win of August 2020 was posted on 18th of the month by forum member Azkickr and played out on NetEnt's Dead or Alive 2 at €0.09 a spin.
Azkickr had to wait until his very last High Noon Saloon free spin to finally land a wild on reel 2, not only earning him his 5 extra spins, but also completing an up and down wild line. By this time, however, he had also landed two times 2x wild multipliers on reels 4 and 5, so each win was guaranteed to be substantial.
The first of his 5 extra free spins adds a second wild to reel 1 which helps increase his win per spin. It is the 3rd extra spin, however, which sends this win off the scale. Wilds land on the bottom of reel2 and the middle of reel 3 which not only makes both reels two times 2x wild multipliers, it also completes two more wild lines. This takes the average win for the last 3 spins up from 1,500x to an average of more than 16,000x per spin!
Azkickr's final win came in at $4,752.08, which represents an enormous 52,801x the bet size.
Share with friends on
Email