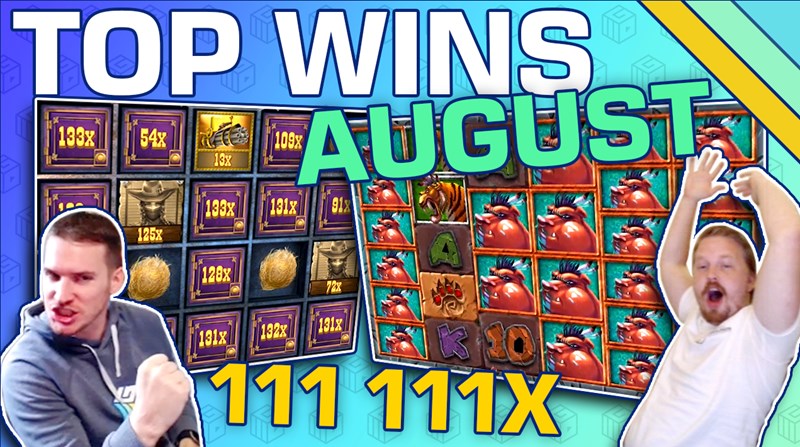 Biggest Wins of August 2019
Top 10 Wins of August
Autumn might be fast approaching but before summer draws to a close for another year let us bask in the hottest wins we could find from the month of August.
10. Nickslots playing Return of Kong Megaways (Blueprint) – 1,841x
We start today's proceedings with our very own Nickslots playing Blueprint Gaming's April release, Return of Kong Megaways. Nick is playing at £2 a spin at Casino Calzone when he triggers 12 free spins with unlimited win multipliers. The reaction wins drop in consistently to increase Nick's win multiplier although his first big win doesn't arrive until he has just 4 spins remaining. With a 17x multiplier already in place he lands a £340 win followed in quick success by a £400 win to guarantee at least a 500x bonus round.
As well as the rising win multiplier Nick consistently fills the Golden Monkey meter which guarantees increasing numbers of Megaways per spin as well as 2 additional free spins. With just 1 spin remaining he is up to a 25x win multiplier with a guaranteed 50,000 Megaways. After pleading for a King on reel 1 to complete a big win, Nick's prayer is answered landing him a £1,300 (650x) win. By the end of that spin £2,050 has been added to Nick's winnings which total £3,680 for a 1,841x win.
9. LetsGiveItASpin playing Money Train (Relax Gaming) – 1,900x
It's time for Casinogrounds favourite LetsGiveItASpin to flex his earning power with this big score in the bonus round on Relax Gaming's Money Train at €5 a spin. The idea here is to land as many sticky purple win multiplier symbols as possible until you run out of spins or fill the board. Starting with 3 spins the spin-o-meter resets to 3 after every multiplier symbol lands. Fairly early on in the round LGIAS lands the best of the special symbols, the "persistent collector" which also comes with a win multiplier attached. The persistent collector symbol adds its win multiplier to every purple multiplier on the board after every spin. What makes LGIAS's eventual win so memorable is that during the course of his spins he lands 2 regular "collector" symbols with multipliers of 4x and 1x. Collector symbols add their multiplier value to all symbols INCLUDING the persistent collector. Before I confuse you any further let's just say that this is a good thing and that for the final few spins, the persistent collector was adding 13x multipliers to all 15 of the multiplier symbols every single spin. The resultant win was a tasty €9,500, equal to 1,900x his stake.
8. David Labowsky playing 300 Shields Extreme (NextGen Gaming) – 2,080x
Popular streamer David Labowsky stars in our next big winning clip playing NextGen's recent 300 Shields upgrade '300 Shields Extreme' at €2.50 a spin. Although his stake is only set at €2.50 a spin, David opts to buy straight into the bonus round for 60x his stake, so has paid €75 to skip the base game and jump straight into the highly volatile bonus round.
The object of this bonus round is to land as many shields as possible to climb the ladder to reach higher and higher win multiplier levels. The final level to hit awards 5 spins with a staggering 300x multiplier. As you might expect from a "Biggest Wins" video, Mr Labowsky reaches the final level and reaps the rewards. His first spin lands three 9's and two archers. Ordinarily this would earn him just €1 at his chosen stake but of course it now earns him €300. The second spin gets David very excited as he completes a full payline of Queens for €3,750 prompting a few of his signature celebratory cries of "GET PAID!" and "LET'S GO BABY!" Although the next two spins are blanks, the fifth and final spin of the round brings in three archers, adding a further €1,020 to the final bonus round win of €5,200 or to put it another way, 2,080x the bet size.
7. Luficiel playing Immortal Romance (Microgaming) – 2,080x
A short but sweet clip here as we only get to see Luficiel's win from a single spin racking up. Playing at €0.90 a spin Luficiel appears to have randomly triggered the 'Wild Desire' feature in which up to all 5 reels turn fully wild. On this occasion only reel 3 remains non-wild and with a couple of high value symbols on that reel the total win with 243 ways to pay adds up to €1,883 or 2,092x the bet size.
6. Meepztar playing Primal Megaways (Blueprint) – 2,092x
Another short video featuring a massive win as Meepztar plays Primal Megaways at 6kr (€0.56) a spin. A regular base game spin rocks Meepztar's world when 4 entire reels (including reel 1 of course) fill entirely with mystery symbols with 2 mystery symbols on reel 3 and a wild on reel 2. The mystery symbols reveal themselves to be the game's highest paying symbol and the total win adds up to a very nice 20,736kr (€1,935) worth 3,456x his initial stake.
5. MartinW playing Danger High Voltage (Big Time Gaming) – 4,534x
Number 5 on our list is a truly phenomenal cash win with MartinW playing the Gates of Hell Free Spins round on Big Time Gaming's smash hit slot 'Danger High Voltage'. During the 15 spins the Q symbol is randomly selected to turn into a sticky wild whenever one lands on reels 2-5 of the 6 reel free spins board. Playing at £10, by the end of the spins MartinW has filled all but two of the 16 spaces with wilds. Along the way he also hits a lot of high value symbols on reels 1 and 6. His total win at the end of the round is an enormous £45,434 which equates to 4,534x his stake.
4. Sudababi playing Mystery Reels Megaways (Red Tiger) – 7,860x
Playing for €4 a spin, Sudababi comes up trumps with this free spins bonus round on Mystery Reels Megaways. We join the action early in the round and it looks promising as Sudababi quickly racks up the win multiplier to 9x in just a few spins via the reaction wins feature. Things soon look to have dried up though as the next few spins draw blanks. With just two spins to go, however, a ton of grapes land on the middle reels while a mystery apple lands on reel two. In this game a mystery apple clones itself a random number of times across the reels then changes into another symbol. You guessed it, on this occasion it turns into a bunch of grapes, resulting in a HUGE win of €31,104. The final win is an eye-watering €31,438 for a 7,860x win.
3. Competition Winner playing Who Wants to Be a Millionaire (Big Time Gaming) – 14,845
This is more like the compilation's 'bonus clip' if you like as it is taken from the winner of July's Big Time Gaming's Tesla competition from July. The player is spinning the reels at just €0.40 a spin when he triggers 10 free spins. With just 2 spins remaining, his current winnings of just over €150 already represent well over a 300x win. However, the penultimate spin is epic with the highest value diamonds landing on every reel with 2 on reel 6 and 4 on reel 7. With a full Megaway paying 50x the bet size and with so many combinations of wins on the board this single win adds up to over €5,500. This free spin round ends up winning the competition with a total win of €5,938, equivalent to 14,845x the bet size.
2. Slotspinner playing Dead or Alive 2 (NetEnt) – 26,674
A 'Biggest Wins' compilation wouldn't seem right without some Dead or Alive 2 actions so we're happy to see Slotspinner on a tear playing at €1.80 a spin. The popular CG streamer opts for the most volatile High Noon Saloon spins and quickly starts building up those sticky multiplier wilds. With 3 spins remaining he finally has a wild on every reel which gives him a further 5 free spins. On the very next spin he adds wilds to reels 4 and 5 which means all reels except reel 1 have two, 2x wild multipliers. As you can imagine, the next seven spins are all HUGE. In fact, the final two are even huger after he lands a third wild on reel 5, turning all 3 wilds on those reels to 3x multipliers. Those last 7 spins each win Slotspinner between €5,000 and €9,000, resulting in a feature win of €48,013 (26,674x).
1. Wojciech playing Dead or Alive 2 (NetEnt) – 111,111x
Once again the number 1 slot goes to a Dead or Alive 2 win, and they literally do not come any bigger than this!
Playing at the minimum stake of €0.09 a spin, this lucky punter realises he's onto something huge playing at High Noon Saloon after accumulating a ton of sticky multiplier wilds. As a result he finds a way to film his cell phone and bring us all the juicy action. Wojciech already has 2x multipliers on reels 1, 3, 4, and 5, and 3x multipliers filling reel 2. He also has 9 spins left to show us and every single one is colossal. The first 8 average around €1,000 a spin (over 11,000x each). On the very last spin the 4th reel adds a third wild, making all the wilds on the reel 3x win multipliers. So huge is this win that the round comes to an end as Wojciech reaches the game's maximum possible win of 111,111x the bet size. A win of €10,000 from just a €0.09 bet!
Share with friends on
Email