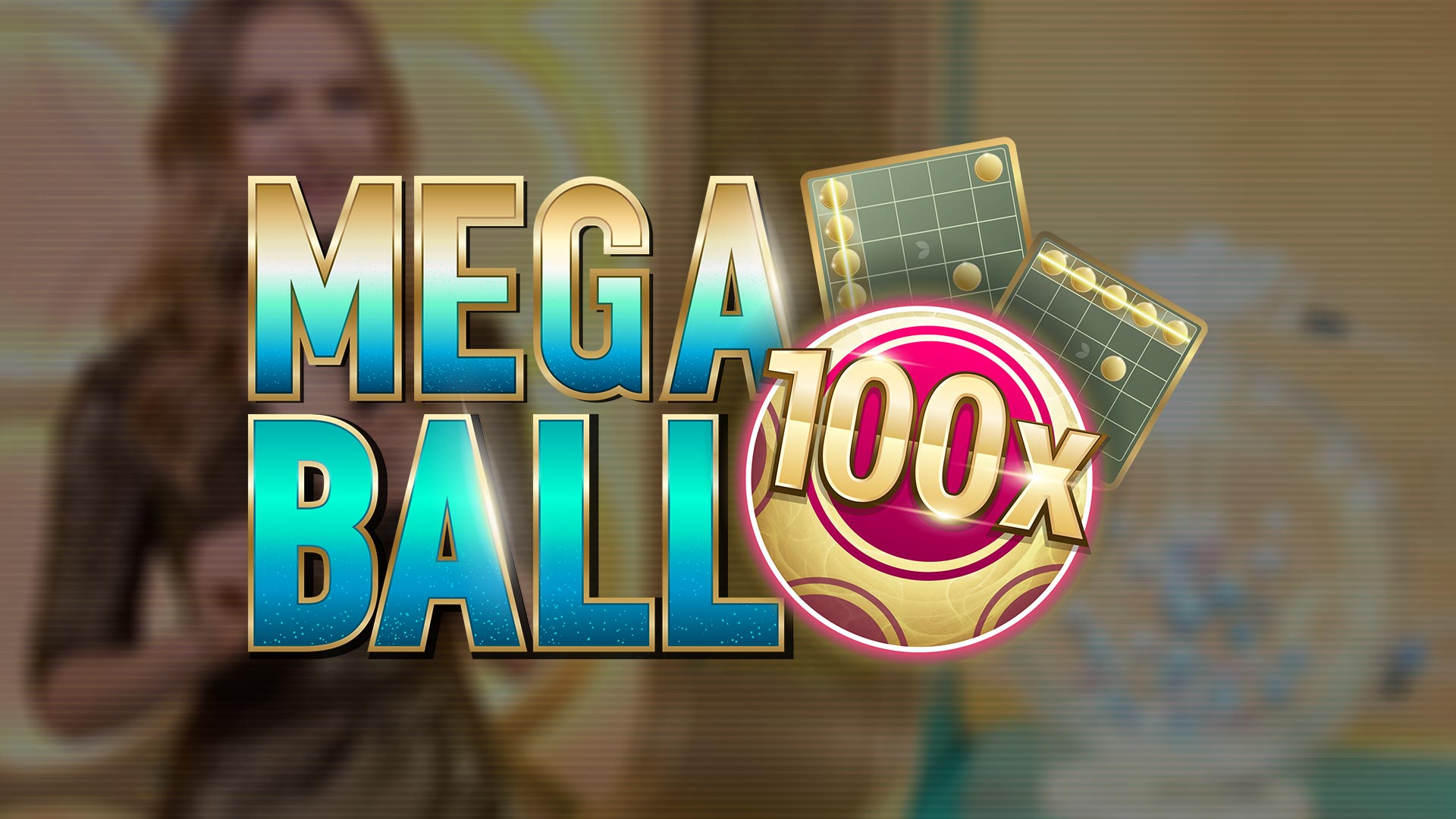 Mega Ball
Unique, fast-paced and thrilling are just a couple of words I can use to describe how incredibly exciting this new Evolution casino game show is.
With a similar appearance and mechanics to the Lottery or Bingo, Mega Ball features up to two mega ball bonus rounds and requires you to purchase cards (or a pack) which contain 5x5 cells complete with random numbers. Players have the choice to purchase up to 200 cards to play in one go!
The more lines you manage to complete the more money you will win and have a chance to increase the winnings by adding multipliers during the bonus games. The optimal RTP for Mega Ball is 95.40% and has the potential to pay out a jaw-dropping 1,000,000x your stake!
During the gameplay as winning lines are formed, golden numbers will appear above your cards to highlight potential winnings that could be made, essentially making the game more nail-biting and exciting.
How to Play The Mega Ball Casino Game Show
Mega Ball is designed like no other game and is divided into two rounds - The Betting round and the Ball Drawing round.
Before you can start enjoying the gameplay you are required to determine how much you want to play for and purchase Cards.
Once you are happy with your purchased cards, it is all about getting as many lines per card as possible.
In order to make up a winning line, you are required to get a horizontal, vertical or diagonal line of five squares and to maximise your chances of winning you have the chance to win up to 12 lines per card!
The Betting Round
Once you have purchased your cards to play with, you will then have the choice to select the value of the cards. The minimum value of the cards is worth €0.10 up to a maximum amount of €100.
In the main game, 20 balls will be randomly drawn at a very fast pace by the ball drawing machine and the numbers are automatically marked on your Mega Ball cards.
Your cards will be updated and sorted automatically as the balls are drawn, with the card nearest to winning placed at the top.
The Mega Ball at the end adds excitement as it can multiply your winnings! If a multiplier was included in at least one line on a card, these winnings will be multiplied accordingly
Although please note that there is a cap of €500,000 on any winnings generated from the Meg Ball.
Buy Cards
From the user interface, you can easily purchase as many Mega Ball cards as you desire, although there is an option to select one of the card bundles which consists of either 1, 10, 15 or 25 cards.
Each game allows you to play with up to a maximum of 200 cards.
Each square on the card will be filled with a random number except the square in the centre which will appear blank and is considered as already marked.
Change and Edit Cards
You can change the value of your cards at any point, while the betting time is open. The selected card value will be automatically applied to all your cards once adjusted.
Any cards you have purchased to play with will be displayed on the screen for you to see.
If at any point you decide you want to change the numbers displayed on your cards you can do so by zooming in on that individual card while the betting time is open and simply clicking 'Refresh'.
You can do this as many times as you like until you are satisfied with the numbers displayed.
Ball Drawing
During the main game round, the ball drawing machine will randomly select 20 balls out of 51 at a very fast-pace.
The numbers drawn will automatically be marked on your Mega Ball cards.
As the gameplay continues the cards are updated and sorted automatically as the balls are drawn, with the card nearest to winning placed along the top.
When a line has been completed, your winnings per card are also updated and displayed for each card. You can also see how much you could win if one or more specific balls are drawn.
As winning lines begin to form, the balls you need in order to win will be highlighted in gold above your cards together with your possible winnings (should your numbers actually be drawn).
When the last ball in the main game has been drawn, either one or two compelling Mega Ball bonus rounds will occur.
The Mega Ball Multiplier
To determine the number of the Mega Ball, a random ball is drawn from the ball drawing machine.
Before however, a Mega Ball Multiplier valued between 5x to 100x will be generated and displayed on the large screen in the studio. The different multipliers are highlighted by set colours which will change depending on the value of the multiplier.
Any winning lines which are made up from the Mega Ball Multiplier (MBM) will result in any winnings generated being multiplied by the value of the MBM. If by chance there is more than one Mega Ball among your winning lines on one card, this will result in your payout being multiplied only the highest multiplier displayed.
On the off chance that no line is completed by the Mega Ball, this will result in the MBM transforming into a regular number and any winnings generated will not be multiplied.
Mega Ball FAQ
Q: How do I win in Evolution's Mega Ball?
A: By getting at least one line of five numbers in a row, either horizontally, diagonally, or vertically.
Q: How much does Mega Ball casino game show pay out?
A: Check out the payout structure in the table below:
| | |
| --- | --- |
| Number Of Lines | Payout |
| Six+ | 9,999–999,999:1 |
| Five | 999–99,999:1 |
| Four | 249–24,999:1 |
| Three | 49–4,999:1 |
| Two | 4–499:1 |
| One | 1x (push)–99:1 |
Q: Can I play Evolution's Mega Ball with play money?
A: No. -Unfortunately, all live games require a Real Money Balance to open.
Q. Where can I play Evolution's Mega Ball?
A.Check out our Live Casino Casinos for casinos offering live games.
Share with friends on
Email