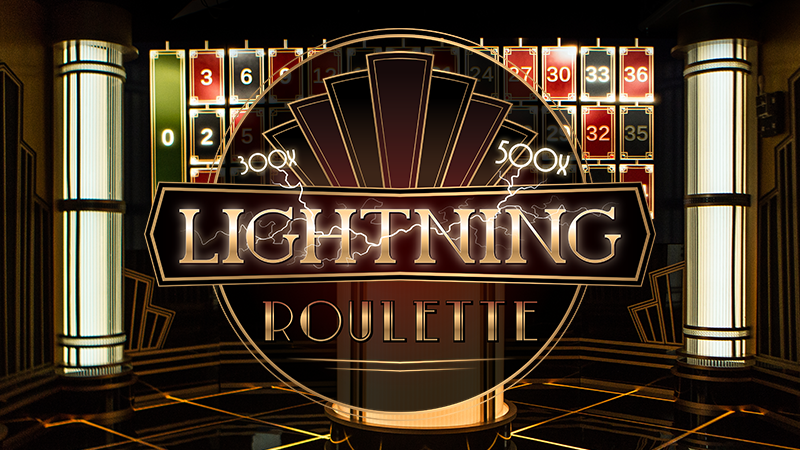 Evolution Lightning Roulette
Blending an ever favourite Roulette with very unique playing experience, Lightning Roulette by Evolution Gaming has taken the Online Casino Industry by storm. It's as simple to play and understand as Roulette, but with Lightning Rounds and multipliers.
At the beginning of every round when the betting closes, the Game Presenter will push a lever revealing special numbers that are chosen at random, that payout extra on top of their usual payout structures, up to 500x more! We know nothing in life comes without a price, this game asks you to pay a hefty price to be able to win the multipliers. Read on to know more, as we get into the specifics.
The Game Round
This game pays 30-1, unlike the regular roulette tables that pay 35-1. This brings the RTP down from 97.30% to a staggering 81.08%! Now we know how the big payouts are funded. Like the regular roulette game, betting stays the same except for this one "minor" change. The outer lines payout the same.
When the betting has closed, Lightning shoots across the board and reveals special numbers(up to 5) that are determined by a Random Number Generator(RNG). They also reveal the extra payouts multipliers on each of the selected spots. So if for example the number 1 has a 29x payout, lightning strikes and shows a 100x multiplier, you have the potential to win 129x your bet on that number. Hitting one number on the maximum payout of 500x can soar you into the skies. These payouts and wins aren't uncommon. So you do have an added thrill and "heart racing" feel when you take out your wallet and SPIN!
What is the Strategy to win Lightning Roulette?
While most of our streamers frequent this game, and we ourselves have played it multiple times, we have come to the conclusion that there is no real strategy in place to increase your chances of winning at this game. We found some strategies online but all of them confirm the same, there is no "winning strategy" that can be found on this game. Go with your gut, you might just end up hitting that massive multiplier.
Pay Table Comparison of Normal European Roulette and Lightning Roulette
The major difference in payouts being European Roulette pays 35:1 on straight-up numbers, Lightning Roulette pays 30:1, without any multipliers. Every other payout structure is the same for both styles of games. Why do players love this game? Because of the added chance to win an insane lucky multiplier bonus on their straight-up bets. We have seen players win a staggering 530 Euros on a bet size of 1 Euro. Though the RTP is very low on this game, we think there is a fair chance to win one of their crazy lightning multipliers and then losing that much RTP would have been worth it.
Let us know in the forum what your thoughts are on this game. Have you played it? Are you planning on? Do you think to give that much RTP for a chance to win those multipliers seems worth it? Try out Lightning Roulette at LeoVegas
Share with friends on
Email