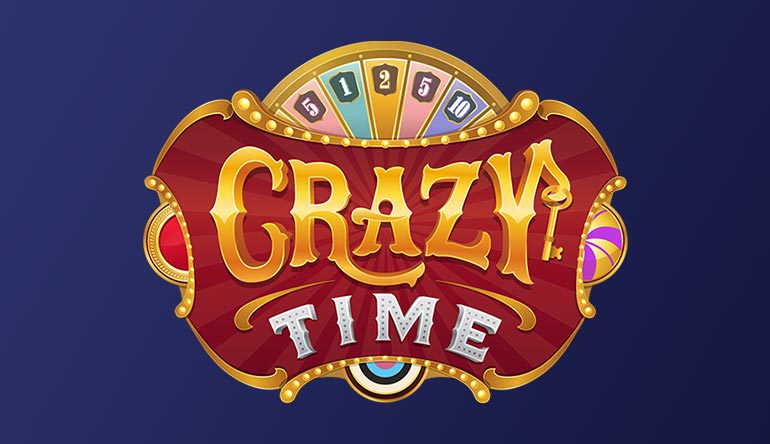 Crazy Time: New Live Casino Game Show from Evolution Gaming
Crazy Time is a new Live Casino game which has 4 different bonus rounds. The first bonus round is Pachinko which is similar to connect 4 and pinball and comes with unlimited doubles. The second bonus round is Cash Hunt which has a game show theme and gives players a chance to win up to 25,000x. The third bonus round is Coin Flip which has the ability to pay out 5,000x. Lastly, Crazy Time is the fourth bonus round which displays the biggest dreamcatcher in front of a funky background. Crazy Time comes with an RTP of 95.5% and has the ability to pay out 160,000x!
During LetsGiveItaSpin's trip to the ICE conference which is held in London, he met up with Todd Haushalter from Evolution Gaming who gave him a rundown of one of their newest and most exciting projects of 2020.
Todd Haushalter introduced Crazy Time to LetsGiveItaSpin where he explained the game to be "The star of the show".
As so many players loved Monopoly Live bonus round, Todd wanted to create something similar to blow the socks of us players. As he introduced Crazy Time to LetsGiveItaSpin he explained how Crazy Time is 'One of the most expensive games to be made'.
One exciting aspect of the new Evolution creation is that Crazy Time has been designed to have 4 different bonus rounds and on every spin, a multiplier will be added to one of the bonus games. To make things even more jaw-dropping, on average you can expect to trigger a bonus round every 6 spins.
#1 Bonus - Pachinko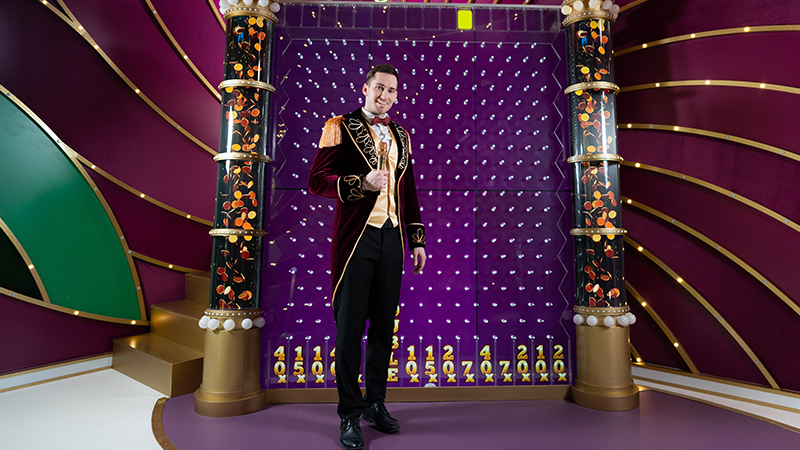 The first bonus round Crazy Time has to offer is Pachinko. At the bottom of the bonus, there will be a row of prizes lined up. The idea of the round is that an electronic ball will be dropped at the top of the reels, slowly making its ways down to the prizes (similar to pinball and connect 4).
Depending on which slot the ball lands in, will determine which prize you win. In this bonus round, you can collect unlimited doubles, which will increase your winnings splendidly.
#2 Bonus - Cash Hunt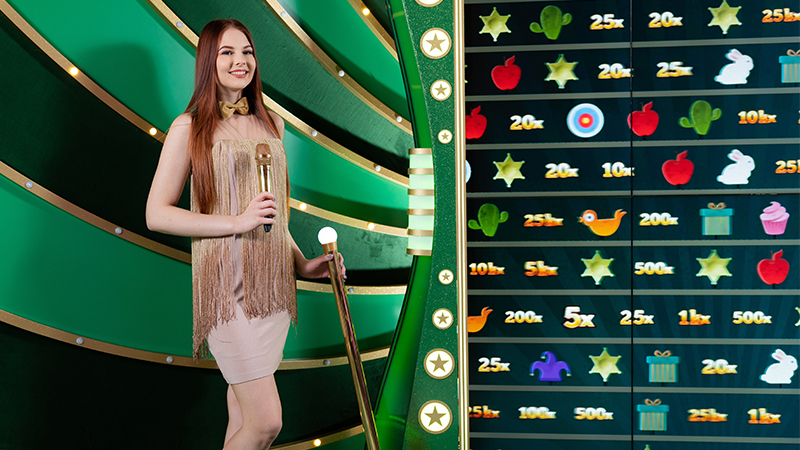 Cash Hunt is the second bonus round you can enjoy. When you first enter the bonus round you will discover a grid of 108 different multiplier prizes which you can win. The dealer will then pull the big golden lever which scrambles all the prizes on the grid and hides them under colourful icons which consist of Star, jokers hat, Parcel, rabbit, cactus, a cupcake, and a chicken.
You will then see a sniper scope appear on the grid, which you can move around with your mouse to shoot one of the icons to reveal your prize. Cash Hunt has the ability to pay out up to 25,000x your bet.
#3 Bonus - Coin Flip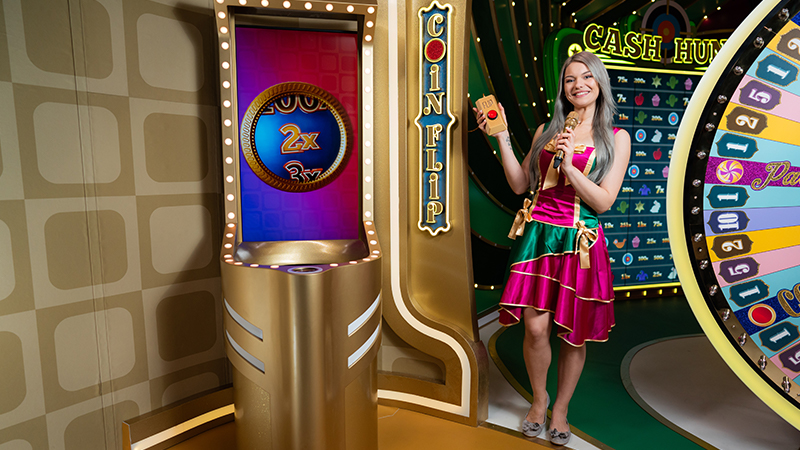 Coin flipping is the third bonus which as you can imagine, involves flipping coins. There will be a screen which displays a coin which has one blue face and one red face. Once the coin stops flipping it will display two different multipliers.
Beneath the screen, there will be a bowl which holds another coin. This coin will then flip at the screen hitting either the blue or red coin. Depending on which coloured face of the coin it hits will determine your prize.
Coin Flip has the ability to pay out up to 5,000x!
#4 Bonus - Crazy Time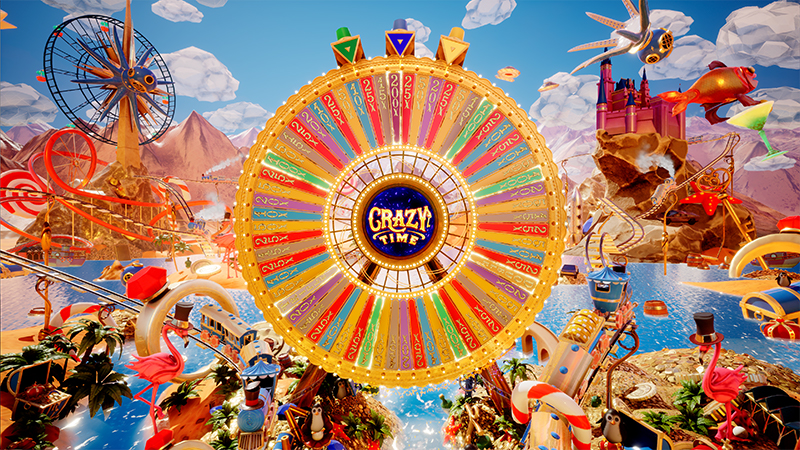 Crazy Time is the last and final bonus round you can explore. With a fun and wacky background, you can expect to find a big wheel surrounded by floating octopus, ballows, trains and much more!
The wheel has three different coloured flappers - yellow, green or blue. At the beginning of the round, you need to select which flapper you want to use. The wheel which displays multiple different multipliers will then be spun. Once the wheel comes to a stop, your prize will be determined by the coloured flapper you chose at the beginning.
The Crazy time bonus round has the ability to pay up to 160,000x and comes with an RTP of 95.5%.
Crazy Time Big Wins
Check out our big win compilation on Crazy Time below!
Our Verdict
Overall it is clear to say that we are over the moon to get our hands on this new Evolution creation. The new Live Casino game is set to be released in July 2020 and we can not wait to try it out.
It is clear to see that Evolution has put a lot of innovative thought into this new game and the graphics and designs are like no other game out there!
Will this be a new favourite party game? Time will tell!
Share with friends on
Email