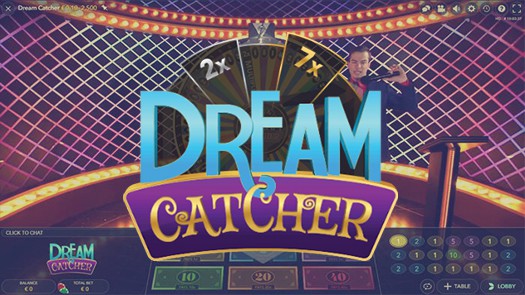 Is there a Working Dream Catcher Casino Strategy?
If you're looking for a Dream Catcher casino strategy that helps you beat the game, allow me to save you some time and tell you there isn't one.
Why is that?
Because the odds will always be in favour of the house. Meaning that you're expected to lose in the long run. Anyone who tells you tales of a winning formula for any type of casino game is flat out quacks (liars).
This does not, however, mean you can't get lucky and win big if you're fortunate enough to hit those multipliers.
Continue reading if you'd like to learn more about the odds of this giant, "casinofied" wheel-of-fortune-like game.
Here's what you'll find in this article:
Where to play Dream Catcher
Learning how to play the game
Rules
The Dream Catcher Wheel
Wheel Multipliers
The Odds of the Game
How to Bet
Is there a working Dream Catcher Casino Strategy?
The 20-10-2 Strategy (38.88% Wheel Coverage)
The Simple 5 Strategy (25.92% Wheel Coverage)
The Big Risk Big Win Strategy (5.55% Wheel Coverage)
Where to Play: Find Your Dream Catcher Casino Here
Striking a nerve with players, the popularity of Dream Catcher from Evolution Gaming doesn't go unnoticed among online casinos, with more of them adding it to their selection of games every day.
Individual casino reviews are found here. If you'd rather skip the reading and research, then sign up with the best Dream Catcher casino there is when playing with real money: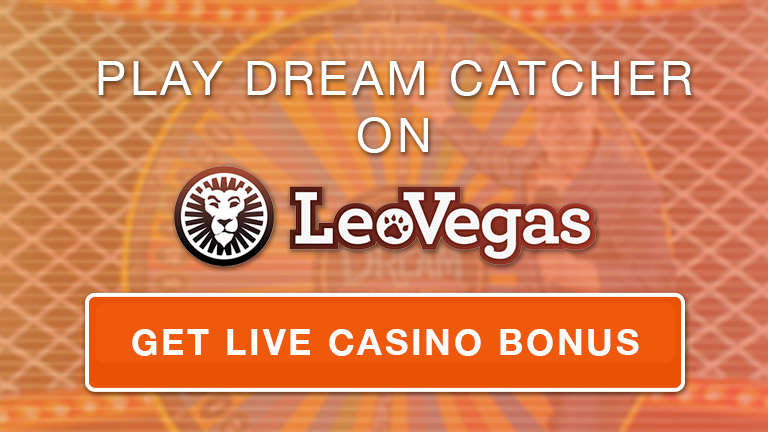 LeoVegas is a trusted and reputable online casino that has been tested and played on many times over by members from our 24.000+ CasinoGrounds community.
Dream Catcher is a very entertaining live casino game. One that is simple to understand, and to play. A perfect candidate for giving you a casual "Friday entertainment" feel.
For other Live Casino Bonus offers and places to play, check out our Best Casino Bonuses Online 2019 page.
Learn How to Play Dream Catcher Live in Minutes
The common denominator for all casino games is their simplicity, making them easy to learn.
Dream Catcher Live isn't any different, and although theory can be boring, knowing a little about the game before staking your money on it can manage to save you a pretty penny from making crazy bets.
The only thing you actually need to play the game is two things; 1) something to stake, and 2) taking a guess.
In other words; guess what sector the wheel will stop on and place your bet on that outcome.
Again; the theory is boring – so to keep your attention, here's a video showing NickSlots – one of the CasinoGrounds Streamers playing Dream Catcher Live, and getting a decent run, winning big going while doing so.
Rules of the Game
Dream Catcher has theoretical RTP (Return To Player) between 90,57% and 96,58%.
Game is started with a betting round.
There are 54 sections on the wheel.
The betting round ends, and the host of the game spins the wheel.
The game has 8 different outcomes.
If the outcome numbers, the original bet is given back + multiplied by the number wheel stopped on.
If the outcome is multipliers (7x or 2x); bets remain till next round where any wins will be multiplied by 7 or 2.
The maximum win possible in Dream Catcher Live is $500.000 (or currency equivalent).
Familiarize Yourself with The Dream Catcher Wheel
The Dream Catcher wheel comprises of 54 different sectors, out of which 52 are for bets to be placed on, and the other 2 are multipliers.
You can place bets on the following numbers:
The Multipliers on the Wheel
If the wheel hits the multipliers 2x or 7x, all bets stand for the next round, and every bet is multiplied by the landing multiplier. New bets are not allowed on the next spin when multiplier was hit. Multipliers can hit multiple times in a row during a dream catcher game.
Dream Catcher Live Odds
Number 1 appears on the wheel 23 times. (23/54 odds)
Number 2 appears on the wheel 15 times. (15/54 odds)
Number 5 appears on the wheel 7 times. (7/54 odds)
Number 10 appears on the wheel 4 times. (4/54 odds)
Number 20 appears on the wheel 2 times. (2/54 odds)
Number 40 appears on the wheel just once. (1/54 odds)
Multipliers 2x and 7x appears on the wheel once. (1/54 odds)
How to Bet
Decide which sector you think the wheel will stop on, and place your bet accordingly.
After placing your bets, it's time to play the waiting game, waiting for that giant wheel-of-fortune-like wheel to come to a halt.
If the wheel stops in your sector you win your initial wager. Your bet is also multiplied with the number in the sector you land on.
$1 Wager Example: You wager $1 on number 10 and win. That will pay you 1 x 10 +1 giving you a total of $11. The +1 is your original bet, and the 10 is the number which the wheel stopped on, giving you 10x your bet.
Is there a working Dream Catcher Casino Strategy?
If you're wondering if there is a Dream Catcher casino strategy, then we're sorry to disappoint you. It's a game of chance, where the house ends up winning in the long run.
Found in any live casino that has games from Evolution Gaming, this giant game show-inspired wheel of fortune can literally change your life in one single big win spin.
Yes, this is a game of chance – and as such, you win – if you're lucky enough. That luck can truly catch you by surprise, in the form of a $500.000 Dream Catcher big win …
The Best Strategy is to Know the Odds of the Game
The best strategy for dream catcher when gambling for real money is knowing how to play the game, and what kind of odds you're up against… In the long run, the house always wins.
There is, however, a few "strategies" that might be worth trying out if you're looking to spice things up and have more fun. Just please remember to play responsibly.
The 20-10-2 Strategy (38.88% Wheel Coverage)
We found that betting on numbers 2, 10 and 20 might be the best strategy for Dream Catcher if you want your bankroll to last longer, and win more often.
Why?
With 2, we cover 15 sectors, 10 covers 4, and 20 covers 2. In total, we cover 21 sectors. 21/54 = 0,3888 = 38,88% covered of the wheel. On Number 2, we bet as much as we bet in numbers 10 and 20 in total.
As an example, if we bet 10€ on numbers 10 and 20, we bet 20€ on the number 2. This way, we get our bet back, if it hits number 2, but good profit if it hits 10 or 20.
And just so we're clear; betting on number 1 makes no sense, it's usually useless unless a 7x or 2x multiplier hits.
The Simple 5 Strategy (25.92% Wheel Coverage)
Simply dubbed "The Simple 5", this strategy aims at taking advantage of the 5 covering 14 sectors of the wheel.
It's simple, and it gives you a winning chance around 1 per every 4 spins.
The Big Risk Big Win Strategy (5.55% Wheel Coverage)
The Big Risk Big Win Strategy is not something for the faint of heart, or not for those who don't enjoy losing money.
If you enjoy reaping the big rewards when Lady Luck turns her gaze towards you though, then go ahead – try this strategy of betting only on sections 20 and 40 of the wheel. They only cover 5.55% of the wheel, but with the multipliers of 7x and 2x in mind (which also are stackable), then this can turn into a hefty profit.
That 20x bet can turn into a 140 prize + your bet if you hit a 7x. A 40 bet with a double 7x multiplier would be worth 1960x ..
If you're a patient person who prefers going after the big wins, then go ahead. It might just be worthwhile.
Breaking it down:
A Live Casino version of Wheel of Fortune
The max payout odds are capped by Evolution gaming to $500,000
Optimal theoretical RTP is 90,57% – 96,58%
Fun and easy to play
Licensed and regulated
Go ahead, try the Dream Catcher game today. We promise it's a fun ride!
For other great articles, check out our Online Casino Guide section
Share with friends on
Email