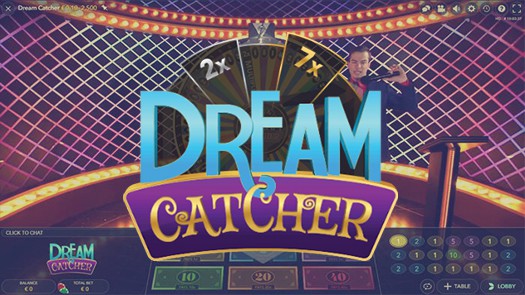 Is there a Working Dream Catcher Casino Strategy?
Welcome to our Dream Catcher Casino Strategy page where you'll learn how to play dream catcher.
Found in any live casino that has games from Evolution Gaming, this giant game show-inspired wheel of fortune can literally change your life in one single big win spin.
Striking a nerve with players, the popularity of Dream Catcher doesn't go unnoticed among online casinos, with more of them adding it to their selection of games every day.
Hosted by live dealers in a state of the art studio, streaming the action to the players - there's no limit how many people can join in on the game, and interact with the hosts.
Breaking it down:
A Live Casino version of Wheel of Fortune

The max payout odds is capped by Evolution gaming to $500,000

Optimal theoretical RTP is 90,57% - 96,58%

Fun and easy to play

Licensed and regulated
You might also be interested in: Speaking of RTP, Dream Catcher's range is right about the same as those found on online slots. Check out our database of slots RTPs here!
For other great articles, check out our Online Casino Guide section
How to Win on Dream Catcher
If you want to learn how to win on Dream Catcher, you've come to the right place. Yes, this is a game of chance - and as such, you win - if you're lucky enough. That luck can truly catch you by surprise, in the form of a $500.000 Dream Catcher big win …
If you're wondering if there is a Dream Catcher casino strategy, then we're sorry to disappoint you. It's a game of chance, where the house ends up winning in the long run.
There is however dream catcher casino game strategy at play here which will help you lose less money, and have more fun.
The best strategy for dream catcher when gambling for real money is knowing how to play the game, and what kind of odds you're up against.
How to Play the Game
Before we get cracking on Dream Catcher Strategies, some basics need to be learned. As mentioned, Dream Catcher is a Wheel of fortune game - the numbers on the wheel comprise of 52 sectors to bet on, and two multiplier sectors, 7x and 2x, making a total of 54 sectors.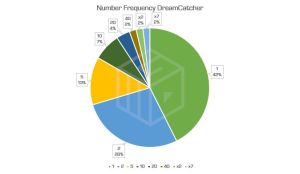 The rules of the game are simple. Guess what sector the wheel will stop on, and place your bet on that outcome.
The goal is to place bets on the numbers 1, 2, 5, 10, 20 and 40 and hope the wheel lands on one of your picks.
Number 1 appears on the wheel 23 times. (23/54 odds)

Number 2 appears on the wheel 15 times. (15/54 odds)

Number 5 appears on the wheel 7 times. (7/54 odds)

Number 10 appears on the wheel 4 times. (4/54 odds)

Number 20 appears on the wheel 2 times. (2/54 odds)

Number 40 appears on the wheel just once. (1/54 odds)

Multipliers 2x and 7x appears on the wheel once. (1/54 odds)
If you win, your bet is multiplied with the number in the sector you land on plus your initial wager. As an example, if you bet $1 on number 10, and it hits, it will be paid out 1 x 10+1=$11. The +1 is your original bet. If the wheel hits the multipliers 2x or 7x, all the bets stand for the next round, and every bet is multiplied by the landing multiplier. New bets are not allowed on the next spin when multiplier was hit. Multipliers can hit multiple times in a row.
Is there a Dream Catcher Casino Strategy?
There is no magical Dream Catcher casino strategy that will help you win more money. Anyone claiming this are simply lying! You can always play against the odds. But of course, in the long run, the house always wins. We found that betting on numbers 2, 10 and 20 might be the most worth strategy to bet on. Why?
With 2, we cover 15 sectors, 10 covers 4, and 20 covers 2. In total, we cover 21 sectors. 21/54 = 0,3888 = 38,88% covered of the wheel. On Number 2, we bet as much as we bet in numbers 10 and 20 in total.
As an example, if we bet 10€ on numbers 10 and 20, we bet 20€ on the number 2. This way, we get our bet back, if it hits number 2, but good profit if it hits 10 or 20.
Betting on number 1 makes no sense, it's usually useless unless 7x or 2x will hit.
If you play with high risk to get a high reward, we recommend betting on numbers 40, 20 and 10.
Betting on 5 is not a bad idea though, as this covers 14 sectors (25.92% of the wheel).
Dream Catcher is a very entertaining live casino game. One that is simple to understand, and to play. A perfect candidate for giving you a casual "Friday entertainment" feel.
The hosts are entertaining more than professional (at least compared to other live tables from Evolution). The only 'con' is its RTP; 90,57% to 96,58%.
Yes, it's easy to see your balance drop fast, but at the same time - there's this big prize waiting for you if Lady Luck decides to give you holler in the form of a $500.00 win ..
The rules are simple, and some love the game. Check out our very own SuperSmask trying out the game below!