How to Configure your Microphone + OBS – Studio
In this era we live in, using a microphone is essential to enjoying the game more. The enjoyment we get by talking to and collaborating with our teammates makes the game that much more in-depth and real. Streaming, is a profession that is definitely catching on. Most of the new streamers have been following their favourite streamers since a couple of years and feel like they have the passion to start streaming themselves.
If you are interested in using the microphone on your computer for more than just basic, personal tasks, you may find yourself wanting a higher-quality microphone than the built-in one your computer uses. But how do you set up an external mic on Windows and make it the default? In this guide, we will tell you how to connect, configure and start using your microphone with your PC as well as with OBS – Studio.
Setting up your Microphone
The first thing you have to do is connect your Microphone to your PC via USB or Bluetooth, and install it. Windows will usually find and install all the necessary drivers automatically but, if for some reason Windows isn't able to, you'll have to visit your Microphone Manufacturer's website and install the necessary products. Once done installing the drivers, follow the steps mentioned below:
Right-click on the volume icon on the taskbar in the lower-right corner of your screen.
Click on Sounds.
Under Sounds, click Recording.
Select the Microphone you'd like to use.
Click on Configure.
Click "Set Up Microphone" (Note: this tool is designed to optimize for speech recognition, but using this will configure your microphone better for your voice.)
In the Setup Wizard, select the kind of microphone you want to configure.
After you click on Next, the next screen that appears will give you information regarding how to use your microphone.
The wizard will then give you a text to read out loud into your Microphone. Do that and head on to Next once you're done.
Click Finish to close the wizard and Voila! Your microphone is ready to use.
Note : A message will appear if your computer did not hear you when you read the text. If this happened, it's probably because either your microphone was muted or there could be more than one microphone listening for your voice. It will also inform you if you were not heard clearly and suggest ways to fix that problem as well.
Microphone Stands: Do I really need one?
A microphone stand may be at the bottom of your list for your streaming setup, but don't fall into this trap. If you've gone out of your way to purchase a high quality HD external microphone, invest a little bit more and get the stand to complete the set.
Let us give you an example to show you the importance of Mic Stands. Have you noticed with some streamers, you can hear their keyboard click thousands of times, and felt annoying on your ears? And some streamers are so quiet, you're just enjoying their stream without any unnecessary background noise. Why you ask? Because the latter use Mic Stands.
These stands are not a "showpiece" but can help improve sound quality by a lot more than you could imagine. Mic Stands prevent unnecessary background noise or table vibrations that are cause by actions of the streamer like getting up, putting stuff on the table, dropping something, loud keyboards etc. These sounds, though not too overpowering, are definitely an annoying trait to your viewers and you would not just sound better, but more professional if you're using a Microphone Stand. Also, with a stand you can adjust the height and angle of your microphone so it is always pointing towards you and can capture your voice much quicker and crisper, than if the Microphone was just set on the table, at a distance from you. These stands particularly come in handy for people who are generally taller, or who tend to roam around the room while talking or mentioning a story. With a good External Mic and a Stand, their voice would feel like they were sitting in front of the mic and talking but they were walking around the room.
So to answer your question: Yes, you do really need a Microphone Stand.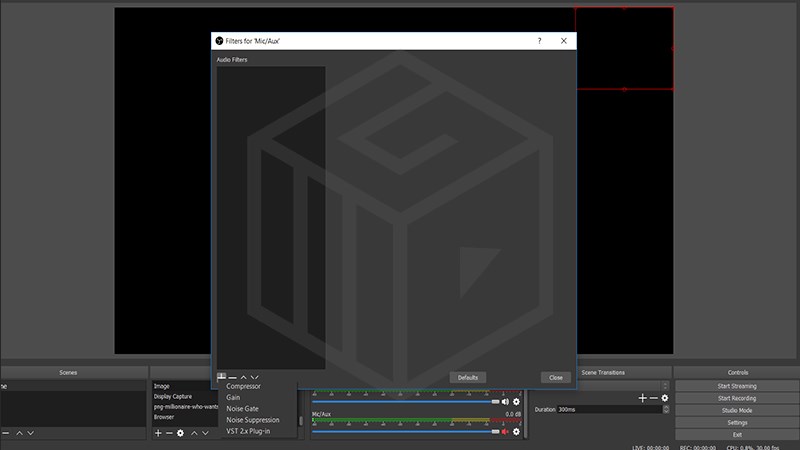 OBS-Studio: How to Configure your Microphone
OBS or Open Broadcasting Software is wildly popular among new streamers not just because it's free, but because it comes with a plethora of features that makes setting up and streaming, a cake walk. The microphone settings are such. Features like removing background noise, turning your microphone automatically off while not speaking, or adding Gain to your voice if it's too low, all this can be done in just a few simple steps with OBS-Studio.
Some Plugins/Software to Install: Mic DSP Plugin and Visual Studio Redistributable.
Grab the x86 and x64 versions and install both.
Once installed, open the downloaded DSP Plugin Zip file and extract its content directly into the main OBS Folder. That should be under Program Files or Program Files(x86).
It will ask you if you want to overwrite the existing files and it will ask you for administrative permission. Click Yes and Accept.
Go into Settings >> Audio.
You are allowed to configure up to 2 playback and 3 recording devices, however, you will need either the Desktop Audio or your External Microphone.
The default settings should start working now, but you can manually select the Microphone and Desktop Audio Device in the dropdown.
Push to Mute and Push to Talk can be enabled and configured for each device. The Hotkeys for this can be found under Settings >> Hotkeys.
Now, it's time to add Filters to your new HD Quality Microphone.
These settings can be found when you open Mixer and click on Settings next to the device you'd like these filters to be added to. Choose Filters next. Click on the Plus Symbol on the bottom left to add any filters you'd like.
The 3 different filters available with their options are :
Noise Suppression:

Remove Background Noise, Suppress Level (dB). Lower dB value gives more suppression. We recommend starting at -10 and keep going lower upto -60 dB until the background noise is completely gone.

Noise Gate:

Turn the Microphone off if no one is talking

Close Threshold

When the mic drops below this volume, the noise gate will turn off the microphone

Open Threshold

When the mic goes above this volume, the noise gate will turn on the microphone

Attack time

How long it takes for the mic to go from off to on.

Hold time

How long the mic should stay on after the volume has dropped below the close threshold.

Release time

How long it takes for the mic to go from on to off.
In most cases, first, configure your Close Threshold. First, do not talk, and see if the microphone inputs anything onto OBS then increase the Close Threshold until the microphone input completely stops. Now, start talking and make sure your Open Threshold is correct. If the green bars are active, that means your voice is being inputted. You can then increase Open Threshold until the microphone stops showing input in OBS and then slightly lower it again and you should have a good value.
Gain Filter: This filter increase the input if your voice is low. The higher your Gain Value is, the higher the volume will be when being inputted onto OBS. Make sure you test this filter out before hand, by recording your voice at various volumes and Gain Values to make sure no clipping occurs because the volume of a particular audio segment was too high.
We recommend this order for the Filters :
Noise Suppression
Noise Gate
Gain
In this order, OBS will first remove any and all background noise. Then, it will unmute and mute your microphone as you please. Last but not the least, it will increase your input to a certain extent so that your audience doesn't miss a single word being said by you.
We highly recommend a test stream of sorts, to test out all of your functions, filters, configurations, volumes, settings etc so that your first stream is a memorable one!
Looking for a New Microphone? Check out our hands-on guide on different types of microphones, and find the one that suites your preferences (and wallet)