Monopoly Live by Evolution Gaming is a casino game show that combines a giant wheel of fortune and MONOPOLY; a board game from Hasbro first released in 1935. Your aim in this money wheel game is to bet on one or several of the 6 betting sections, according to which one you think the flapper will stop once the wheel comes to a halt. 4 of which pays cash, and 2 of which takes you to the Virtual, 3d MONOPOLY bonus game where you literally roll the dice.
Features
Here's a quick overview of the features and other properties that's specific to the MONOPOLY Live game show. This is the game that brought Evolution Gaming EGR and Gaming Intelligence's "Game of the Year"-awards in 2019 and 2020.
You have 6 different sections to choose between and place your bets on.
4 of these are represented by the numbers 1, 2, 5 and 10. Landing on one of these will return your original stake + a 1, 2, 5 or 10x multiplier.
The other 2 represent the bonus game and the number of dice rolls you'll get.
Half of these sections are represented by the numbers
The other half of these sections represent the bonus game taking place on an actual Monopoly board.
Each game round starts with a slot spinning randomly where the goal is to land on a segment you have placed a wager on. To trigger the MONOPOLY live bonus round you need to land on the segments called 2 or 4 rolls.
RTP, Odds, & Payouts
The official, optimal RTP of MONOPOLY Live is 96.23%
MONOPOLY Live Odds:
40.74% chance of stopping on 1 (22 segments)
27.78% chance of stopping on 2 (15 segments)
12.96% chance of stopping on 5 (7 segments)
7.41% chance of stopping on 10 (4 segments)
3.70% chance of stopping on "Chance" (2 segments)
5.55% chance of stopping on "2 Rolls" (3 segments)
1.86% chance of stopping on "4 Rolls" (1 segment)
Payouts: The payouts in MONOPOLY Live depends on whether or not you land on a straight number, 2, or 4 rolls (with or without multiplier(s). The max amount of money you can win playing MONOPOLY Live is capped at €500.000 (or currency equivalent).
MONOPOLY Live Statistics
Spin history, including the latest top multipliers, chance and board move statistics, rolls and other MONOPOLY Live stats are being tracked 24/7 on CasinoScores
Bonus Game Explained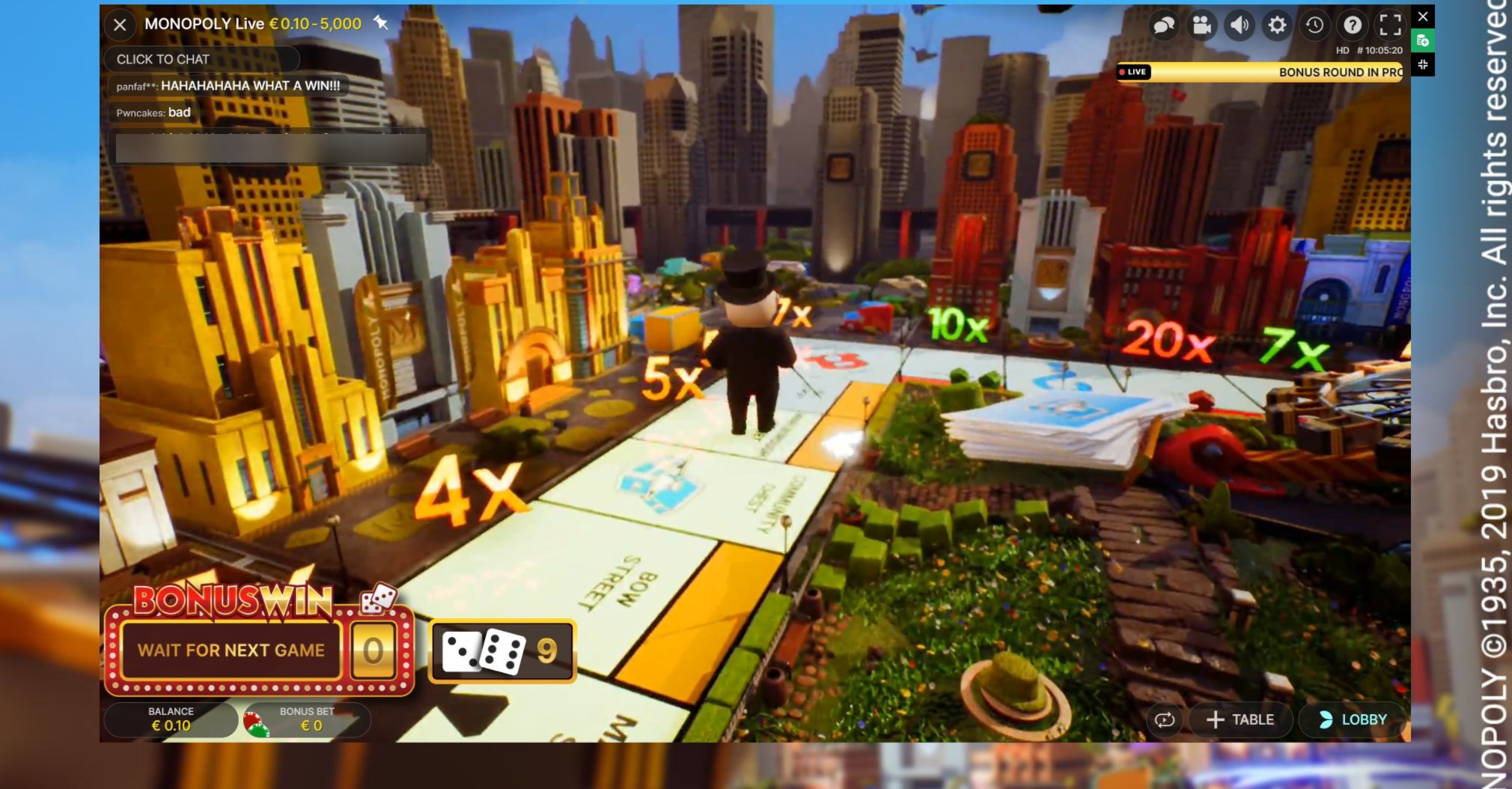 In MONOPOLY Live there are 4 different sections on the money wheel that can trigger the bonus game; 3 of which has a 5.55% chance of giving you two rolls, and 1 with its' 1.86% chance of landing you four rolls.
When a bonus round begins, all players, including non-qualifiers enter the 3D augmented reality world of MONOPOLY. Non-qualifiers have to watch the game till a new round begins, and can't win.
The bonus game is based on the actual board game, where dice rolls determine where you'll go. The fields are represented by various MONOPOLY Board Game elements such as GO, Chance, Community Chest, houses, hotels, Jail, Super Tax, and of course complete with prizes, and multipliers.
For more money wheel of fortune games, check out: Crazy Time or Dream Catcher.