Craps is able to offer you one of the simplest game mechanics available, all you have to do to start off the round is to throw a pair of dice. However, the multitude of bets available is what might scare some players away, which is probably why it took so long for a Live version of the casino game to appear too. In creating the Live Craps game, Evolution Gaming made sure they handled some of the game's issues in order to make it Live friendly. With the unique Craps game being set in a fitting speakeasy themed studio and a robotic arm in place to do the dice throwing for you, Evolution Gaming has gone all out.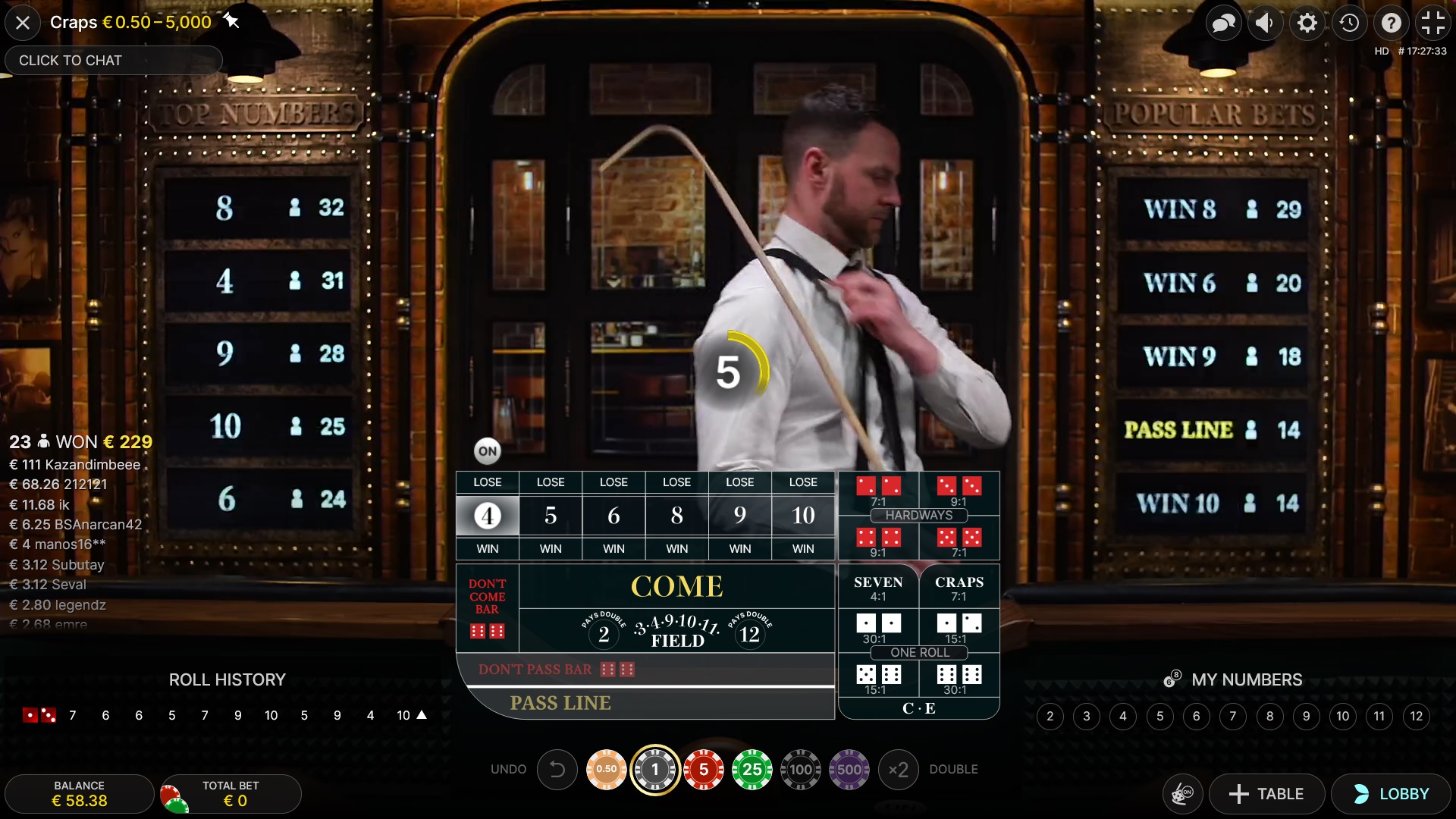 Features
We have gathered all the features and important features below, to give you an overview of what is specific to this Live Craps game by Evolution Gaming.
Aim of the game is to predict the outcome of the roll of the two dice.
Two types of bets to make playing Live Craps – One Roll Bets and Multi-Roll Bets
One Rolls bets exist for one roll only and can be placed at any time during the game round.
Multi-Roll bets are placed and remain there for a number of rolls until a losing roll is made. These bets can only be made at specific times during the game.
My Numbers – an added feature showing you the number you need to win as well as possible payouts.
Easy Mode – gives you fewer betspots to choose from, perfect for a beginner.
Tutorial – an interactive built-in Craps tutorial.
Dynamic Statistics – this is constantly updated as players place their bets.
RTP varies between 83.33% and up to 99.17% depending on your bet strategy.
Odds & Payouts
RTP – Between 83.33% and 99.17%
One Roll Payouts:
Field Bet – 1:1
2 or 12 – 2:1
Seven – 4:1
Craps – 7:1
Crap 2 – 30:1
Crap 3 – 15:1
Crap 12 – 30:1
11 – 15:1
C&E (Combination bet covering 2, 3 or 12 or 11) 3:1 or 7:1
Multi-Roll Payouts:
Pass / Don't Pass – 1:1
Come / Don't Come – 1:1
4 or 10 – 2:1
5 or 9 – 3:2
6 or 8 – 6:5
Place to Win 4 or 10 – 9:5
Place to Win 5 or 9 – 7:5
Place to Win 6 or 8 – 7:6
Place to Lose 4 or 10 – 5:11
Place to Lose 5 or 9 – 5:8
Place to Lose 6 or 8 – 4:5
Hard 4 or 10 – 7:1
Hard 6 or 8 – 9:1
Rules
Single Roll Bets:
Field Bet – You are betting that the result is 2, 3, 4, 9, 10, 11 and 12. Hit 2 or 12 and your winnings doubl.
2, 3, 11, 11 – You are betting on one of these numbers.
Seven – You are betting on a seven.
Craps – You are betting the dice will land on 2, 3 or 12.
Craps and Elevon (C&E) – an extension of the Craps bet, with the 11 being added.
Multi-Roll Bets:
Number bets / Win or Lose: - You are betting that a 7 comes before 4, 5, 6, 8, 9 and 10 which is called a loss. A Win will be you betting that these numbers come before a 7.
Hardways – Even number results consisting of the same numbers such as two 2s being a hard 4. You will be betting that a hard number comes before an easy number.
Pass Line – Starts with a come-out roll. If that roll results in a 7 or 11 you win. If the roll results in a 2, 3 or 12 you will lose. All other numbers establish a point, should you roll a 5 then that will be your number and the goal in the next rolls will be to get that number before 7.
Don't Pass – Opposite of the pass line, here you will win if you hit a 2 or 3 and lose if you hit a 7 or 11. Hitting a 12 is a "push" and will result in a re-roll, this time betting that a 7 comes before one of those numbers.
Don't Come – Same as the Pass Line and Don't Pass bet, but this can only be played if the ON sign is next to the numbers line. Bet on come and it's the same as the pass line.
How To Play
If you have ever played Craps in a land based casino, there really isn't all that much difference in the Live version. However, as some things actually had to be changed in order for the game to be able to function as an online live casino game, we will go through the steps of how to play below.
After selecting an online casino that offers Craps Live and opening the game you are ready to get started. If you are a new player, it would be a wise choice to switch over to the Easy Mode UI. The interface will then be switched to a simpler one, without any of the complex multi-roll bets. The ones you will be left with will be the one-rolls and other simple bets.
Place a bet by clicking on whichever bet you wish to place and adjusting you bet size through the chips at the bottom of the screen. There will be a timer counting down 14 seconds, which is the time you have to place a bet.
If you are an experience Craps player or simply want to see all options available, just stick to the default interface. Place your bets as your would in either options, by clicking on the box with your wanted bet.
In Craps Live you will see that it isn't the dealer throwing the dice. Instead, Evolution has created a mechanical arm doing this for you. The robotic arm will throw the dice at different speeds and levels of force every time after the dealer drops the dice into the box attached to the arm.
Keep an eye on your bet by looking at the "My Numbers" feature at the bottom right of the screen. Here you will see the status of the bet you have already placed along with numbers that are suited for you as well as the amount you will get should your bet be a winning one.