When you gamble for real money in online casinos, you will, at some point, have to deal with what's referred to as KYC, short for "Know Your Customer;" a process where the casino is asking you to provide them with certain types of documents.
Is your account temporarily frozen, or is your withdrawal still pending because your casino is asking you for documentation? It's boring, yes - but the upside is that you're helping prevent underage gambling, money laundering, fraud, and more by complying.
Here's a quick introduction to KYC and why you must deal with it, despite the fact you're gambling with your cash. At the end of the article, there'll be sound advice on how to speed up the process.
Table of contents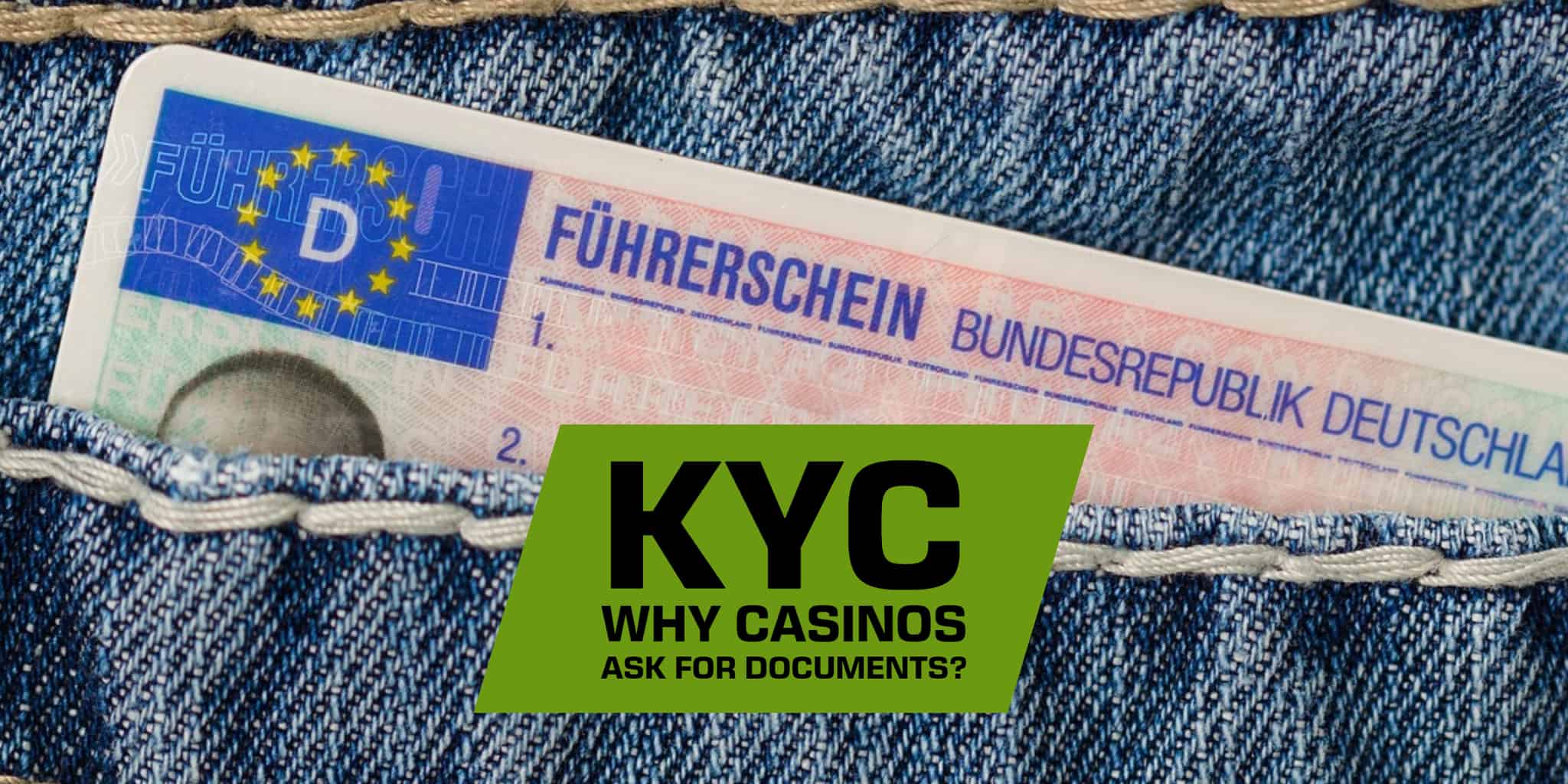 What is KYC
KYC is a mandatory requirement for any financial institutions, including banks, credit unions, wealth management firms, broker-dealers, finance tech apps and websites (such as Revolut or Paysafecard), lenders, and more.
The purpose of KYC in gambling (and other verticals) is to identify customers to ensure that their IDs are legitimate and to identify risk factors with said customers.
The three components of KYC
There are three components to the KYC process:
CIP (Customer Identification Program).
CDD (Customer Due Diligence).
CM (Continuous Monitoring).
The CIP: When the casino asks for a copy of your ID
The CIP is when the casino asks you for documents to identify who you say you are and establish the legitimacy of the documents you provide upon request.
Two basic documents are required to comply with this process: 1) Proof of identity and 2) proof of address.
1) The most commonly asked documents for proof of identity are copies of your passport or driver's license. Other government-issued IDs are also accepted, depending on your country of residence.
2) The most commonly asked documents for proof of address are copies of a bank statement, or a utility bill, in your name dated no more than three months at the time of the KYC request. Other letters from a public authority or servant, addressed in your name and sent to your address, are also accepted.
The casino might also ask you to provide them with a financial statement called "Source of Funds" or "Source of Wealth" to ensure that you are playing with money that belongs to you and that you're not playing out of your financial means.
The CDD: Customer Due Diligence
The CCD is a requirement for any financial institution where they must do thorough risk assessments of customers and their transactions. Customers are assigned a risk rating after the evaluation, which dictates how often and how much the company will monitor the account.
Depending on your activities as an online gambler, you'll face one (or several) of roughly three types of Due Diligence checks:
SDD (Simplified Due Diligence).
CDD (a basic Customer Due Diligence).
EDD (an Enhanced Due Diligence).
Simplified Due Diligence is performed automatically for everyone who opens an online casino account and makes a small initial deposit. Typical for low-value accounts, where the risk of financial fraud, crime, or terrorism is low.
Basic Customer Due Diligence happens when you reach a certain threshold of either deposits or withdrawals, whichever comes first. At this point, the company must verify that you are who you say you are, thus requesting valid copies of your ID, and carry out another risk assessment. Your account will be locked until you comply with the request.
Enhanced Due Diligence happens when the casino deems you a high-risk customer or a high-net-worth player. A PEP (Politically Exposed Person), or someone who works in finance, broker-firms, or any other company with a considerable cash flow, will always face an EDD because of the greater risk of laundering money. A VIP player who typically gambles for large sums will also face an EDD. Both scenarios require the company to ask for more information, typical of your Source of Wealth or Source of Funds, to fully understand your financial activities and properly assess the risk of having you as a customer.
The CM: Continuous Monitoring
Continuous monitoring is essential to the KYC process as it's about reducing risk as much as possible, where any suspicious transaction or account activity is flagged, triggering a SAR (Suspicious Activities Report) submitted to the authorities.
What triggers a KYC
Any company that facilitates financial transactions must carry out the KYC process whenever there's new information or changes to the accounts of their customers and clients.
In short, whenever you sign up with a new online casino and reach a certain threshold for the amounts you deposit into your player account or request a withdrawal of funds from it, you should expect a KYC.
Triggers for KYC include but are not limited to things as:
New account information.
Unusual account activity and transactions.
Change in occupation.
Change in player behavior.
What is the difference between Know Your Customer and Anti-Money Laundering?
Know Your Customer and Anti-Money Laundering work in tandem.
Knowing your Customer is a process to prevent fraud by establishing the risk factors that come with all customer accounts. AML legislation is a framework to prevent terrorism financing and money laundering, and its legislation can vary depending on the jurisdiction or country.
KYC and AML require that customer identities (private and corporate) be verified as legitimate.
Multiple players' accounts equal multiple KYC verifications
If you have numerous online casino accounts with activity, chances are you've already gone through the KYC verification process several times.
Although a tedious process for you, company A has no chance of knowing that the details you submitted to company B are legitimate. They're not allowed to share information about their customers with any third party, except when submitting a Suspicious Activities Report to authorities.
All companies are responsible for their KYC process development, as long as it complies with each AML standard in their country and jurisdiction, as this might vary.
Why do you have to go through KYC multiple times with the same company?
Sometimes, you'll have to do the KYC with the same company multiple times. Why is that?
Changes in gambling behavior, such as bet sizes and time played.
Frequency or size of transactions.
Changes to personal details on the account.
Changes to payment details on the account.
A company merger & acquisition where the new owner must verify the entire portfolio of customer accounts.
Tips that will help you speed up your KYC process
There are thousands of online casinos, and the KYC process of these might slightly differ as it depends on the Anti-Money Laundering legislation applicable to their jurisdiction, licenses, and markets.
There are, however, a few common denominators regarding the KYC process, where casinos ask you for documents:
Proof of ID
Proof of address
Proof of payment method(s)
Proof of ID
To prove who you say you are, the operator will request proof of ID. The most common documents requested for this purpose are government-issued ids such as a driver's license and passport.
Tip: To ensure your proof of identification goes as quick and smooth as possible, make sure that the entire document is visible. Do not cover any information or manipulate the picture/scan. Please also ensure that the document(s) date is valid, as operators do not accept expired documents.
Proof of Address
The operator requires the proof of address documents to verify that you live where you say you do. When opening your account, you must provide the casino with your address. Casinos require a copy with both your name and address on it. The ones that are accepted are utility bills, bank statements, credit card statements, or any other official document sent to you by your government.
Tip: The date of these documents must not be older than three months from the time of the request of the casino.
Proof of Payment Methods
Most casinos offer Credit/Debit cards, Neteller/Skrill, and bank account deposit methods. You must always verify the manner you use for deposits on online casinos.
Credit/Debit card: To verify your card, You need to show the first six and last four digits, your name, and expiry date. Other numbers you can cover. From the back, you have to cover a three-digit CVC code, and your card has to be signed. Also, all four corners need to be visible.
Neteller or Skrill: Verifying this is simple. Take a screenshot showing your email, account number/ID, and name.
Bank Account: Bank Statement or Screenshot from your online banking account showing your name and account details.
Know Your Customer Summarized
When the security team of an online casino initiates a KYC process on your account, it's limited, and you're not allowed to withdraw money from it. Depending on the type of due diligence check carried out, accounts can also be completely frozen, preventing you from logging in until completing the process.
Warning: failure to comply will result in account termination and forfeiture of funds.
The Know Your Customer process is understandably inconvenient for you when you want to play. It's mainly a nuisance when waiting for the money you've requested withdrawn. KYC is, however, a quick process if you follow the instructions.
KYC is also used to prevent ID theft, underage gambling, and anti-money laundering.
Summarized, KYC is widely adopted and used by serious and legitimate businesses that you leave money with and is in place at the end of the day to make sure you are indeed who you say you are.
Frequently Asked Questions about KYC among online gamblers
Why do casinos ask for ID/proof of age?
Answer: Casinos ask for proof of age and ID to prevent underage gambling and to protect against ID theft, ensuring that none of their patrons are playing under a false name.
Why do casinos ask for proof of address
Answer: A casino will ask for proof of address to ensure that the player is a resident in the country/state/area they claim to reside to ensure the casino can legally offer to serve their customers in that area.
Why do casinos ask for the Source of funds
Answer: A casino will occasionally ask for a SOF document (Source of funds) to verify multiple things, namely that the funds you're playing with are yours and legally obtained, that you are not attempting to launder money, and that you can afford to play.
Why do casinos ask for pictures or screenshots of credit cards or payment methods?
Answer: A casino will, from time to time, ask for proof of ownership regarding specific payment methods used to prevent financial fraud where a person might be using someone else's credit or debit card, or even online e-wallets such as Neteller, Skrill, or other payment methods.
Why do gambling sites ask for bank statements?
Answer: Gambling sites, including casinos, sportsbooks, bingo sites, and other operators allowing gambling with real money, will from time to time ask for bank statements. It could be part of a Due Diligence check or an investigation resulting from a dispute between the player and the casino concerning funds not reaching the player's casino account or bank account. It's a formality that speeds up tracking the funds in question.
What is a casino verification process?
Answer: A casino verification process is the same as KYC, where an operator asks their customers (players) to provide them with documents. The purpose of this is to confirm and prove several details, including but not limited to:
Age
Identity
Address
Source of funds
ownership of payment methods or accounts use
How do I find "no verification casinos"?
Answer: CasinoGrounds will never provide our readers with a list of no-verification casinos as all of them violate KYC and AML regulations and legislations.
We strongly discourage anyone from playing at "no verification" casinos. If the casino doesn't have to answer to industry standards, what prevents such an operator from taking your money and refusing to pay out your withdrawals? You are at severe financial risk if you play at online casinos without verification.
How do I follow the process of my KYC?
Answer: Regulated casinos are under their license obligations required to provide you with information regarding your account, including the status of the verification process of the documents you've uploaded or sent. Most casinos allow you to see real-time updates via your player account when logged in. If you cannot log in, you can request this information by contacting the casino directly via email.
Why does the casino reject the documents I upload?
Answer: Whenever an online casino rejects one, or several copies of the documents you've uploaded to them, there's a sound reason behind the decision. They will usually explain it in detail, so ensure you follow every instruction as this will speed up the process.
How long does a KYC verification process with a casino take?
Answer: The norm of the verification process from initiation to completion is within 24 hours in 2022. Please allow up to 72 hours as the time it takes might vary depending on staff leave, working days, and holidays.