Wild Worlds by NetEnt is a 5-reel & 5-row online slot with 0 cluster pay and a 96.47% RTP. Playable on all devices from €0.2 to €400 per spin, Wild Worlds is a medium volatility game with a max win capped at 2500x your stake.
Design & Symbols
Wild Worlds lets you into a super colourful, fantastically designed cartoon superhero world. The floating gaming grid only takes up the right-hand side of the screen. The scene which greets you as the game starts is of our three feathered superheroes (one green, one pink, one blue) hard at work on the computers at their HQ at the top of a tower high above the city. Their office offers panoramic views over the city where you'll occasionally see huge, transformers-style monsters crashing past the skyscrapers. The soundtrack is a futuristic electronica affair complete with various bleeps and pulses which give way to a funky vibe which wouldn't seem out of place in a crime thriller.
Low value symbols are green, pink, and blue gems sporting, in order, feathers, lightning bolts, and waves. Medium value symbols are green, pink, and blue gems each sporting the face of the superhero of the corresponding colour. High value symbols are a black and purple gem, and the wild which is a ruby with a gold W. The high value symbols both pay 100x the bet size for five in a row horizontally or vertically. The scatter symbol is green, pink, and blue disc with a golden 's' at its centre.
Special Features
Hero Wilds
Destroy Feature
Free spins (Ice World, Fire Lands, or Dark Forest)
Hero Wilds
Hero Wilds are created on a grid where a winning combination of medium value symbols has landed. Once the win has been counted all other examples of the winning symbol remaining on the grid transform into wilds for the next avalanche.
Destroy Feature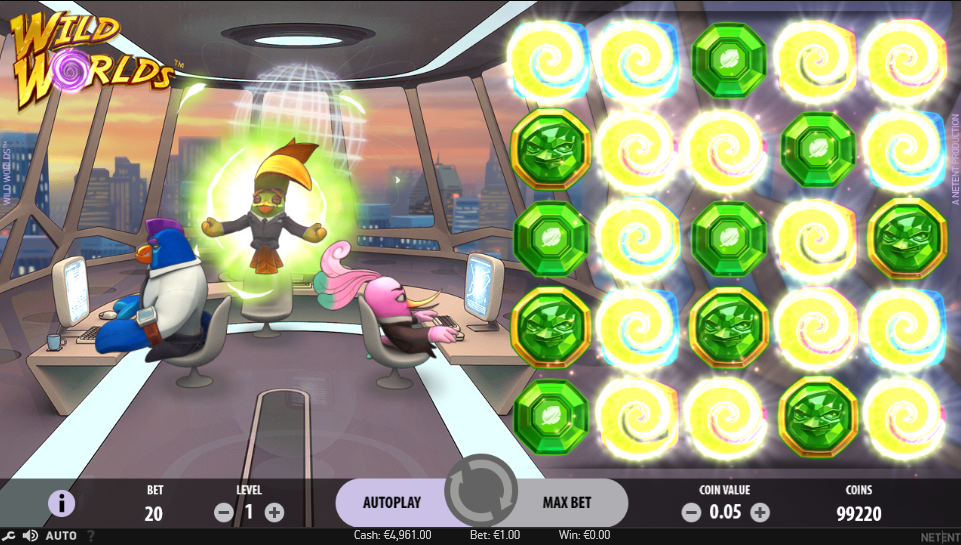 This randomly activated feature occurs during the base game. A superhero stands, roars, and sends a light pulse across the grid destroying symbols, leaving just one colour of symbol (both low and medium value) on the board. This vastly increases the chances of a win of that colour after the subsequent avalanche.
Free Spins
8 free spins are awarded for landing three scatter symbols. The free spins round takes place in three unique worlds; the Ice World, the Fire Lands, or the Dark Forest.
In each world, a similar game plays out where the game plays out on the grid to the right and the three superheroes stand to the left, fighting against 3 monster captains. The idea is to defeat the 3 captains to progress to that world's end boss and then defeat them. You progress to another of the free spin worlds once that world's end boss has been vanquished.
Landing winning combos help the superheroes gain and regain power throughout the battles and reward them by helping them attack the Captains or Bosses. Each hero has their own attack and special attack moves which determine how much damage they inflict, and on which enemies they inflict it on.
In each of the three free spins worlds, defeating one of the 3 Captains reveals a wild feature. They are as follows;
Ice World - a stack of 2 Heavy Wild symbols are placed randomly on the reels
Fire Lands - 2 to 4 random wild symbols are randomly placed on the reels
Dark Forest - Spreading Wilds are placed randomly on the reels. It explodes along with other symbols when forming part of a winning combo. New Spreading Wild symbols are then generated on adjacent positions to the previously exploded wild symbol.
Once all 3 Captains have been defeated, the boss must be defeated to complete the round. The boss is nine times more resilient than any individual Captain.
Our Thoughts on Wild Worlds
You have to take your hats off to NetEnt for the sheer amount of work which must have gone into Wild Worlds. Not only is the presentation out of this world, but the features are unique, detailed, and all fit in with the game's narrative. The end goal of this slot from NetEnt was to produce a slot which also offers the entertainment value of a regular non-gambling game. That is a tough ask, but I would argue that the Swedish developer has done just that.
This game will not be for everyone, that is for sure. It is mind-bogglingly confusing at first, and many slot players will simply not have the inclination to hang in there long enough for it all to make sense. However, if you stick with it things all come together nicely, and the confusion is only relatively short-lived. It also delivers spins paying up to 2,500x the stake, so there is some decent potential at play here also.
If you like your slot to have a bit of a story and provide more interactivity than your average release, then I'm sure you will adore this game.